Majors & Programs Designed for Success
Select from the wide array of majors we offer. While we're well known for our Business Administration, Teacher Education, and Nursing programs, we have 41 undergraduate programs, 23 masters programs, a doctor of education program, six graduate certificate programs, and a seven school credential programs.
Need more time? With more than 1,000 courses, explore your choices before deciding on the major that really suits you. See a complete listing of all our majors, minors, concentrations, teaching credentials and graduate programs.
---
You can get there from here
Narrow the gap between now and your dream future. Take the organized route. Our academic disciplines are clustered within four colleges .
---
The focus is on you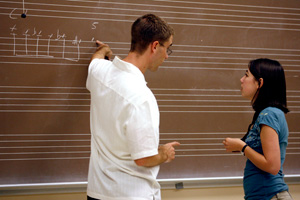 The Princeton Review rates CSU Stanislaus among the Best 378 Colleges in the Nation. Unlike larger, impersonal campuses, ours feels friendly and welcoming. While we've grown from our 1960 founding class of 800 to our 2011 fall enrollment of 9,246, we treat you like there's only one of you. Most classes have fewer than 24 students - more chances for one-on-one with your professors.