Coordinator,
Reading Specialist Program:
Dr. Susan Neufeld
DBH 327 - 209/664-6719
sneufeld@csustan.edu
Department of Advanced Studies
DBH 348 - 209/667-3364
General Information
Reading Specialist Forms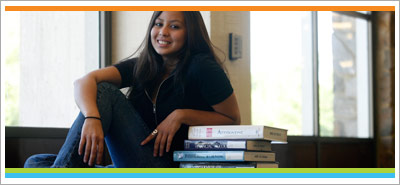 Mission Statement
The mission of the Reading/Language Arts Specialist Credential Program is to demonstrate how to organize and implement a balanced reading program that is research-based, using literature, basal texts, and leveled decodable texts as a foundation for skill development, and to provide a repertoire of diagnostic or prescriptive tools for assessment, as well as strategies for intervention and improvement for students in multicultural, multilingual classrooms.
This credential is an advanced credential that may be added to a basic credential such as the Multiple Subjects CLAD or BCLAD, Single Subject, or Special Education credentials. The K-12 nationally accredited credential consists of 30 units of coursework and can be completed in three years. Eighteen of these 30 units fulfill the reading Concentration for an MA in Curriculum and Instruction: Reading. Sixteen additional units of common courses, including a thesis or project, are also required for the master's degree for a total of 34 units. The Reading Certificate (15 units) is part of the Reading/Language Arts Specialist Credential.
Benefits
The Reading Certificate and Reading/Language Arts Specialist Credential:
prepare teachers for teaching in early intervention programs;
enhance knowledge of reading instruction/reading process for classroom teachers K-12;
help teachers deal with struggling readers and the reading problems experienced by diverse learners;
encourage teachers to assume a professional leadership role in their schools.
EDMA 5100 Reading/Language Arts Strategies K-12 (3 units)
EDMA 5120 Reading Instruction in the Primary School (3 units)
EDMA 5130 Reading Instruction in the Intermediate Grades (3 units)
EDMA 5140 Reading/Language Arts: Assessment and Evaluation (3 units)
EDMA 5160 Practicum in Reading Language Arts (3 units)
(Note: EDMA 5140 is a pre-requisite for enrollment in this course.)
Total = 15 units
In addition to completion of the above courses for the Reading Certificate (15 units), the following courses must be completed to earn the Reading Credential (30 units).
EDMA 5110 Reading: Literature-Based Instruction for Children (3 units)
EDMA 5000 Multilingual Education in the Content Areas (3 units)
EDMA 5150 Reading/Language Arts: Research and Trends (3 units)
EDMA 5300 Teachers as Change Agents, Researchers, and Writers (3 units)
EDMA 5170 Advanced Practicum in Reading and Language Arts (3 units)
(Note: EDMA 5160 is a pre-requisite for enrollment in this course.)
Total = 30 units
(15 units at credential level + 15 units from the certificate level
The above course of study reflects the revised program design submitted to the California Commission on Teacher Credentialing (CCTC) in January 2001 for approval of the Certificate and Credential programs at Stanislaus State. Approval was awarded in April 2001.
Submit a copy of your valid Teaching Credential or Certificate of Clearance (MSCP, SSCP, or
ESCP).
Submit two (2) letters of recommendation.
Submit evidence meeting the Basic Skills Requirement (BSR). Follow this link to view
options: BSR
University transcripts for coursework completed
Verification of teaching experience (at least 1 year to enter; 3 years required by completion).
A written statement indicating your interest and suitability in obtaining a Reading Certificate
or Reading/Language Arts Specialist credential.
Before final approval for program admission will be granted, credential candidates must:
Complete at least six (6) units of advanced program coursework with a minimum 3.0 GPA;
Pass an admission screening interview with members of the Reading Specialist Credential Program (RSCP) Advisory Committee.
As final conditions for granting the Reading/Language Arts Specialist Credential, candidates must pass an oral examination, submit a teaching portfolio reflective of program coursework, and verify three years of successful full-time teaching experience (Pre-School through Adult).
The philosophical premise of the reading program at Stan State is based on a solid foundation of reading as a balanced perspective involving the four areas of the language arts: listening, speaking, reading, and writing. Effective assessment should inform and impact instruction. The concept of the teacher as an active researcher is emphasized.
For additional information regarding the MA in Curriculum and Instruction: Reading, contact:
Dr. Susan M. Neufeld, MA Program Coordinator
Phone: (209) 664-6719.