The Financial Aid and Scholarship Office is now open for in-person assistance with limited staff. We continue to operate remotely in an effort to promote safe social distancing. Our office can be contacted via email, virtual, phone, or in-person. 

Virtual Appointments Available:
Monday-Thursday 9:00 a.m. - 12:00 p.m.
and 1:00 p.m – 4:30 p.m.
Phone Availability:
Monday - Thursday
8:30 a.m. - 5:00 p.m.    
Office Counter Hours:
Monday - Friday
8:00 a.m. - 5:00 p.m.

Book a Virtual Appointment
with a Financial Aid Advisor

Phone: (209) 667- 3336

Fax: (209) 664- 7064

Email:Financial_Aid@csustan.edu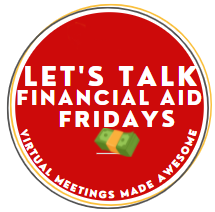 The financial aid office is offering a weekly opportunity to talk with a Stanislaus State Financial Aid Advisor to get your general financial aid questions answered. Feel free to stop by! It's open to all Stanislaus State students. These workshops are intended to provide general information in a group setting.
Mailing Address:
Financial Aid & Scholarships Office
California State University Stanislaus
One University Circle
Turlock, California 95382
Building Location:
Mary Stuart Rogers Education Services     
Services Gateway Building
See Building #27:Map
Office Suite: MSR 100 - See Map
Updated: November 17, 2021