Choose Your Path
Stan State is more than a place to get your education. It is an opportunity to pursue your passions. We cannot tell you where they will lead you or what you will discover along the way, but we will support and cheer for you.
Let's plan your future together
We don't believe that money should stand between you and your future. The Financial Aid & Scholarship office will help you create the right financial plan to cover college costs. From grants & loans to scholarship and work-study opportunities, we can help.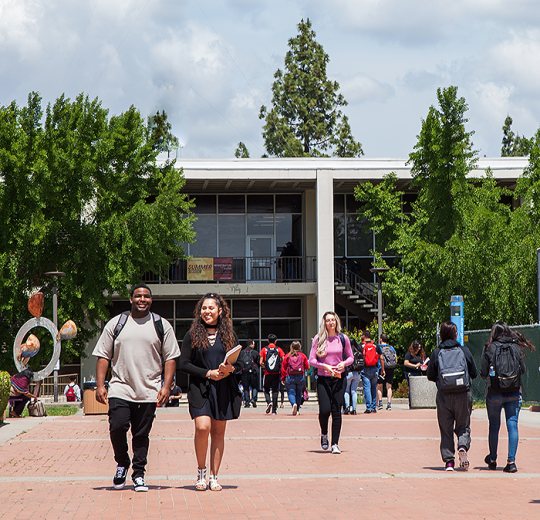 A place for
every student
From first-generation college students and honor roll students to newcomers, veterans and transfer students, we have a program that enhances your success at Stan State.
Guidance for Parents
of High School Students
If your child is in high school, it's never too early to start preparing for the future. Here are a few things to keep in mind to get the process started or keep it moving.
Senior year is an exciting time, as new beginnings are quickly approaching. Your student will begin the college application process this year, so keep materials organized and mark your calendar for application and financial aid deadlines!
Applying to Stanislaus State
New students need to submit their application by the application deadline. Students will receive an automatic confirmation when they submit their electronic application.
Check out the admission requirements and application process for new students.
Housing
Students who have applied to Stanislaus State and are pending admission notification may still submit a reservation request to guarantee a bed space while you wait to hear from the University Admissions Office. Admitted students may go directly to the online housing application to begin their application.
Financial Aid
To apply for financial aid at Stanislaus State, your student must complete the Free Application for Federal Student Aid (FAFSA). The FAFSA form is available online.
Helpful hints for the FAFSA:
Filing the FAFSA online is the quickest and most convenient method.
To complete the FAFSA, you need student and parent 1040s and W-2s.
Stanislaus State's Title IV code for the FAFSA is 001157.
The priority deadline for the FAFSA is March 2.
Parents and students can apply for a FSAID by visiting the Federal Student Aid.
The FSAIDs are used to electronically sign online FAFSA's, making the process easier and faster.
Stanislaus State also offers several scholarships for first-year students. Information and eligibility criteria for scholarships for first-year students and transfer students are available at the Financial Aid Website.
Career Exploration
You are welcome to visit the Career Services Center with your student as they meet with a career counselor, to help you be aware of the options available to your student as they explore potential careers. Visit the Website for further information and informative events held at Stanislaus State.
Junior year is a great time to start the college search process. With this in mind, your student should plan to visit colleges and take advantage of college fairs for opportunities to speak with many different schools. When visiting colleges or speaking with college representatives, your student should think about the questions to ask that will help them make future decisions.
Schedule a campus visit with Stanislaus State!
College Entrance Exams
California State University (CSU) no longer uses ACT or SAT examinations in determining admission eligibility for all CSU campuses. See CSU's admission and testing requirements.
Your student can register in September for the October PSAT. Scores are important, as they are used to qualify for the National Merit Scholarship Competition and the National Achievement program; plus, it is good practice for the ACT. PSAT results should arrive in December, which will give your student an opportunity to consult with the guidance counselor to discuss the best way to prepare for the ACT and SAT.
The ACT and SAT should also be included in the plan for this year. Keep in mind that Stanislaus State looks for students to meet a qualifiable eligibility index, as part of the admission requirements. Encourage your student to take advantage of the testing opportunities throughout the year to ensure more chances at getting the best possible scores. For more information on the SAT and ACT tests, visit the Websites or your student can speak with their guidance counselor.
Choosing a Career
This can be a fun and challenging process. As a junior in high school, your student can begin to explore many career options by checking out some of these links:
A-Z Majors provides information about Stanislaus State majors, including catalog information, and links to the respective department's Website.
Career Services at Stanislaus State has several links to assist your student in finding out more information on careers such as the nature of the work, working conditions, job outlook, salaries, skills required and more!
Stanislaus State Library provides access to an online catalog, a powerful interface to located books and other library materials. Start by using the keyword "career" and read available resources related to specific careers and career exploration online!
And there's always Google.
Plan ahead! Your student should schedule time to meet with their guidance counselor to plan a strategy of courses that will meet college entrance requirements; meetings should occur throughout high school to ensure that your student is on the right track. Your student should be sure to include the following college preparatory courses in their plan:
Four units of English
Three units of mathematics (including Algebra I and II and Geometry)
Two units of social sciences
Two units of science (with significant laboratory experience)
Two units of a foreign language (the same foreign or classical language through level II)
One unit of visual or performing arts
One unit of a college prep elective
Additional Course Options:
Things to Think About
Advanced Placement Courses
If your student takes Advanced Placement courses in high school, takes the AP exams, and earns a score of 3 or higher, your student is eligible to receive credit for college courses.
Parent & Family Orientation
Guests are invited to attend orientation alongside their student's scheduled New Student Orientation. This one-day program introduces our community, campus services and resources for student success.