Living at Stanislaus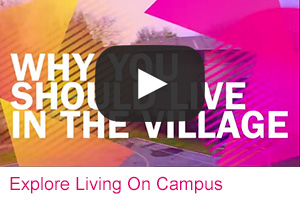 The Residential Life Village is centrally located on campus, near the University Union, dining hall, classrooms, laboratories, computer rooms, and library. Students may choose from a variety of living arrangements; there are four-bedroom apartments and two- and four-bedroom suites. Each suite or apartment has a living room, bathroom, and one,  two or three-person bedrooms; balconies overlook a central courtyard. Apartments also include a full kitchen. The Village is designed to provide a sociable and supportive living community with privacy and security for 700 residents.   Amenities include study rooms, a TV lounge, recreation room, laundry facility, computer lab, two swimming pools, covered bike storage, two outdoor basketball courts, a volleyball court and a 200-seat dining facility.
We strive to provide our residents with an environment conducive to their academic and personal success, grounded by the concepts of scholarship, leadership, citizenship and relationship.  Our goal is to provide our residents with a meaningful university experience that not only enriches their academic endeavors, but fosters the development of skills such as communication, critical thinking, and problem-solving.
To accomplish this we provide our residents with a support team of professional staff including a live-on professional and an academic and career advisor.  Residents also have direct peer-to-peer learning opportunities through the experiences and knowledge of their Resident Assistants, Peer Academic Leaders and fellow residents. 
Events & Announcements
---