It Takes A Village
When you live on campus, you are immersed in the college experience. You have a village of professional staff and peer mentors to support your professional and personal goals and offer advice whenever you need it. You are surrounded by a community of students where your roommates and neighbors become study partners and your study partners become lifelong friends.
Incoming Students
Having trouble logging into your Stan State email? Are messages not showing up? Not sure what day your New Student Orientation is scheduled? Check out these pages for more information and troubleshooting. 
Student Email
Important information such as housing application updates, university updates, class registration information, access links to New Student Orientation, and much more are always sent to your Stan State student email account, powered through Outlook.
You'll begin receiving emails even before classes start! To learn more or troubleshoot your student email account, visit OIT's Student Email page. 
New Student Orientation
New Student Orientation (NSO) is a required program for all incoming Stan State students designed to provide you with information about University requirements, general education requirements, major academic advising, and student programs and services. You'll also register for your classes at this time.
For NSO dates and registration information, visit the New Student Orientation website.
There's a reason why students who live on campus thrive academically. Virtual learning won't hold us back - we're still offering access to exclusive academic support services and amenities!
Laptop Rental Program
Free Printing through the Front Desk
Weekly Study Nights with Snacks and Peer Mentors
Multiple Study Spaces for Group Meetings or Presentation Practice
On-site Academic Advisor
Faculty-in-Residence to Build Connections with Professors
Planning to participate in the Stan State Honors Program? Check out the Honors Program Living Learning Community, or the Housing Scholars community for even more academic support. 
With Village Ventures nearly every weekend, you'll adventure and explore from the peaks of Yosemite National Park to the San Francisco Bay. You'll even score tickets to the movies, food festivals, and other fun local events as well as activities happening on campus! Even during this virtual time, we're still traveling! We offer Virtual Village Ventures nearly every weekend, or you can go on your own time!
Food Festivals in San Francisco
Great America in Santa Clara
Sunbathing in Carmel
Six Flags Discovery Kingdom in Vallejo
Outlet Shopping in Livermore
Cirque du Soleil in San Jose
Half Dome in Yosemite National Park
Art and History Museums in Sacramento
And Much More!
View the Programming Calendar for upcoming events available for Village residents! 
When you live on campus, you're less than 10 minutes to any building on campus.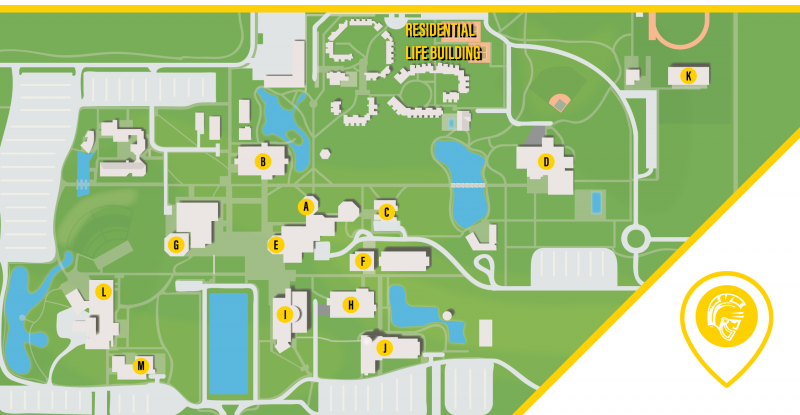 A Student Union (2 minutes)
B Bizzini Hall (2 minutes)
C Health Center (2 minutes)
D Fitzpatrick Area (2 minutes)
E Main Dining (3 minutes)
F Bookstore (3 minutes)
G Library (3.5 minutes)
H Science Building (3.5 minutes)
I Mary Stuart Rogers Building (4 minutes)
J Naraghi Hall (4 minutes)
K Student Recreation Complex (5 minutes)
L Music Building (7 minutes) 
M Art Building (8 minutes)
Updated: November 29, 2021