What is Residential Education?
The purpose of Residential Education is to encourage academic success through residential student support services. These services are intended to foster and facilitate student development through relationship-building with university faculty and staff, assistance with forming essential skills and habits for academic success, and actively providing opportunities for critical thinking and reflection. 
Residential Education Programs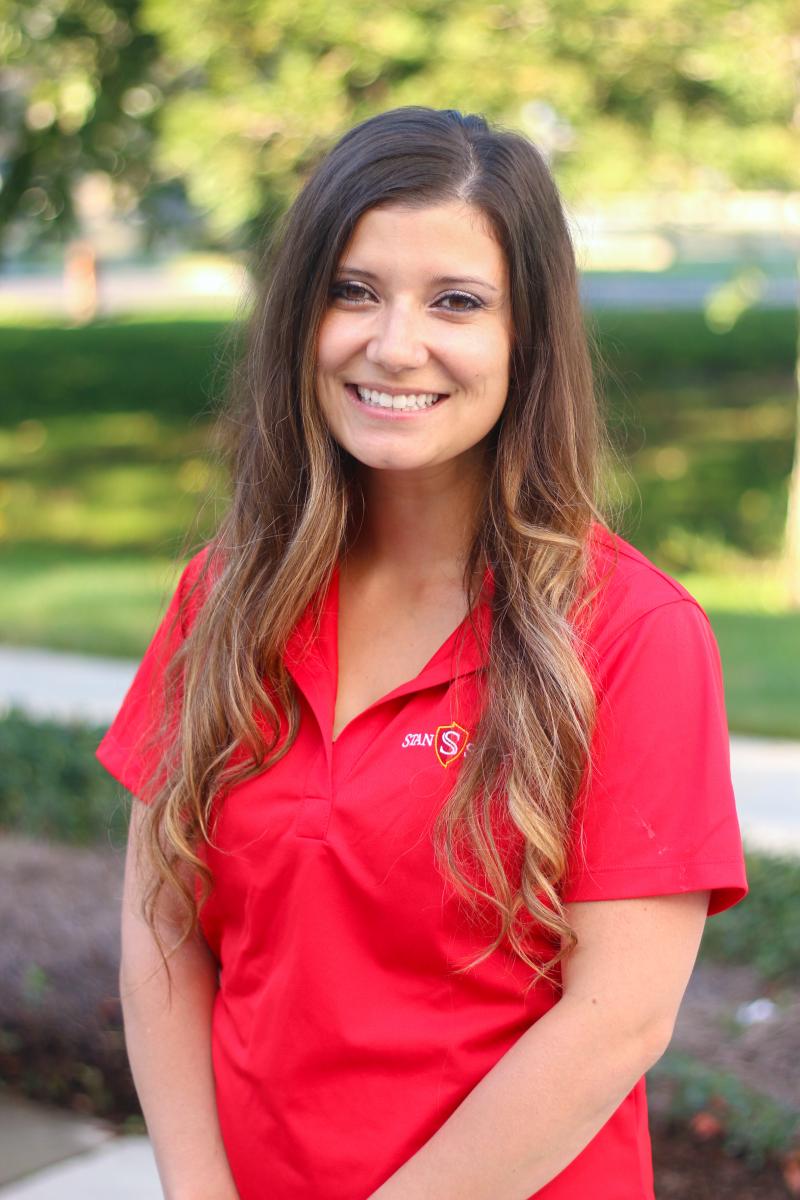 My favorite thing about Stan State is...
Working with our students, supporting them as they navigate college and watching them become successful Alumni of Stan State.
 
Biography
As a member of the Stanislaus State community for over 15 years, Dr. Jessica Bettencourt Wojciechowski has gained a wide breadth of experience to guide her approach as the Assistant Director of Residential Education for Housing and Residential Life. 
Dr. Bettencourt Wojciechowski earned a Bachelor of Arts Degree in Communication Studies with an emphasis in Organizational Communication and Public Relations with a minor in Psychology in 2010 from Stanislaus State. This was followed by completion of a Master of Public Administration Degree in 2013, and a Doctorate of Education in Educational Leadership in 2018. Jessica's educational experiences at Stanislaus State along with her experience working in higher education, including several years as an Academic and Career Advisor, have given her the opportunity to appreciate the advantages as well as the challenges students may encounter living and learning at Stan State.
Jessica and her husband Mike, who also works at Stan State, live in Turlock with their two children, Maia, Mason, and dog Geno. They welcome you to Housing and Residential Life and are proud to be part of the Warrior family!
I Can Help You...
Design a plan for future term success 
Get involved in Faculty-in-Residence programming and informal interactions
Build success strategies for all types of classes and instructors, with consideration for various teaching and learning styles
Review and understand your class syllabi: course requirements, grading scale, attendance policy, how to contact professors, how course assignments are impacted
Get career ready
Review your GPA and understand the different grading options, and even do a GPA projection based on how you feel you're doing in your classes
Develop study plans and create a weekly schedule for classes and studying
Understand how test formats have changed and best practices for online test taking
Manage your time effectively by prioritizing your tasks and responsibilities 
Connect with campus resources and support services
Navigate the university website, online student portal, course websites (Blackboard and Canvas), and your student email account
---
Make An Academic or Career Advising Appointment
My favorite thing about Stan State is...
Seeing my students succeed in their academic, career, and personal lives! It brings me so much joy to connect them to the various resources on campus and contribute to their overall success as they navigate through college.

Biography 
Juliana De Melo earned her B.S. in Business Administration at Stanislaus State. She is currently pursuing her Master's of Business Administration with elective coursework in Educational Counseling. Juliana has focused her studies and research on Academic Advising in Higher Education and is certified in advising students on academic probation, targeted advising model, academic and career advising for undecided, exploring, and major-changing students as well as the role of academic advising in student retention. 
Juliana is excited about working with an amazing team at Housing and Residential Life but, most importantly, she is looking forward to getting to know her students and working with them to achieve their goals while at Stanislaus State and beyond. 
Juliana is a former international student from Brazil, born and raised in the city of Belo Horizonte, Minas Gerais. She moved to the United States at 19 to pursue her bachelor's degree at Stanislaus State. During her time as a student, she was a Housing resident and student assistant. Upon graduating, Juliana started working in the Stan State Financial Aid and Scholarship Office where she passed the National Certification Exam in Satisfactory Academic Progress, by NASFAA. Her background and knowledge in Financial Aid contributes to the holistic success of the students on campus. With the support and partnership with the University, Juliana has continuously provided services to students for over six years. She is currently the Academic Success Advisor for Residential Education at Housing and Residential Life, and she is excited to welcome you to Housing and Residential Life. 
Juliana and her partner, Julian Eylia, met while working at Stanislaus State. Together, Julian and Juliana contribute to the overall success of the students and the University. They currently live in Turlock with their two dogs Pebbles and Bamm-Bamm. They enjoy traveling, cooking and family time. They welcome you and they are happy to assist you in your academic success! 
I Can Help You...
Navigate through academic and financial difficulties
Switch majors, add a concentration or a minor
Check your classes or adjust your schedule
Understand the programs available at Stanislaus State
Develop strategies and identify resources that will enable you to stay on track to graduation
Understand your catalog, program requirements, cumulative GPA, and University policies.
Answer questions about Financial Aid and eligibility requirements
Assist with holds or to-do list items on your Stan State Portal
Plan a 4-year roadmap or create an academic plan for your major
Provide a verification of enrollment, support letter, or recommendation
Address Academic Probation or concerns about your academic standing
Answer questions about appeals and University's forms
Search for job opportunities
Create a resume and cover letter, as well as general career advisement
Establish a career development plan and connect you with internship, volunteer, research, leadership, and career opportunities 
If you need someone to talk to about personal issues that impact academic progress.
Book an appointment with Juliana today!
Housing has an amazing team of student mentors to serve our resident population. Residential Education, in particular, oversees the Peer Academic Coaches and a brand new graduate student team: the Student Success Interns. 
Peer Academic Coaches
Peer Academic Coaches, also known as PACs, are upper division students who coach residents as they navigate the transition to college, their online or in-person coursework, and work toward career readiness. PACs also host Study Nights every Tuesday and Thursday, as well as other programs and workshops throughout the semester. 
Each resident will have an assigned PAL to mentor and support them. They can help with time management skills, study skills, learning the various online platforms (Blackboard, Canvas, Outlook, student portal, online library database), setting up appointments with campus resources, and much more.
As residents go through the academic year, PALs will be there to motivate residents to achieve their academic and future career endeavors. 
Student Success Interns
Student Success Interns are graduate students who are able to provide residents with a higher level of academic support. They will provide holistic academic wellness, personal development and career readiness strategies and support to the residential community.
The Student Success Interns will staff the Academic Support Hub and be available for drop-in student success support services during those hours. 
The Academic Hub is your one-stop shop for academic support. It's also a great place to hang out and study! 
Academic Hub Hours
Monday - Friday
8:00 a.m. - 5:00 p.m.
Academic Advising
Your Academic Success Advisor Juliana is available for academic or career advising by appointment. You can also visit her drop-in hours:
Wednesdays on the Walkway
1:00 p.m. - 3:00 p.m.
Academic Hub
10:00 a.m. - 12:00 p.m.
She is available to help with class registration, graduation timelines, understanding the different grading options, professional interviewing, resume review, graduate school and program research, and much more. You can meet online or in-person, in the Hub or somewhere else on campus. Make an appointment today!
Drop-In Academic Support
Student Success Interns and Peer Academic Coaches are available for drop-in advising anytime the Academic Hub is open! They can provide academic wellness tips, personal development and career readiness strategies, and offer all kinds of advice on how to be a successful student. 
Free Printing
Need to print notes for class, a resume or cover letter, or something else? Free document printing is available in the Housing Office at the print kiosk or in the Academic Hub. 
Laptop Rentals
Have a laptop that suddenly stopped working hours before a presentation or paper is due? Need to borrow one for a study group or team meeting? We have you covered! Visit the Academic Hub to check out a laptop at no cost.
Conference Room
Practice your presentation or meet with your group in the Academic Hub conference room. A whiteboard, chalkboard, and TV with HDMI hookups are all available for use. You can even ask a member of our academic support team to sit in on your presentation and offer advice! For more information about reserving time in the conference room, please contact Dr. Jessica Bettencourt Wojciechowski at jbettencourt@csustan.edu. 
Updated: October 10, 2022