Student Loan Debt Relief Plan
On August 24,2022, the U.S. Department of Education announced a three-part plan affecting current and future student loan borrowers. The Plan does the following:
It extends the pause on loan repayment through December 31,2022,
Provides targeted relief to low-and middle-income earners by forgiving $10,000-$20,000 for eligible borrowers and,
proposes the creation of new income-based repayment plans that will substantially reduce monthly payments for eligible borrowers.
To qualify for the targeted loan forgiveness, most borrowers will need to complete a form. Information on when this form will be available will be provided prior to the end of the year, 2022, and before repayment resumes in January 2023. The U.S. Department of Education has set up a subscription page where borrowers can sign up to receive updates and information on the upcoming application process.
For detailed information on the Student Loan Debt Relief Plan visit the Student Aid website.
To review your Federal Loan and Pell Grant history please visit the Student Aid website, you will need your FSA ID and password to access this information. Don't have an FSA ID? You may create one by visiting the Student Aid website.
Price of Borrowing
The goal of the Financial Wellness Program is to empower students to make informed decisions on borrowing, spending, and budgeting by helping students understand the long-term benefits of building healthy financial habits early on.
The program offers workshops on various financial and financial aid topics that include: student loan information for first-time and continuing borrowers, student loan repayment, the difference between private and federal loans, budgeting, credit and credit cards, identity theft, and more.
We also offer one-on-one meetings with a financial wellness representative to go over student loans, loan repayment, financial wellness checks which include an overview of financial aid and remaining eligibility.
Questions on student loans? Email us at lgonzalezhernandez@csustan.edu.
Facebook: @StanFinancialWellness | Twitter: @stanfinancialw1 | Instagram:  @stanfinancialwellness
---
The Cohort Default Rate (CDR) is an accountability metric for US colleges that are eligible for federal Pell Grants and student loans. The CDR measures the share of federal student loan borrowers who default within a specified period of time after entering repayment. You can find Stan States' official Cohort Default Rate (CDR) by entering our school code (001157) in the search area where the OPEID is required.
Official Cohort Default Rate Search for Schools
---
If you have any questions regarding your student loan(s) or would like to schedule a Financial Wellness review please click on the image below: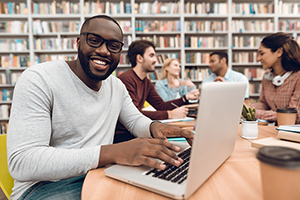 ​​​​​​
GradReady is a FREE program for all students, it is easy to use, and covers various real-life financial topics.

Topics covered in GradReady
Path 1 Paying for College
Money Skills Videos

How to fund your education
Intro to Federal Loans
Intro to Private Loans
Budgeting
Off campus living

Make a Financial Plan
Build a Budget
Path 2 Money Management
Money Skills Videos

Banking basics
Credit basics
Gauge your debt
Identity theft
Credit review
Stay the course

Debt-o-Meter
Path 3 Real-World Finance
Money Skills Videos

Big decisions
Future finances
Mortgages and more
Manage your repayment
Lost in repayment

Repaying- electronic loan counselor