Start Your Housing Application
Be sure to complete your application early to have the best chance at receiving your preferred room type and community! Applicants are placed on a first-come, first-served basis.
If you have any questions about how to complete your application, please call us at 209-667-3675.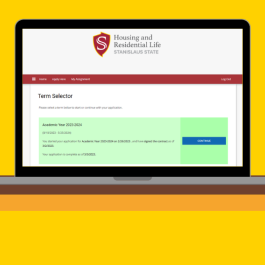 Information You'll Need for the Application
MyStanState ID and password
If applicant is under the age of 18 at time of signing: Financial Guarantor contact information and Parent/Guardian signature
Health insurance information (optional)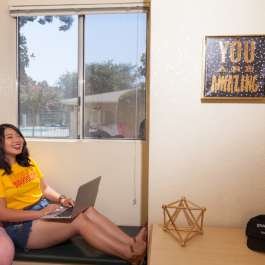 To Complete an Application
Complete your Resident Profile
Choose your Preferred Room Type
Choose a Meal Plan (we recommend a lower plan to start)
Choose a Payment Plan
If under age 18, submit a financial guarantor form
If you did not opt to submit a Fee Deferment in your application, submit your housing deposit via MyStanState
What Happens Next?
Make sure to double check your application to ensure all boxes are checked, forms are uploaded (if applicable), and – if you opted to pay the housing deposit instead of defer it – that you submitted your deposit through the MyStanState Student Portal. 
Your application is not complete until it is processed by Housing staff. Housing staff will change your status to complete once they have processed your application, then you will receive a confirmation email notifying you that your application is complete. 
You must have a complete application to participate in Self-Selection and Roommate Groups, or to receive a placement. 
Self-Selection for returning residents and upper division students will take place mid-April. Those who submit an application later than the self-selection date will be auto-placed into a unit based on their room type and/or community preferences. 
Incoming first year students are auto-placed into a unit based on their room type and/or community preferences. Room Placement will begin in late April.
---
Room Placement
Room Placement begins in late April and occurs in three rounds through August
Placement I: Begins late April through May 24, for applications completed before March 31. 
Placement II: Begins June 1 through July 14, for applications completed April 1 - May 31. 
Placement III: Begins July 17, for applications completed June 1 or beyond. 
Once you have been placed, you will receive a confirmation email with your booking as well as your roommate information.
---
Choosing Your Roommates
All residents can search for and select roommates through the Roommate Group feature of the application. 
Watch Our How-To Guide on Roommate Groups on YouTube
In order to create a Roommate Group in the Housing Portal: 
All roommates must have complete housing applications 
All roommates must have the same #1 Room Preference 
If you do not create a roommate group, you will be placed with roommates based on your preferred room type and resident profile.
If you have any questions, please call the Housing Office at 209-667-3675.