---
News
Wheelhouse Summer Scholars Fellowship Award
Congratulations to Gaby Nuno, Cohort 12, who has been awarded an inaugural fellowship for her dissertation study from UC Davis Wheelhouse: The Center for Community College Leadership and Research. Gaby is one of just a few Wheelhouse Summer Scholars, a group of Ph.D. or EdD students conducting research focused on California Community Colleges. Gaby has received a $1,500 summer stipend to support her research and will be presenting her research in progress in early fall. An exciting element of this fellowship is the opportunity to provide and receive feedback from peers within the UC Davis Wheelhouse Scholars Network.  Congratulations to Gaby for this exciting award!
Ed.D. Leadership in Action – Mental Health and Educational Institutions

When prospective students ask about the purpose and value of an Education Doctorate, thoughts of Stan State program graduates immediately arise. Dr. José Cárdenas, Cohort 4, is one of these educational leaders.
Dr. Cárdenas serves as a School Counselor Program Specialist for Stockton Unified. He leads from within and beyond this position, applying knowledge of educational theory and research to practical problems of practice in educational settings. In addition, he actively participates in a network of educational leaders throughout the state, providing knowledge, expertise, and insight, particularly in regard to school counseling and mental health.
The racial and Covid-19 pandemics of 2020 have made systemic inequities and the need for inclusive, meaningful, and innovative change transparent. This is particularly evident in the area of mental health.
To address this need and to advocate for change, Dr. Cárdenas and a network of educational leaders serving as school counselors, school psychologists, and school-based social workers from across the state have drawn upon their scholar-practitioner skills to publish Fostering the Whole Child: A Guide to School-based Mental Health Professionals. While written with a P12 context in mind, this is an excellent resource for all P20 educational leaders and for policymakers whose decisions create impact and ripple effects on students, families, and educators in our communities.
Publications and sharing knowledge created through research, collaboration, and writing for a practitioner audience are critical. Demonstrating this, Dr. Cárdenas and his fellow scholar-practitioners developed and provided a webinar to California state legislators. A video of the Legislative Briefing webinar, slide deck, and a school counselors overview serve as excellent resources for leaders in P20 professional networks to share and build upon this critically important work.
The scholar-practitioners involved in this project are an excellent illustration of the reality that the knowledge and skills developed in an Ed.D. program are instrumental to educational change. Educators, students, and families need advocates and leaders of change at every level in educational institutions.
Stanislaus State's Mark Alabanza selected to participate in 2019 David L. Clark Seminar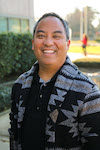 Stanislaus State's Mark Alabanza was nominated by the Educational Leadership doctoral program faculty and selected to participate in the 2019 David L. Clark Seminar, a two-day event for emerging educational administration and policy scholars. Sponsored by the University Council for Educational Administration (UCEA) and the American Educational Research Association's (AERA) Divisions A and L, the Clark Seminar brings selected graduate students together with noted policy scholars and researchers for presentations, generative discussion, and professional growth. This year, nearly 100 nominations were received and only the top-ranked proposals were accepted. Of particular note is the fact that Mr. Alabanza is one of only two graduate students from the California State University system to be accepted to this prestigious program.
Mr. Alabanza is an Ed.D. candidate in the Doctoral Program in Educational Leadership. His research interests center on student services with a particular focus on systems of support for historically marginalized populations. His dissertation research explores Native American student identity and education system navigation in public postsecondary education. Through his research, Mr. Alabanza seeks to understand the perceptions of Native American college students, how they utilize resources available to them, and how they identify in a college setting. His research promises to provide valuable insight regarding how to close opportunity and achievement gaps for Native American students in higher education.

Read about David L. Clark Seminar
Phi Kappa Phi Honor Society
2018-2019

Celebrating leadership and academic excellence! Congratulations to Cohort 10 members Stephanie Beaver, Daniel Marker, Amanda Preston Nelson, Mark Alabanza, and Yolanda Tituana, and to Dean Oddmund Myhre who were inducted today into Phi Kappa Phi Honor Society.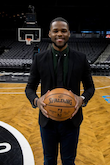 Congratulations to Mendel Murray (Cohort 14) for being awarded NASPA's Region VI Dorothy Keller New Professional Award!
The award is presented to a new professional who is recognized by their colleagues for outstanding service to their institution. The award is named in honor of Dorothy Keller, former Dean of Students at Mills College who served as a member of NASPA. For those of you who know Mendel, are well aware of his staunch commitment to student support and success. 
Congratulations to cohort 12 members Kou Her and Kate Hey on receiving the Community Equity Research Center (CERC) graduate fellowship. Funding from this award is supporting the dissertation research Kou and Kate are conducting in our local community. In addition, congratulations to Dr. Devon Graves and Dr. Steven Drouin on becoming CERC Fellows. Each of these scholar-practitioners are leading the way to create meaningful educational change in our region and beyond.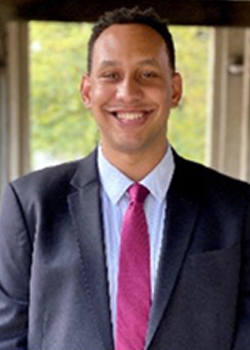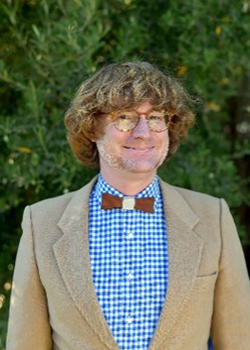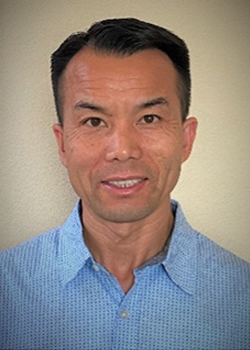 Congratulations to Dr. Israel Gonzalez, Cohort 6, on his appointment as the Director of Equity and LCAP for Stockton Unified Schools!
Dr. Gonzalez was the founding principal of Lucas Elementary Dual Language Academy in Ceres Unified. During his tenure he developed and brought to life a vision for a student-centered school that prioritizes "opportunities to achieve biliteracy and proficiency in a culturally valued and diverse learning environment" that prepares students to be "leaders of tomorrow". Dr. Gonzalez' focus on developing a learning community that engages and centers the lived experiences of students, families, staff, and faculty in research-based actions and activities exemplifies the power of transformative leadership and transformative learning. His commitment to culturally affirming leadership practices and excellence as a scholar-practitioner will be cornerstones of his leadership and service to the Stockton Unified community.
Congratulations Dr. Heather Contreras (Cohort 1) on STEAM and your promotion to Assistant Superintendent!!
Congratulations Dr. José Manuel Martinez Cárdenas (Cohort 4)
On March 2, 2021, Governor Newsom announced the appointment of Dr. José Manuel Martinez Cárdenas to the Commission on Teacher Credentialing. Dr. Cárdenas joins 18 other leaders from throughout the state in shaping policy and procedures related to licensing and credentialing of professional educators in California. His wealth of knowledge and experience and commitment to meaningful change in educational systems will enrich and shape the work of the Commission.
"Jose Manuel M. Cardenas, 43, of Modesto, has been appointed to the Commission on Teacher Credentialing. Cardenas has been a K-12 School Counselor at Stockton Unified School District since 2005. He was Adjunct Professor at California State University, Stanislaus from 2016 to 2017. Cardenas was an Outreach Specialist for the Center for Excellence in Graduate Education at California State University, Stanislaus from 2011 to 2012. He was Adjunct Counselor at Modesto Junior College in 2011. Cardenas was an Academic Case Manager for Modesto City Schools at Hanshaw Middle School in 2005. He held multiple positions at San Diego State University from 1996 to 2004, including Head Resident Counselor at the Pre-College Institute Science Enrichment Program, Peer Advisor at the Talent Search Program Pre-College, Mentor at the GEAR Up Program Pre-College Institute, and Student Specialist for Work Study at Career Services. Cardenas was a K-12 Counselor at Gonzales Unified School District from 2003 to 2004. He is a member of the Modesto City Schools Equity Task Force, Grace M. Davis High School Site Council, California Association of School Counselors, American School Counselor Association, San Diego Lifetime Alumni Network, and Phi Kappa Phi. Cardenas earned a Doctor of Education degree in educational leadership from California State University, Stanislaus, and a Master of Science degree and Pupil Personnel Services Credential in school counseling from San Diego State University. This position requires Senate confirmation and there is no compensation. Cardenas is a Democrat."

Milissa Payne Bradley, Cohort 12, received the Constantino and Clementina Demergasso Graduate Fellowship. This financial award supports Milissa's doctoral studies and recognizes her scholarship and commitment to educational leadership in the California Community College system. Milissa's dissertation will examine how individuals construct their artistic voice as part of their educational experience. As a renowned dance instructor and choreographer, Milissa exemplifies what it means to be a scholar-practitioner. In addition to her doctoral studies and work as a dance instructor, her short film, Another Sky, was accepted to the October 2020 San Francisco Dance Film Festival. More information about Milissa's leadership in the dance world can be found on her website.
Congratulations, Vickie and Amanda!!!
Dr. Vickie Mulvaney-Trask, cohort 7, was recently appointed as the Dean of Workforce Development and Lifelong Learning at Modesto Junior College. Dr. Mulvaney-Trask leads a team focused on bridging the education to career transition. In addition to shaping the career-focused educational programs in the areas of agriculture, manufacturing, health, computer technology, leadership, and business, Dr. Mulvaney-Trask leads the Workforce Development Team. This team specializes in connecting educators, lecturers, speakers, and trainers with regional businesses striving to meet operational and workforce goals. Drawing on her deep understanding of P12 and higher education systems and her incredible people skills, we have no doubt Vickie will be a great success in her new position.
Dr. Amanda Preston-Nelson, cohort 10, has accepted the position of Vice President of Administrative Services at San Joaquin Delta College, effective August 10. Amanda will be part of the executive leadership team, reporting directly to Delta's Superintendent-President. In her new position, Amanda will be leading, planning, organizing, developing, and directing the activities of the Administrative Services Division. This division includes Fiscal Services, Auxiliary Services (The Market, Bookstore, and Food Services), the Foundation, Payroll, Purchasing and Contracts, Facilities Services/Maintenance, and the Data Center/Information Technology. Additionally, she will serve as the Chief Business Officer. Amanda is very excited to put her knowledge and leadership skills to work in this executive-level position. We are all so proud of her hard work and growth as a scholar-practitioner.

She received the Dean's Award of Excellence for the Stan State Ed.D. program. In addition to being an outstanding scholar, Amanda is a leader and supporter of fellow students in the program. She leads with both heart and mind, and we are so thrilled to celebrate her accomplishments!!!

Congratulations to Kate Hey, Cohort 12! After a rigorous process, Kate received the Rotary District 5220 Scholar Award. This financial award supports Kate's doctoral scholarship and recognizes her commitment to improving educational outcomes for all students in our region.
Competing with graduate students from Madera in the South, to Galt in the North, from Tracy/Mountain House in the West, to Yosemite in the East, Kate was one of the finalists for the award based on her written application. She then participated in a panel interview, articulating how her scholarship and commitment to improving educational outcomes for individuals in our region align with Rotary International's focus on supporting education.
"Rotary is a global network of 1.2 million neighbors, friends, leaders, and problem-solvers who see a world where people unite and take action to create lasting change – across the globe, in our communities, and in ourselves". Rotarians throughout the world and in our region have a long history of supporting education. District 5220 clubs epitomize the Rotary motto of "Service Above Self" by providing scholarships, dictionaries, and books for elementary-age children, speech competitions, and supporting the development of future leaders through Interact clubs at secondary schools throughout the region.
Kou Her, Cohort 12, is putting leadership into action! He recently presented to the California Association of School Counselor's (CASC) conference on the Nurtured Heart Approach. Kou is an example of a scholar-practitioner who leads from within his position as a school counselor in Merced Union High School District.
Congratulations to Kou Her (Cohort 12) for being selected by the California Teachers Association as a recipient of a 2018-19 Martin Luther King, Jr. Memorial Scholarship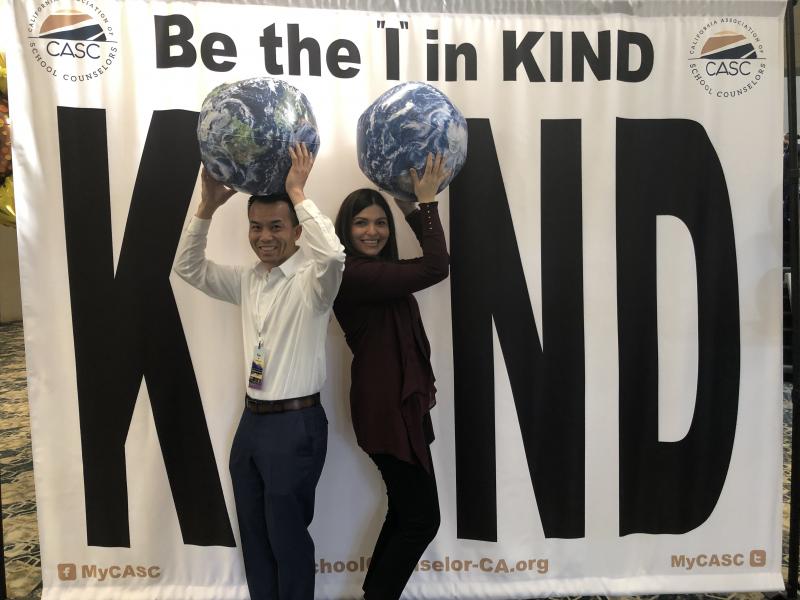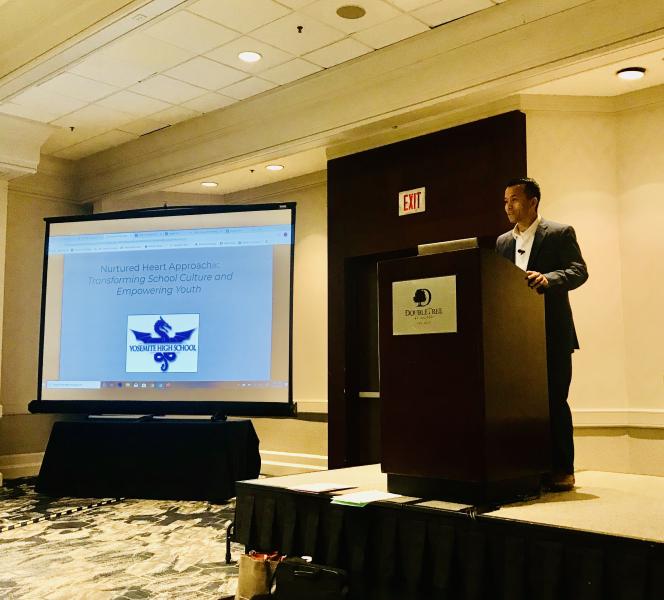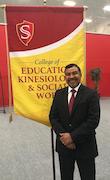 Congratulations to Javier Martinez for being recognized as the 2019 Outstanding Student.
Congratulations to Isaias Rumayor (Cohort 9), principal of Glick Middle School in Empire. On February 28, 2019, State Superintendent Tony Thurmond announced that Glick Middle School in Empire has earned the designation of "High-performing California Middle School" in the 2018-2019 Schools to Watch – Taking Center Stage program. There were only 16 schools in California to achieve "Schools to Watch" status, and Glick is the only school in Stanislaus County.
Schools to Watch includes rigorous criteria. Glick's designation stems from Isaias' exemplary leadership and unrelenting focus on equity, social justice, academic excellence, and meaningful student support. Building on the funds of knowledge of families, students, staff, teachers, and fellow administrators, Isaias has created collaborative systems and shared leadership to empower members of the school community. They have actively engaged in the challenging yet essential work required to identify and dismantle barriers to student success.
Taylor received word today from the Office of the Chancellor that she has been selected as a recipient of the Basic Needs Initiative Student Research Grant. Reviewers noted her proposal, "Food Insecurity: An Analysis of Health Barriers for Former Foster Youth Obtaining a 4-year Degree" was a top submission in a competitive applicant pool from students across the 23-campus CSU system. Taylor's was one of only four grants awarded at the highest funding level!
Taylor worked diligently during a very short time period in December to write the grant application, including a literature review, research proposal, protocols, and IRB application. In addition to receiving the grant, her IRB has been approved so she is ready to start her research this spring!
Taylor will be reporting her research results at a future CSU event and contributing her findings to the work being done throughout the CSU system to support student's basic needs and well-being.
---
Sarah has been selected as the Association of California School Administrators (ACSA) Region 7 2019 Technology Administrator of the Year! This is a significant honor in the K-12 school leadership world J J Sarah will be recognized and celebrated in May during the ACSA Region 7 Empowering Innovative Leadership conference in May.
An educational leader committed to creativity and innovation and leading educational programs which celebrate diversity and inclusion, Sarah's ACSA recognition in part stems from her leadership of K-12 arts and technology programs in her school and the community. Through such innovative teaching and learning opportunities, students build on classroom scholarship with real-world learning; through this, students of all backgrounds and abilities experience inclusive learning that meets them where they are and pushes them forward. Significantly, these learning opportunities include engagement in the community. Students fortunate to learn from Sarah's leadership develop a servant leadership mindset through reading to others, fundraising for cancer patients, and programs to support the homeless.
Congratulations to Jose Cardenas (Cohort 4) and Health Careers Academy High School for being awarded the 2018 State Champions Race to Submit Award.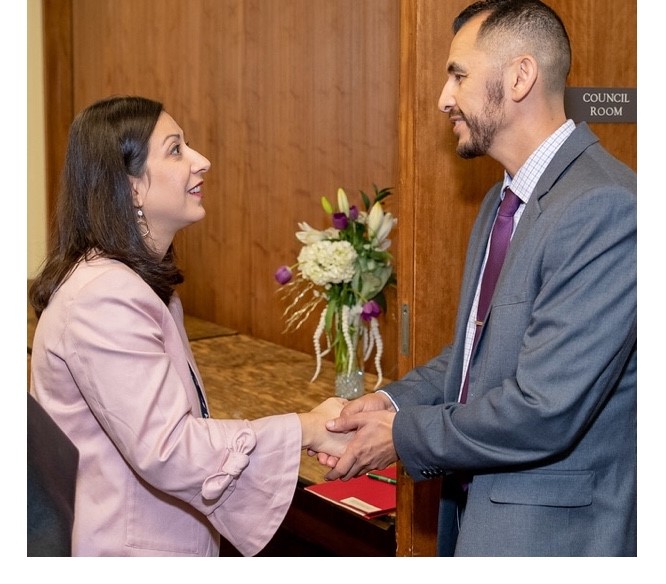 Thank you to Omar Garcia Ponce de Leon, Ph.D. (UAEM, Mexico) for your insightful presentation on The Use of Image in Qualitative Research Methods. Your work brought attractive ideas for our scholarly activities and the work we do with our students. This conference contributes to our efforts to learn about the amazing work that scholars do at other institutions not only here in the US but also in Mexican Higher Education Institutions.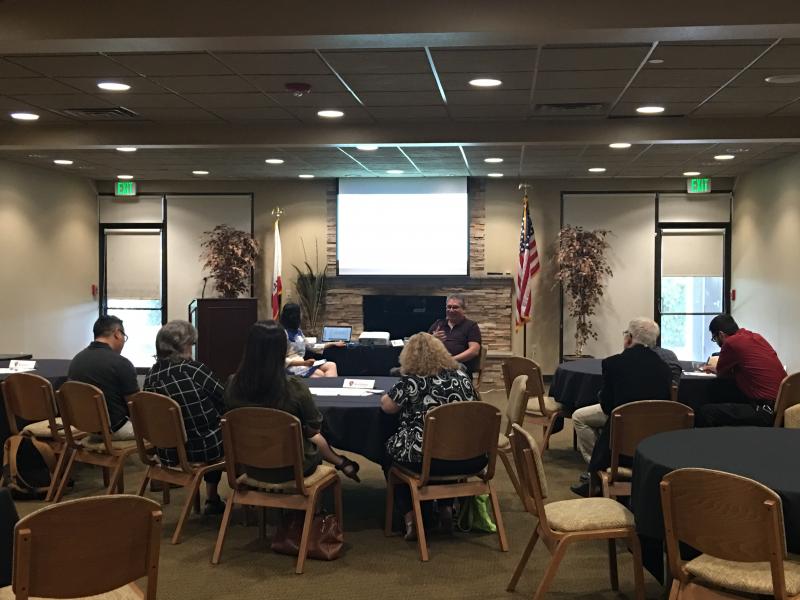 Stan Magazine recently highlighted Soua Lee (Cohort 8) in an article titled Courage to Succeed
Congratulations to Erin Webb (Cohort 6) for being appointed University Registrar at UC Merced
Congratulations to Audry Garza (Cohort 7) for her new position as Coordinator of ELA and HSS at Merced County Office of Education
Congratulations to Jose Cardenas (Cohort 4) for being appointed as the Department Chair at Health Care Academy and appointed as the Central California Regional Representative for the California Association of School Counselors
Congratulations to Mary Petty (Cohort 10) for being named Principal at Jacobson Elementary School in Tracy Unified School District
Updated: November 13, 2023