Our Services...
Pre-admission advisement and information of the following programs: Multiple Subject, Single Subject, and Education Specialist.
Provide information seminars for prospective students.
Process applications for credential program admission.
Conduct exit seminars for students completing the program.
Evaluate, verify and make recommendations for teaching and service credentials.
Office Hours:
8:00 a.m. - 5:00 p.m.
Monday - Friday
Summer Hours:
June through August
7:30 a.m. to 4:00 p.m.
Monday - Friday
Fall 2017 Application News: 
Application Periods:
Priority Applications accepted
January 26 - February 13, 2017
(see flyer below for details)
Regular Applications Accepted
ESCP & MSCP: February 14 - March 16, 2017
SSCP: February 14 - March 13, 2017
---
---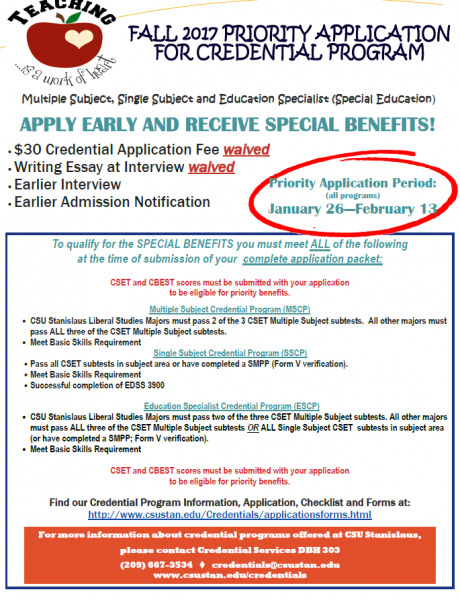 ---
Teacher Job Fair 2017
Wednesday, February 1st from 3-6pm in the Event Center.  It is open to teacher candidates and K-12 teachers.  No registration required.