Portfolium is an academic portfolio network that gives faculty, students, and alumni the power to create, manage, and personalize their own beautifully organized, interactive collection of projects, work samples, skills, activities, and accomplishments. Portfolium allows students to showcase their work, projects and experiences well beyond the limits of a traditional resume and transcript in a way that demonstrates the true value of their education and future potential.
Features:
Unlimited storage and access
Free lifelong ePortfolios for students and alumni
Integrates with tools such as Canvas, LinkedIn, YouTube, Google Drive, Box and more
Unique way of presenting Badges with evidences
How to Access Portfolium 
There are three ways Portfolium can be accessed.
Faculty, students, and alumni can click the above button and provide their StanStateID and Password to create an account or log in to their existing account.
Portfolium can be accessed in Canvas by clicking Account in the left navigation and then clicking Folio or by clicking "Portfolium" in a course's navigation.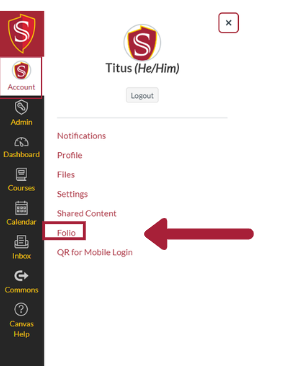 Faculty and students can also access Portfolium from their myStanState Profile by clicking the Portfolium link.
Portfolium Guides/Tutorials 
Portfolium Technical Support
Technical support is available via the blue Chat Bot icon in the bottom right hand corner of the Portfolium website.
Portfolium Privacy & Accessibility 
Updated: November 02, 2022