Creating a Rubric
Use rubrics when you want to use a consistent set of criteria in grading.  Often, it's recommended to let students see the rubric before submitting an assignment so they can have an idea of how their submission will be assessed.
Rubrics in Canvas are very flexible.  For example, you can create different rating scales for different criteria rather than using the same scale for all criteria.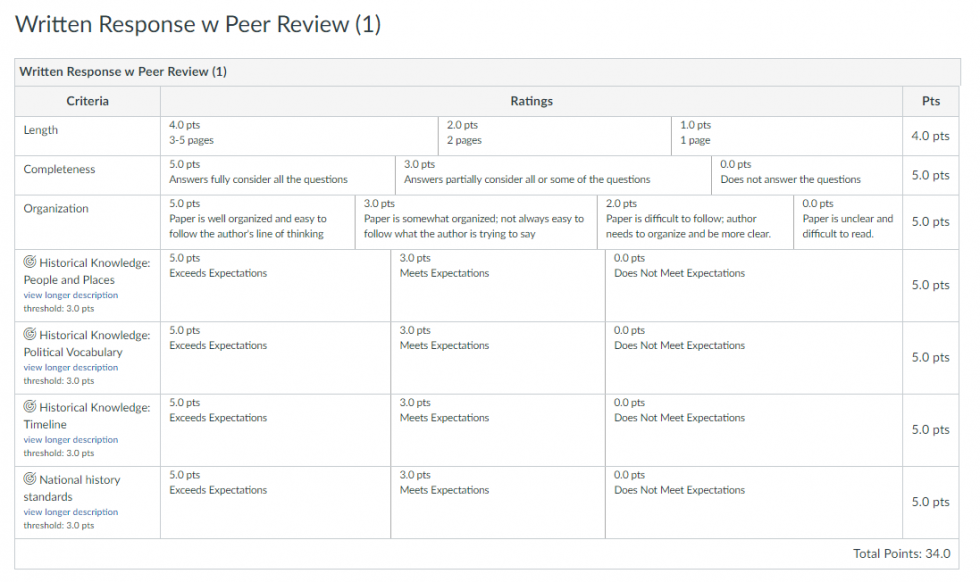 Rubrics in Canvas are typically tied to outcomes to help you align all kinds of assignments and assessments in your course. You can still use rubrics independently of outcomes, which is a good practice to help make your grading of writing assignments more consistent and accessible to students. Plus, when you have a rubric, it becomes even easier to grade using SpeedGrader!
How do I create a Rubric in a Course?
How do I manage Rubrics in a Course?
Adding a Rubric to an Assignment
Since rubrics can be made independently of assignments, they have to specifically be added to assignment activities. If you want to align your grading completely through rubrics, this is a great practice. Otherwise, rubrics also help keep your grading fair and consistent. 
How do I add a Rubric to an Assignment?
How do I add a Rubric to a Graded Discussion?
How do I add a Rubric to a Quiz?
Former Blackboard User Tip: Canvas rubrics cannot be assigned to specific essay questions in a quiz. Canvas rubrics must be assigned to the whole quiz.
If you are interested in tying your course together to your Course Outcomes  explore the information on rubrics and outcomes:
How do I align an outcome with a rubric in a course?
Using a Rubric with SpeedGrader
For more information about using a Rubric with SpeedGrader, explore our Using SpeedGrader guides. 
Updated: October 11, 2022