Adding an Assignment
Canvas Assignment can be used to collect a submission from students electronically, provide instructions for and remind students about an in-class activity, and track extra credit. 

How do I create an assignment?
How do I add assignment types, pages, and files as module items?
Editing Assignment Details
After creating an assignment, modify the assignment details and settings by clicking the action menu and select Edit. Update the assignment instructions and guidelines, set the due date, and number of points to earn.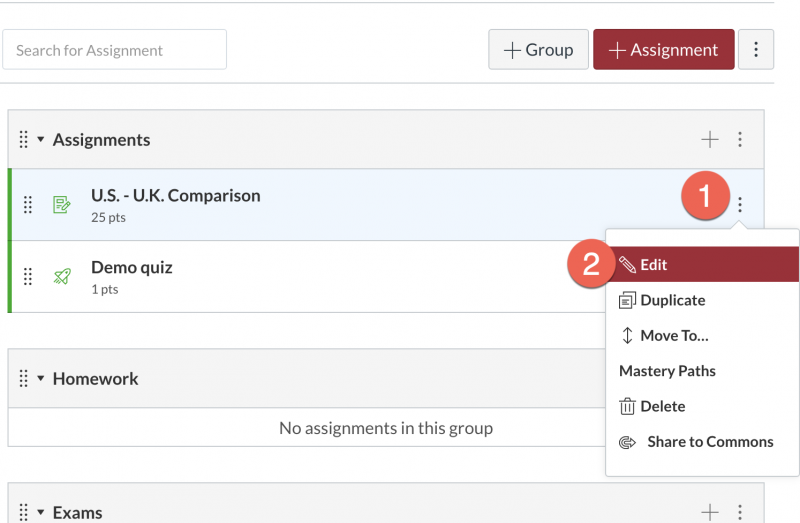 How do I add or edit details in an assignment?
Removing or Duplicating Assignments
Clean up unused assignments by removing them from Modules, or by deleting them from the Assignments page of your course.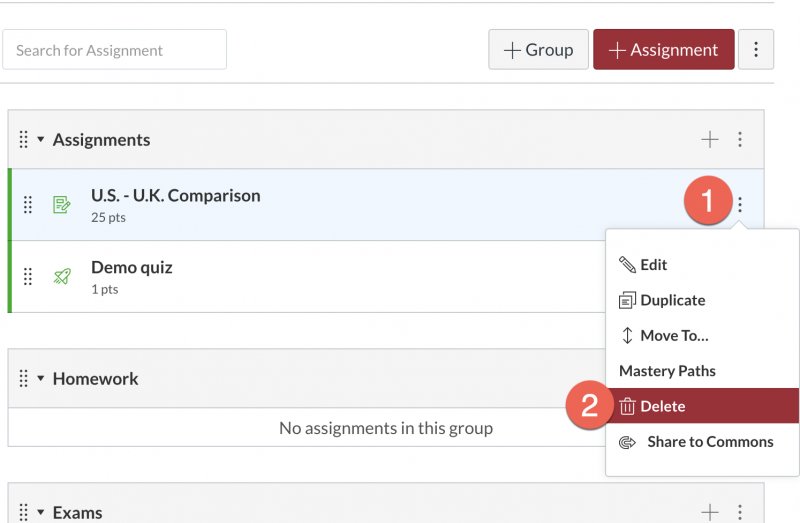 How do I delete an assignment?
Establish a routine pattern of assignments and activities for students. When assigning an assignment that students will complete each week, create the assignment once, then duplicate it and move it to subsequent weeks.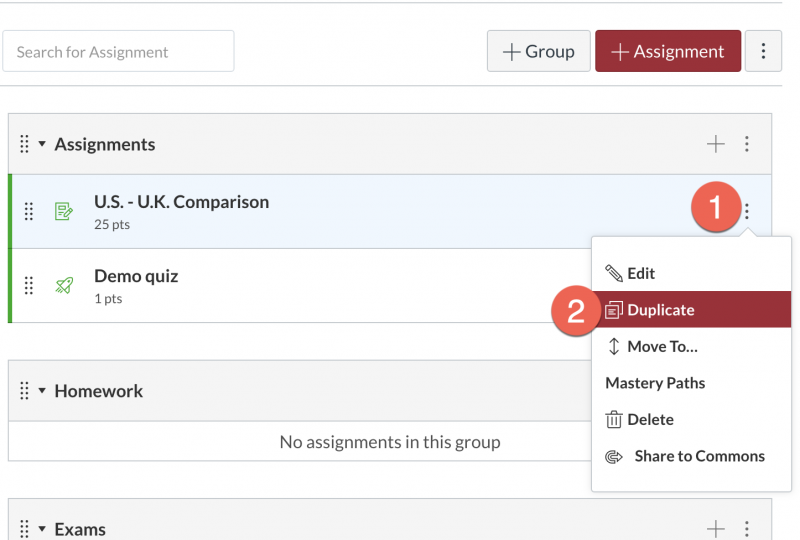 How do I duplicate an assignment?
Allowing a Resubmission
By default, resubmissions are always allowed if the instructor leaves the Attempts setting at "Unlimited". After students submit their assignment, they may revisit the assignment to submit a new version. As the instructor, you can view the various versions of the submission, deciding which version to accept and grade. Prevent students from revisiting the assignment by limiting the number of attempts in the assignment settings or set an Until availability date. 
Can a student resubmit an assignment?
Creating Group Assignments
To create an assignment that the students will submit as part of a group, check the box for "This is a Group Assignment" in the Group Assignment area.
Configuring Peer Reviews
Use the peer review option to pair students up with a partner to review and provide feedback of their work. 
How do I create a peer review assignment?
Want to learn more?
View all Canvas Guides for Assignments
Updated: October 11, 2022