Explore More
Our fully furnished suites and apartments are spacious, our rates are all-inclusive and our payment plans are flexible. There are multiple room types available to fit every budget, and our population ranges from first year to transfer to grad students.
Community living offers an even higher level of support compared to living off-campus – helping students feel better connected to the university and providing a real college experience!
---
I Want to Learn More About...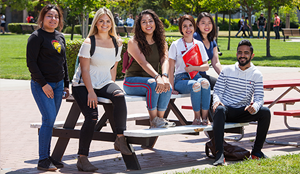 Living Learning Communities
ELEVATE 
ELEVATE 2.0
Honors First Year
Social Justice
Themed Communities
Welcome Home
Transfer Students
24-Hour Quiet 
Rainbow Alliance
Warrior Spirit
Housing Scholars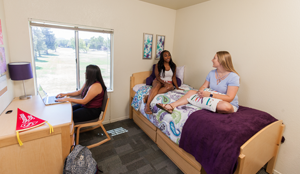 First Year
Apartment
Single Suite
Double Deluxe (Village I or II)
Triple Suite
Upperclass
Apartment
Double Deluxe (Village II or III)
---
You Will Never Be Alone
Every community has two peer mentors to help with your University transition: a Peer Academic Leader (PAL) and a Resident Assistant (RA). Both peer mentors will take the time to get to know you and help you create connections within your community.
---
We Support.
A Peer Academic Leader will help you plan for your classes, explore majors, and connect you with campus resources.
"My PALs made it way less stressful to come to Stan State. I have developed a great relationship with them which makes it super easy when I need help." 
 - Brenda, Upperclassman
---
You Connect.
A Resident Assistant will connect you with your neighbors, host social events, and support you through your college journey. 
"My RAs always checked up to see how things were going, brought snacks or words of encouragement, and invited us to events on campus. At first, I was annoyed, but then I realized how thankful I was for them."
- Nicole, First Year
---