Take a Tour
Experience Stan State Student Housing for yourself on a tour of Housing and Residential Life!
On this tour, you'll visit some of the areas you would frequent as a housing resident, including:
Front Office & Community Center
Academic & Residential Life Hubs
Village Cafe
Unit
Our 45-60 minute tours will tell you all about what living on-campus is like, how we can help you reach your graduation and career goals, and the differences between living on-campus and off-campus.
Just want to see inside a unit? Check out virtual unit tour videos on the Stan State Housing YouTube Channel.
Request a Housing Tour
Tours are available in-person or on Zoom on Mondays, Wednesdays, and Fridays by appointment. All tour requests are tentative until confirmed by a Housing staff member. You will receive a confirmation email once a date and time is mutually agreed upon.
Tour guests who come to campus for an in-person tour will be asked to help us keep our community safe by doing the following:
Complete the Stan State Daily Self-Screen before arriving to campus.
If you're feeling ill, please contact your tour guide prior to coming to campus and reschedule your tour.
Our friendly front desk staff will check for your Daily Self-Screen clearance when you arrive.
We kindly request that guests limit their party size to 4 people, but we understand this may not always be possible.
Your tour will begin at the Housing Office.
The Housing Office is located outside of the Village gates, not inside of the community. To find the office, proceed straight through Parking Lot 6, which will deadend next to the Housing Office.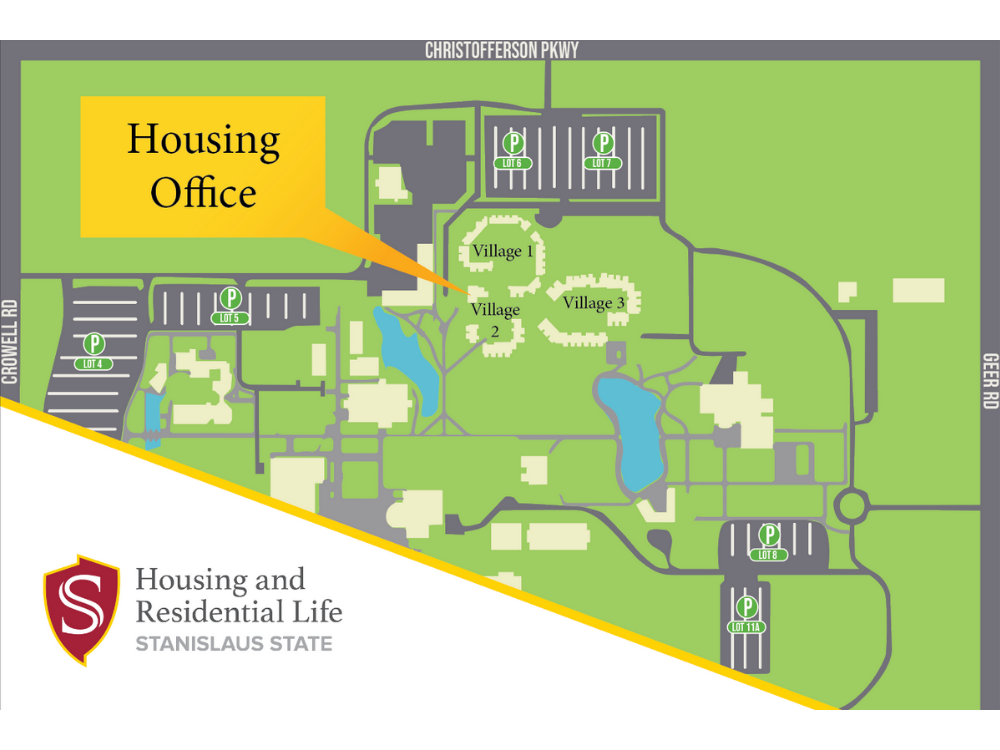 Housing and Residential Life is located directly off of Christoffersen Parkway on the North side of campus, next to Stan State Parking Lots 6 and 7.
Tour guests should park directly in front of the Housing Office in the space marked "Housing & Residential Life Service Vehicles." As part of the check-in process, tour guests will receive one temporary parking permit for their windshield, allowing them to park for free for the tour duration.
New Stan State students attending New Student Orientation are invited to attend a presentation all about living on campus AND take a Housing group tour during their free time on those dates. No pre-registration required for the NSO Housing tours, but don't forget to register for NSO!
NSO is required for all new students; failure to attend NSO may cause your admission into the university to be canceled.
Interested in seeing more of the Stan State campus? The Admissions and Outreach team has in-person and virtual tours available! These tours include a general overview of housing but do not go into residential units.
Learn more about scheduling a campus tour on the Campus Tours website or give the Campus Tours office a call at (209) 667-3811.
For more information about Housing and Residential Life tours, please contact Katie Billiet at kbilliet@csustan.edu or call the Housing Office at (209) 667-3675 with any general student housing questions.
Updated: December 16, 2022