What is VoiceThread?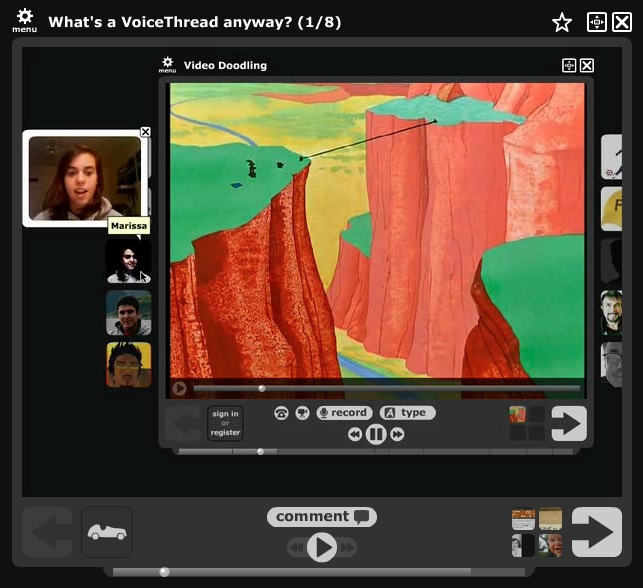 VoiceThread is an exciting tool that lets you and your students communicate about course content naturally via voice and video.  Use VoiceThread in your online, hybrid, or face-to-face course in two simple steps:
Compile materials taken from a variety of formats (Powerpoint, Word, PDF, JPG, audio, video, etc.) into a slide-based VoiceThread presentation right inside your course web site. 
Then, you and your students add comments to the slides using a microphone, webcam, or text.
Think of VoiceThread as a richer alternative to discussion forums for when you want students to engage with specific images or other media.  Or, use VoiceThread as a lecture tool in an online class and let your students ask questions right at the spot where they need help.  For online courses especially, having your students speak and been seen contributes to the "humanizing" of the experience for everyone involved.
VoiceThread Overview
VoiceThread has produced a really informative series of short videos about their tool:
Watch
Introductory Webinar - August 2021
This webinar presents an overview and introduction to VoiceThread.
Course Usage
VoiceThread is available as an extension of Canvas in the form of an activity added to the course.  In addition to simple lecture delivery, VoiceThreads can be a graded activity.  Students can be assigned a VoiceThread activity in three different ways:
Watching a VoiceThread from start to finish
Commenting on a VoiceThread (specify number of comments)
Creating a VoiceThread
Integrating VoiceThread with Canvas
Learn more about how VoiceThread integrates with Canvas
VoiceThread Accounts
All instructors and students at Stan State have free access to VoiceThread, in order to record comments on an existing VT or build their own presentations.
How to Access Your Account Directly
Users can login to their VoiceThread account in order to build presentations without having to access the tool via an LMS like Canvas.
Option 1: In the university portal (https://my.csustan.edu), click the VoiceThread icon.
Option 2: Go to http://csustan.voicethread.com and click the "Sign In" link to be transferred to the campus sign-in page. Login with your regular university login name and password.
Additional Information
Instructor accounts are automatically activated once the instructor logs in to csustan.voicethread.com or adds a VoiceThread activity to a Canvas or Moodle course.
Student accounts are automatically activated once the student interacts with a VoiceThread activity or logs in to csustan.voicethread.com.
VoiceThread accounts "travel" with users through all of their courses, so you only use a single account for all your courses.
Accessibility
VoiceThread Captions
Closed captions are automatically created for every audio-video comment that is recorded.  To view the captions, click the CC icon at the top of the presentation and choose "English".  The captions appear in the playback area of the comment.  Owners of the comment can edit the captions to correct any errors or adjust capitalization of specific words.
More information about captions
VoiceThread Universal
VoiceThread Universal a web application that is fully accessible to screen readers and an interim way of interacting with the same VoiceThreads you use in the default experience. It is the first thing a screen reader will detect on VoiceThread's website, and it can be set as your personal default if you always use a screen reader.
Universal support documentation
Help make VT Universal truly universal!
Since a screenreader will not read or interpret the visual content of a slide, it's crucial that the slide creator supply some descriptive text to help. Use the slide title feature for this information, akin to how alternate text works in regular web images.
Using VoiceThread: Creating, Commenting, Grading
For Everyone
The following web pages contain detailed instructions for students and instructors using VoiceThread as a commenter.
Especially For Students
Especially For Instructors