What is VoiceThread?
VoiceThread is an exciting tool that lets you and your students communicate about course content naturally via voice and video.  Use VoiceThread in your online, hybrid, or face-to-face course in two simple steps:
Compile materials taken from a variety of formats (Powerpoint, Word, PDF, JPG, audio, video, etc.) into a slide-based VoiceThread presentation right inside your course web site. 
Then, you and your students add comments to the slides using a microphone, webcam, or text.
Think of VoiceThread as a richer alternative to discussion forums for when you want students to engage with specific images or other media.  Or, use VoiceThread as a lecture tool in an online class and let your students ask questions right at the spot where they need help.  For online courses especially, having your students speak and been seen contributes to the "humanizing" of the experience for everyone involved.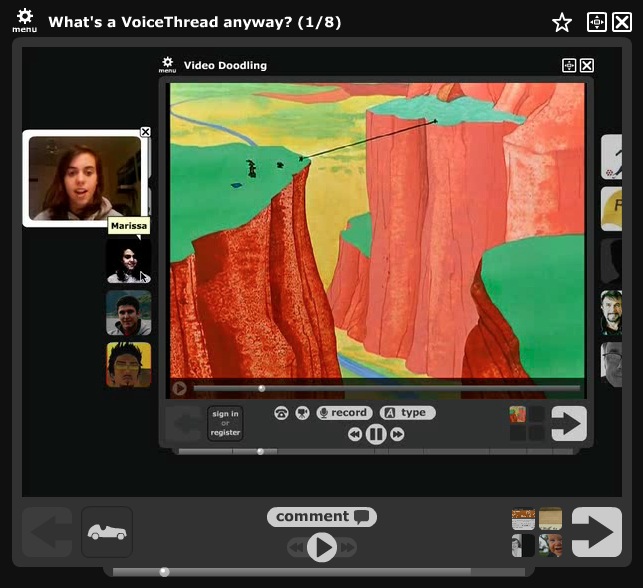 VoiceThead Overview
VoiceThread has produced a really informative series of short videos about their tool:
Watch
Introductory Webinar - August 2021
This webinar presents an overview and introduction to VoiceThread.
Classroom Usage
VoiceThread is available as part of Canvas and Moodle, as an activity added to a course web site.  In addition to simple lecture delivery, VoiceThreads can be assigned and graded.  Students can be assigned a VoiceThread activity in three different ways:
Watching a VoiceThread from start to finish
Commenting on a VoiceThread (specify number of comments)
Creating a VoiceThread
Integrating VoiceThread with Canvas
Click here to learn more about how VoiceThread integrates with Canvas
Updated: October 11, 2022