Basic Needs provides valuable resources such as the Warrior Food Pantry and CalFresh to students who are experiencing food insecurity. In addition, Basic Needs Coordinators are available to assist students in exploring available resources both on and off-campus. Basic Needs is housed within the Health Education & Promotion Office, located in the Student Services Building, Room 145.
---
Campus Resources
Listed below are valuable resources available to students.
---
About Us
We are a collaborative effort of campus and community-based programs located at Stanislaus State with the goal to improve student success through the provision of supplemental food, nutritious meals, CalFresh, USDA, food benefit assistance, and referral services for students experiencing food insecurity, hunger, displacement, homelessness and poverty.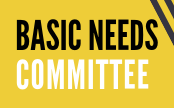 Basic Needs Committee
The Student Basic Needs Committee collaborates on addressing issues that are barriers to student success both inside and outside the classroom, including food and housing insecurity. This committee will develop programs with key elements that ensure a significant, sustainable, and active program presence for students.
---