Ergonomics & Stan Ergo Assess
What is Ergonomics?
Ergonomics is the science of fitting the task to the worker to maximize productivity while reducing discomfort, fatigue, and injury.
What is Stan Ergo Assess?
Stan Ergo Assess is an on-line ergonomic training and self-assessment program for your workstation.
What do I do if I am in need of an assessment?
Take the Stan Ergo Assess on-line self assessment (click on the diagram above).
Once you complete your self assessment, you will receive an email with your risk assessment results.  If your results are high risk, please follow the steps below:
Contact your supervisor.  It is important that your supervisor is aware of your request.  
Contact Safety & Risk Management to schedule a follow-up in person assessment.
Telecommuting
Telecommuting—also known as working from home (WFH), working remotely, or e-commuting—is a work arrangement in which the employee works outside the office. Often this means working from home or at a location close to home, such as coffee shops, libraries, or co-working spaces. 
Ergonomic recommendations when telecommuting.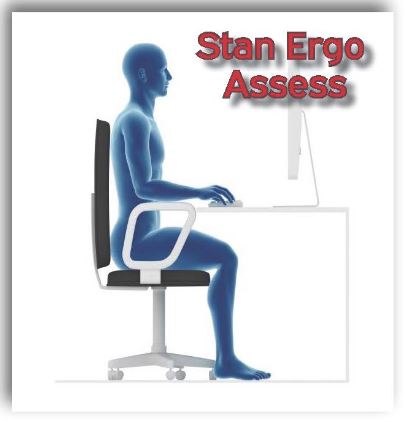 Resources:
Breaks - When should I take them?
Office Chairs - What to look for?
Office Posters:
Ergonomic Tips & Checklists