Business Continuity Planning
Per Executive Order 1014 (California State University Business Continuity Program), the President, or his/her designee, is responsible for implementing and maintaining an ongoing program on each campus that ensures the continuity of essential functions or operations following or during the recovery phase of a catastrophic event.  California State University, Stanislaus has appointed a Business Continuity Planning Workgroup that helps to ensure that Executive Order 1014 is being met.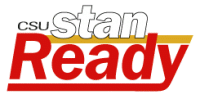 Business Continuity is how business will operate when our normal operating procedures are not possible.  We can sometimes confuse Business Continuity with Emergency Operations; however, they are different.  Emergency operations are about the safety and security of individuals; whereas, Business Continuity is about resuming operations as quickly as possible so the consequences of a slow recovery after an incident is minimum, if at all any.
Contact Information:
Emergency Management & Business Continuity
California State University, Stanislaus
PH: (209) 667-3057
Email: risk@csustan.edu
Misty Strode
Emergency Management & Business Continuity
California State University, Stanislaus
Phone: 209.667.3022
Email: mstrode@csustan.edu