Smart Classroom Upgrades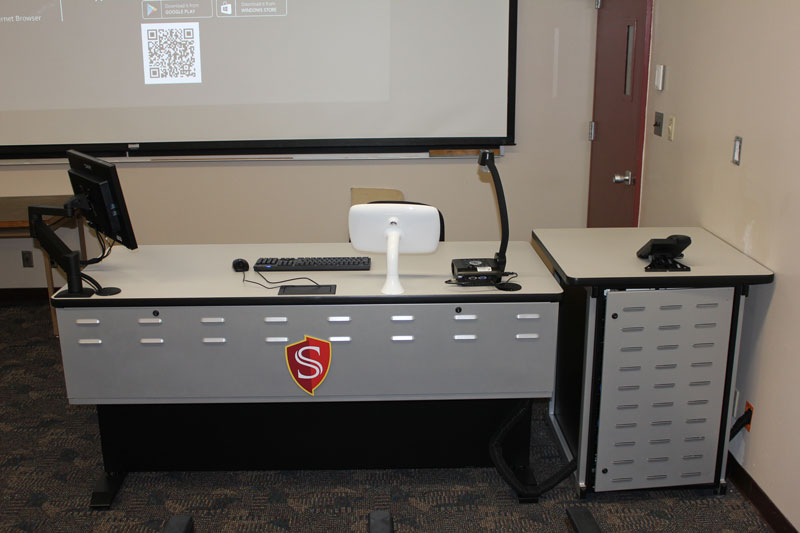 Standard equipment in our new "VIA" enabled rooms include:
VIA Wireless presentation and collaboration - See videos here for training on how to connect using any device.
Windows PC and Touchscreen Monitor
Touchscreen Room Control Panel
Aver Document Camera
Amplified Speaker system
Blu-Ray DVD Player
Campus Cable TV tuner (if equipped)
HD Widescreen Projector
VoIP Telephone
Zoom web conferencing capability
Mediasite Lecture capture device & camera (only rooms with ** noted below)
Legacy laptop connection cables for VGA or HDMI inputs
The following classrooms have been upgraded to  the new VIA enabled classroom:
Summer 2018:
C111
C117
C131
C203
C210
C212
C233
C234
C235
T110
G010
ESB 24
M046
DBH 145
DBH 164
DBH 165
Stockton – 1122
Stockton - 1072/1071
Stockton – 1074
Stockton – 1070
Stockton - 1116
Winter 2018:
Naraghi 101 (N101)
Bizzini 201 (C201)
Bizzini 204 (C204)
Bizzini 214 (C214)
Bizzini 245 (C245)
Science 104 (S104)
Summer 2017
DBH 166 (P166) **
DBH 167 (P167)**
Drama 27
Drama 28
Art 06
Art 14
Art 40
Bizzini 102 (C102)**
Bizzini 115 (C115)
Stockton - A1002
Stockton - A1062
ESB 23 (Active Learning Classroom Pilot)
** These classrooms have lecture capture capabilities, if desired by the instructor
Planned Classroom Upgrades
These classrooms will be upgraded during our next phase of smart classroom upgrades, occuring over Summer 2018:
Planned for Winter 2019:
These classes will be evaluated after the above upgrades are complete:  C114, C136, CX101, CX102, and C113.  At Stockon, 1064 will get a projector upgrade in lieu of upgrading 1116.
Services Available
Delivery of audio-video equipment to instructional classrooms
Over-the-counter equipment checkout for instructional use
Installation and maintenance of equipment in instructional classrooms
Contact the OIT Technology Support for additional assistance and training on the equipment in classrooms.