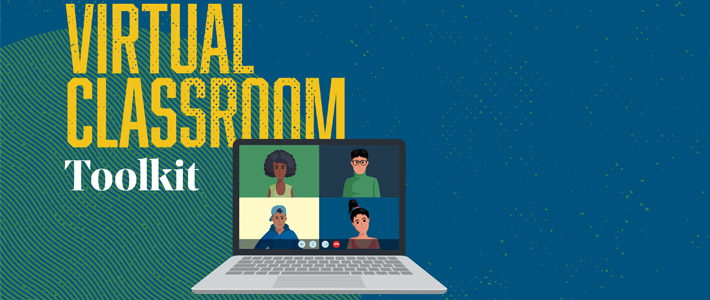 By taking small actions to support students' wellbeing and personal development, faculty can have a profound impact on students' ability to learn and succeed academically. Taking the time to understand and build your skills to promote wellness will make you a more effective educator. To get you started integrating wellness into your virtual classroom we have created the following categories of actionable strategies that have been identified as promising practices to support student wellness and learning. While some of these strategies are most easily implemented in synchronous classes, many will work for asynchronous classes as well.
This Tool Kit is an adaption of the Simon Fraser University's Well-Being in Learning Environments program & Sacramento State's Wellness in the Virtual Classroom Toolkit developed by Reva Wittenberg, Associate Director of Campus Wellness. Thank you to Reva for her generosity in sharing her resources and expertise. Additional work & expertise in the development of this tool kit was provided by Karen Boyce (Director of Health Promotion & Wellness, San Francisco State), Jul Custodio (Mental Health Educator, San Francisco State), Stephanie Galia (Director of Well-Being & Health Promotion, San Diego State), Kenya Rampersant (Sr. Coordinator for Health Promotion, CalPoly Pomona), & Megan Rowe (Health Education Coordinator, Stanislaus State). 
Why is Wellness so Important to the Virtual Classroom
A growing body of evidence related to worksite wellness and education (both K-12 and higher education) demonstrates the connection between creating environments that enhance wellbeing and enhanced productivity, learning, satisfaction, engagement, and retention. [Simon Fraser University, 2019. Rationale for well-being in learning environments]. At Stanislaus State, students reported Stress (35%), Anxiety (25%) and Sleep Difficulties (23%) as top three issues that negatively impacted their academics in the 2018 National College Health Assessment.
The switch to virtual instruction was a massive trauma and disruption to student's academic experience, as it was for faculty, staff and administrators. The prolonged and stressful nature of our current reality of a global pandemic, economic hardship, and an unknown future affects student's ability to learn and achieve.  Integrating wellness into your virtual classroom is more important now than it has ever been. While the virtual classroom brings unique challenges, it also brings new tools and opportunities.
---
Actionable Strategies
---
Becoming a Wellness Advocate
The final stage of mastering a health skill is to become an advocate in your community. You can do this at Stanislaus State in many ways with a small or large commitment. If you are ready to take the next step to promote health outside of your classroom here are some ideas:
Share this tool kit and strategies that have worked for you with your peers, department, or college
Practice the strategies in this tool kit in your department virtual meetings.
Create opportunities for faculty within your department to share their research or work with a health or wellness theme or application
Do an assessment of department/college practices or policies to see how they can be improved to promote wellness or health.
Get involved in campus groups or committees that promote health and wellness, campus sustainability, etc. or become an advisor to a virtual student-run group.