This year CASA | Center for Applied Spatial Analysis and the Geography Program bring the Geography Awareness Week & GIS Day with three independent one-hour programs:
Monday, November 15, 2021 | 2:00PM to 3:00 PM (Pacific Time) | Language & the Right to Public Space with Dr. Carr  
Wednesday, November 17, 2021 | 1:00PM to 2:00PM (Pacific Time) | GIS Professionals Experiences: A Panel with Mr. Eugene Barrera, Mr. Aron Harris, Mrs. Kelechenyi, and Mrs. Lopez 
Friday, November 19, 2021 | 1:00PM to 2:00PM (Pacific Time) | Thinking Geographically: Making "Known" Research Problems Unique with Dr. Sánchez-Rivera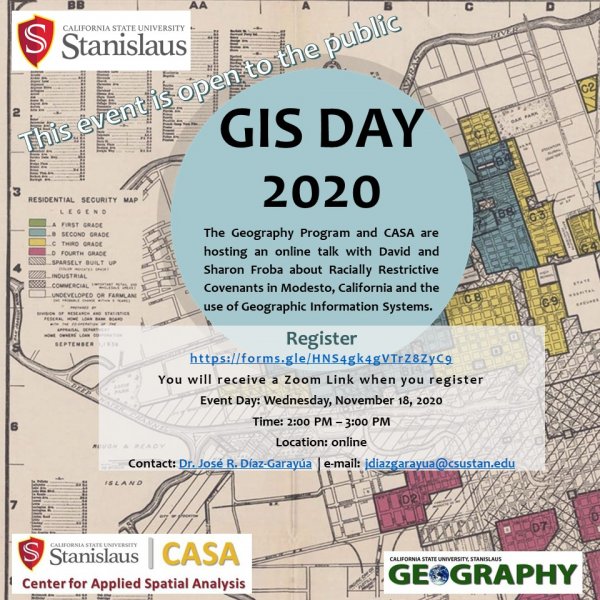 This 1-hour online activity, supported by CASA | Center for Applied Spatial Analysis, brings a conversation with David and Sharon Froba about Racially Restrictive Covenants in Modesto. These Racially Restrictives Covenants were used across the United States and Modesto was not an exception.  These records show how RRCs were used in Modesto mainly around the 1930s, 1940s, and 1950s.  Although these restrictions are not applicable nowadays, their effects continue haunting the deepest fabric of our society.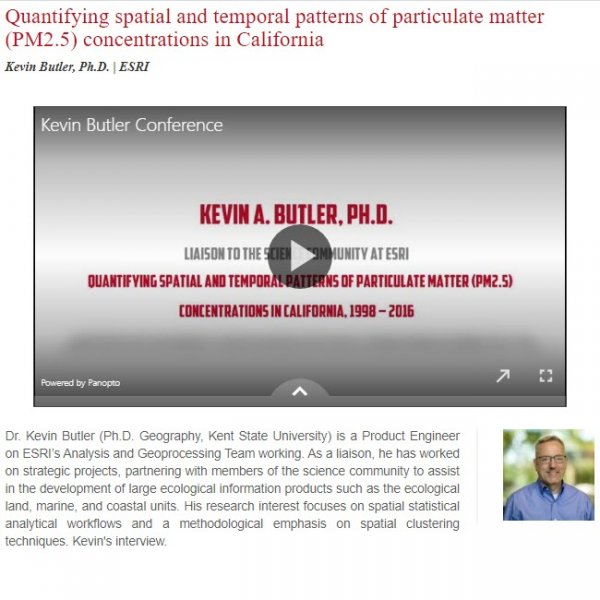 This event, with support from California Humanities, brought a series of speakers during the 2019 Geography Awareness Week, specifically during the GIS Day, who shared their work on how geography meets the humanities, having social justice as a central theme. Speakers talked about a wide range of topics including film, fair trade, the role of GIS in activism and social justice in disadvantaged communities, and health and inequalities among others. The public had the opportunity to learn and ask questions and reflect on the importance of the humanities and geography.