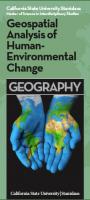 Geospatial Analysis of Human Environmental Change
Geospatial Analysis of Human Environmental Change is a concentration in the Interdisciplinary Masters Program based in geography while also integrating expertise from related disciplines. The concentration provides a strong foundation in geographic concepts and methods with in-depth course-work in geospatial technology and landscape analysis. Particular strengths include ethnic and urban landscapes, fluvial processes and landscapes, and environmental and agricultural land cover change.
Minimum Prerequisites for Program Admission
The first step is to apply for admission to the University. The application form may be obtained from the Graduate School. After gaining admission to the University the student applies for admission to the MA/MS Interdisciplinary Studies degree program.
For more information, see the program overview page.