Welcome
We are the on-hand, 24-hours a day, 7-days a week Police force serving the campus and immediate surrounding community (consistent with the California Penal Code Section 830.2 and the California Education Code 89560). We have 14 fully-trained and sworn police officers on staff, as well as numerous employees and student assistants.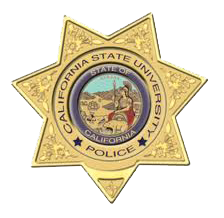 Phone Numbers
Turlock Campus
Emergency: 9-1-1
Police Dispatch 24 hours
209-667-3911
University Police Business Line
M-F, 8 a.m. to 5 p.m.
209-667-3114
Evening Safety Shuttle
209-667-3114
Turlock Police Department
209-668-1200
Stockton Campus
Emergency: 9-1-1
Stockton Police Department
209-937-8377
Stockton PD website
Securitas Security
Non-police response at Stockton Campus
Motor Patrol: 209-715-0740
Foot Patrol: 209-401-6931
Campus Crime Reporting
209-667-3911
Lost & Found
209-667-3114
Safety Shuttle
209-667-3114
All faculty, staff and students should regularly ensure their StanAlert contact information is up-to-date.
StanAlert
Be prepared, get familiar with the University's emergency preparedness efforts on campus.
Emergency Information