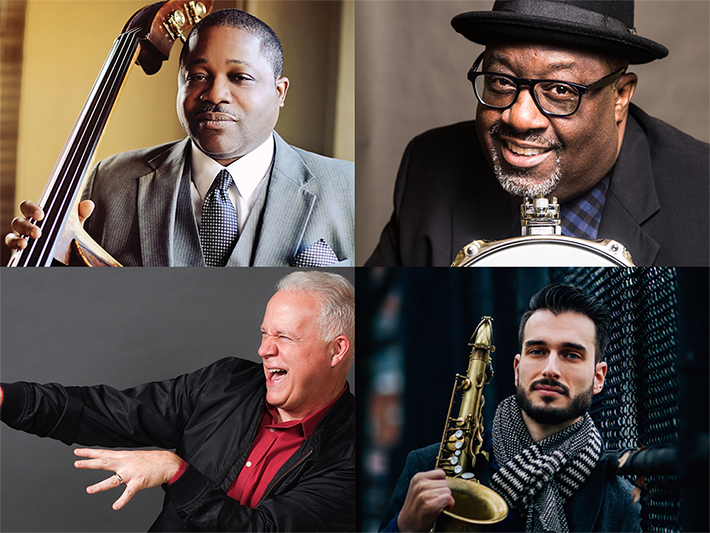 ---
2020 STAN STATE JAZZ FESTIVAL
Friday, March 6 | Saturday, March 7
Featured:
Carl Allen, Rodney Whitaker, Chad Lefkowitz-Brown, & Joe Gilman
---
NEW THIS YEAR
Each of our guest artists will not only be performing as well as providing a masterclass to all festival participants, but will also serve as the feedback clinicians for YOUR ensembles! These esteemed artists are not only incredible musicians and performers but also highly respected and experienced educators! Recorded comments will be provided by members of the Stan State Jazz Faculty.
CONCERTS
Friday, March 6th
Snider Music Recital Hall | 7:30pm
SCMEA HS Honor Jazz Ensemble
Stan State Chamber Jazz Ensembles & Faculty w/Festival Artists
Saturday, March 7th
Snider Music Recital Hall | 12:00pm
Stan State Jazz Ensemble w/Festival Artists
ABOUT THE GUEST ARTISTS:
CARL ALLEN (Drums)
The pursuit of knowledge, experience, and ever-present swing is a recurring theme in the life of drummer/composer and Milwaukee native Carl Allen. It's a theme that began to take shape when, as a teenager, he performed with such greats as Sonny Stitt and James Moody and it's a theme to which he held fast as his musical quest took him to The University of Wisconsin - Green Bay (1979-81) and New Jersey's William Patterson College (1981-83). While at William Patterson, he pursued his life-long dream -- the drum chair in trumpeter Freddie Hubbard's band. He got the position in 1982 and remained with Hubbard for eight years - also serving as the trumpeter's musical director and road manager.
Allen says, "my ultimate goal is to get to a level like Art Blakey, Art Taylor, Elvin Jones and Billy Higgins and these cats who, every time they sit down behind a set of drums it's swinging. The power of swing is something else and once I get to that level everything else falls into place." In a true Messenger (as in Art Blakey) state of mind, Allen began to extend Blakey's ideals into his efforts outside of Hubbard's band. In 1988, Allen co-founded Big Apple Productions (with altoist Vincent Herring), which through its production of several albums for labels in Japan (Alfa, King, Venus, Keystone Music International and others), introduced now rising stars like Roy Hargrove, Nicholas Payton and Cyrus Chestnut.
Allen maintains an exhaustive schedule of recording and touring. He remains active as a leader (most recently leading his New York All-Star Band on a month-long U.S./Japan Tour and up-coming dates with The Carl Allen Quintet) and as an in-demand sideman (recent recordings with Terence Blanchard and Joe Henderson, Eric Reed, Vincent Herring, and many others).
RODNEY WHITAKER (Bass)
Internationally renowned bassist and Mack Avenue recording artist, Rodney Whitaker, currently holds the titles of Professor of Jazz Bass and Director of Jazz Studies at Michigan State University where he has built one of the leading jazz degree programs and is considered one of the leading performers and teachers of the jazz double bass in the United States. He is also the Artistic Director of the Michigan State University Professors of Jazz, former Artistic Advisor of Jazz @ Wharton Center, Director of Detroit Symphony Orchestra's Civic Jazz Orchestra and a member of the Jazz @ Lincoln Center Orchestra.
Building on his Detroit roots and enormous talent, Rodney is one of the hardest working and swinging bass players on the scene and has gone on to earn an international reputation as one of the world's finest jazz musicians. Whitaker received his first national recognition performing with the Donald Harrison/Terence Blanchard Quintet and completed a seven-year tenure as bassist with Wynton Marsalis' Septet and the Lincoln Center Jazz Orchestra. He has toured the world over the last twenty-five years, collaborating performing, and recording with great musicians such as Roy Hargrove, Pat Metheny and many more.
CHAD LEFKOWITZ-BROWN (Tenor Sax)
Hailed as a "sax phenom" by The New York Daily News, Chad Lefkowitz-Brown is one of the first prominent jazz musicians to emerge out of the millennial generation. He has toured globally as a soloist, and with numerous jazz artists and pop icons ranging from Arturo O'Farrill to Taylor Swift. Chad is also a member of the multi-Grammy award winning Afro-Latin Jazz Orchestra and is on faculty at the San Francisco Conservatory as a visiting artist.
Downbeat Magazine named his debut album Imagery Manifesto "Debut Album of the Year" by jazz critic and author, Doug Ramsey, and selected his most recent recording as a leader Onward (which features legendary jazz trumpeter Randy Brecker) as an Editor's Pick for 2017, commending his "technical abilities that mask the difficulty of his wondrously intricate lines."
JOE GILMAN (Piano)
Gilman began studying piano at the age of seven and later earned degrees in piano performance and jazz studies at Indiana University, a master's degree in jazz and the contemporary media from the Eastman School of Music, and a doctorate in education from the University of Sarasota. He studied with Yuriy Oliynyk, Jerry Murphy, Frank Wasko, David Baker, James Tocco, Karen Shaw, Bill Dobbins, and Rayburn Wright
In 1992 he began directing the music theory and jazz studies programs at American River College, and released the album Treasure Chest with Joe Henderson, Jeff "Tain" Watts, and Robert Hurst. In 2004 began a series of albums for Sunnyside and Capri Records featuring interpretations of the music of Dave Brubeck and Stevie Wonder. His later recordings presented musical interpretations of Contemporary American painters (Americanvas) and the sketches of M.C. Escher (Relativity). In 2006, Gilman became a regular accompanist to jazz vibraphonist Bobby Hutcherson.
Philosophy
The goal of the Stanislaus State Jazz Festival is to provide students and directors with a positive educational and musical experience in Jazz. Maximum interaction between students, directors, and guest clinicians will take place throughout the day, highlighted by various master classes from guest artists and clinicians.  The festival also includes several performances featuring festival clinicians, the Stan State Jazz Ensemble, and our guest artist Stefon Harris.
Festival Format
The festival is non-competitive. Clinicians will provide written and verbal feedback to the directors and students. Each band will receive a warm-up room for 25 minutes prior to their performance. Each band will be allowed approximately 25 minutes to perform (this includes setup and teardown), followed immediately by a 25 minute clinic.
Master Classes
Throughout each day, guest artists, as well as other area jazz educators, will give master classes that deal with specific improvisational topics.  A schedule of these master classses will be distrbuted a few weeks pirior to the festival.