¡Guitarraganza!
International Guitar Festival
October 19-21, 2023
This year's event arrives early, moving to a fall 2023 event. The festival is a celebration of guitar studies and performances featuring guest artist concerts, lectures and master classes that involve the Stanislaus State Guitar Studio and the Central Valley Guitar Community. The festival premieres a work written for our students by a special guest.
---
Festival Competition
Cash Prizes: 1st: $500, 2nd: $300, 3rd: $200
Complete Competition Entry Form before (TBD) at 11:59 p.m.

Entrance fee $25
Includes entry to all masterclasses and festival concerts.
Complete Release of Liability Web Form (required for all participants).

Submission Deadlines - Send submissions to Dr. David Chapman using the links below.
---
Festival Schedule (tentative)
All festival events will take place in Snider Recital Hall. Anything open to the public will also be live-streamed on the Stanislaus State Department of Music YouTube Channel (direct links included below).
Thursday, October 19
2:00 pm Competition Semi-final Round (closed)
4:00 pm Flamenco Masterclass/Workshop - Free & open to the public!
7:30 pm Flamenco Concert

Featuring Albert Marquez and his Flamenco Crew

- Purchase Tickets Now
Friday, October 20
1:00 pm A Conversation with the Artists - Free & open to the public!
2:00 pm Masterclass/Workshop - Free & open to the public!
7:30 pm Competition Finals/Guest Artist Concert featuring 

Carlos Santi and Isaac Bustos

- Purchase Tickets Now
Saturday, October 21
7:30 pm Gala Concert featuring all our artists, the competition finals and the guitar studio
Reserve tickets and contribute.
Advance ticket reservation is strongly recommended. Limited seats are available at the door.
---
Guest Artist Profiles
Carlos Eugenio Santi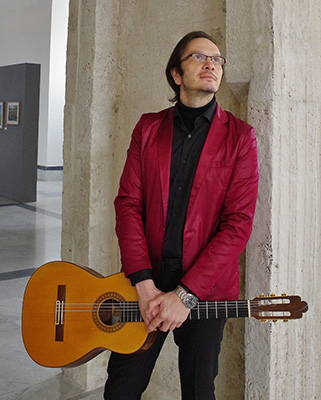 Carlos Eugenio Santi graduated from the National University of Rosario, Argentina, in 2001 with top honors. He furthered his education under the guidance of the exceptional violinist Rino D'Angelo. He honed his skills with world-renowned masters such as Eduardo Isaac, Alvaro Pierri, Leo Brouwer, and Abel Carlevaro, among others.
He has received awards in international and national competitions, including the Joaquín Rodrigo Competition, Homage to María Luisa Anido, and the Fabini Festival, among others. He was granted scholarships in Spain (Santiago De Compostela) and Brazil (Campos De Jordao Festival).
He has participated as a teacher, performer, and judge in various concerts and festivals around the world, including Switzerland (International Telecommunication Union, "Aguas Vivas" Cycle), France (Cevennes Festival, Gex, Mâcon Conservatory, and Alès), Spain (Casa Luthier in Barcelona), USA (Modesto Junior College in California), Slovenia (St. Jost Church), Italy (International D'Aosta Festival SFOM Conservatory), Mexico (International Classical Guitar Festival, Otoño BUAP), Colombia (International Festival of Pasto and Ibagué Ibero-American Seminar), Brazil (UFRGS International Festival in Porto Alegre), Chile (Technological University of Santiago), and Argentina (World Guitars Festival, etc.).
He has shared the stage and lessons with exceptional musicians such as Eduardo Fernandez, Víctor Villadangos, Carlos Pérez, and Edoardo Catemario. He has performed as a solo guitarist accompanied by the Tolima Symphony Orchestra (Colombia), the City of Rosario Symphony Orchestra, the Hurlimgham Youth Philharmonic Orchestra (Buenos Aires), the Formosa String Orchestra, the San Juan Camerata, the Córdoba Symphony Orchestra, and the New Córdoba Camerata under the direction of renowned conductors such as Juan Carlos Zorzi, Gustavo Plis Steremberg, Adrián Ávila Arzuza, and Jhon Alexander Riaño, among others.
He holds a Master's degree in 20th-century Latin American music, receiving merit evaluations from judges in Austria and Argentina. He has recorded two musical albums and published four books on musical interpretation.
He has served as a full-time professor in the guitar and chamber music department at the National University of La Rioja, I.F.D.C. (San Luis), "Astor Piazzolla" Conservatory (Buenos Aires), and others. To this day, he continues to teach in the guitar department at the Provincial University of Córdoba.
Given his remarkable teaching career, he is often invited to give masterclasses in many cities in Argentina and abroad. Currently, he resides in Italy, performing concerts and masterclasses throughout Europe.
Isaac Bustos
Albert Marquez
Updated: September 12, 2023