¡Guitarraganza! International Guitar Festival
2023 date and updated info TBA
The festival is a celebration of guitar studies and performances featuring guest artist concerts, lectures and master classes that involve the Stanislaus State Guitar Studio and the Central Valley Guitar Community. The festival premieres a work written for our students by a special guest.
---
Featured Guest Artists from 2022
---
Festival Competition
Cash Prizes: 1st: $500, 2nd: $300, 3rd: $200
Register before Thursday, March 10 at 11:59pm

Entrance fee $25
Includes entry to all masterclasses and festival concerts.
Release of Liability Web Form required for all participants (submit the web form here).

Submission Deadlines - Send submissions to Dr. David Chapman using the links below.
---
Festival Schedule
All festival events will take place in Snider Recital Hall. Anything open to the public will also be live-streamed on the Stanislaus State Department of Music YouTube Channel (direct links included below).
Thursday, March 17
4:00pm Flamenco Masterclass with Albert Marques
7:30pm Flamenco Concert with Albert Marquès featuring Carola Zertuche and Damien Álvarez*
Friday, March 18
1:00pm Conversation with the Artists featuring all guest artists
4:00pm Brazilian Jazz Guitar and Composition Masterclass with Gabriel Santiago
7:30pm: Shared Recital featuring Jay Kacherski and Gabriel Santiago*
Saturday, March 19
5:00pm Mexican Guitar Masterclass with Jay Kacherski
7:30pm Festival Gala Concert featuring the competition finalists, guest artists, and festival all participants.
Reserve tickets and contribute here
*Evening Concerts are free and open to the public
There is no charge to attend the ¡Guitarraganza! evening concert! Contributions to fund Stan State Music Scholarships are encouraged. Please support our students!
Advance ticket reservation strongly recommended. Limited seats availabel at the door.
---
Guest Artist Profiles
Gabriel Santiago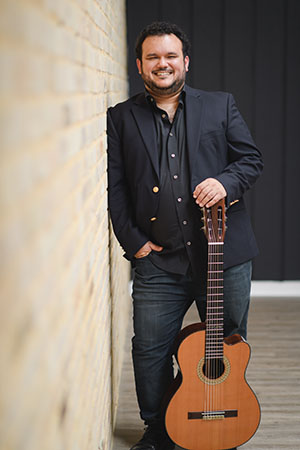 Born in Brazil (1980), 2010 ASCAP Young Jazz Composer Award Winner Gabriel Santiago isa Composer/Arranger/ Acoustic and Electric Guitar Player with 14 albums (including CDs and DVDs) released. Called by JazzTimes Magazine "a young master at both the acoustic and electric guitars" and his compositions defined as "stunners", Santiago holds a Doctoral Degree in Music Composition from the University of Texas at Austin, where he won the
2013 Outstanding Dissertation Award and the 2010 Eleanor A. Stribling Award for Excellence in Jazz Studies. His solid background also features studies with jazz masters Pat Metheny, Adam Rogers and Maria Schneider. Santiago has collaborated with a wide variety of artists including Esperanza Spalding, Chris Potter, Stefon Harris, John Clayton, Terence Blanchard, Janek Gwizdala, Carmen Bradford, Andr Mehmari, Romero Lubambo, Odair Assad, Gilson Peranzzetta and Recording Engineer Master Rupert Neve, being invited to be the first artist to record with Neve's first ever line of microphones. Gabriel has been composing music for a wide variety of ensembles (ranging from Symphony Orchestra to Chamber ensembles, Big band to Jazz Combos), styles and medias including Film, TV, and internet. His music is fresh and carries all of his influences that range from Brazilian Music to Jazz and Classical Music.
Jay Kacherski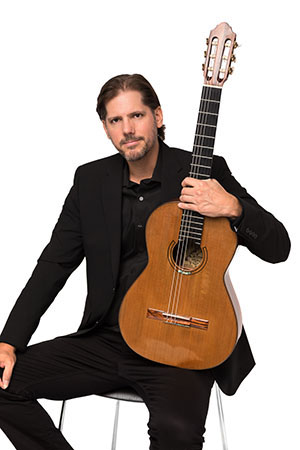 "Virtuosismo" and "technical dominance" are the words used by the press to describe American guitarist, Jay Kacherski.  A native of New York, Kacherski has performed around the world as a soloist and member of the highly praised Texas Guitar Quartet. He has performed at distinguished music festivals and venues such as the Festival International de Guitarra de Taxco, Mexico, the Florida Guitar Foundation, the Brevard Music Center, Round Top, the New Orleans International Guitar Festival, the Southern Guitar Festival, and the International Guitar Art Festival in Shenzhen, China. He has also collaborated with Grammy-winners and nominees such as the chamber choir Conspirare, Chilean flutist Viviana Guzman, and the Los Angeles Guitar Quartet.
Jay Kacherski spent two years living in Mexico as a Fulbright Scholar and member of the guitar faculty at the Escuela Nacional de Música, the music conservatory for the National University of Mexico (UNAM) researching, performing, and promoting contemporary classical guitar music of Mexico.  His guide and teacher for this work was the world-renowned Mexican guitarist Dr. Juan Carlos Laguna.  Kacherski has since premiered and recorded many new works from Mexico and has created a complete catalog of Mexican guitar works with links to videos, audio, scores, and more that can be found at www.kacherskiguitar.com.  His debut solo album Synthesis has been released on Frameworks Records and comprises of all new works from Mexican composers of the 20th and 21st centuries. 
Jay Kacherski is currently on the guitar faculty at Loyola University of New Orleans, the University of New Orleans, and McNeese State University, as well as NOCCA, the New Orleans Center for Creative Arts. He has presented at music conventions and festivals throughout the U.S. and is often invited to adjudicate at national and international competitions. As a teacher, his students have been finalists and winners of international solo and chamber music competitions and recipients of scholarships for continued study. He is the director of the Artistic Director of the Houston Classical Guitar Festival and Competition in Texas and the Loyola Guitar Festival in New Orleans as well as the Director of the Francis G. Bulber Youth Orchestra Guitar Program. His academic studies include a Doctor of Musical Arts degree from the University of Texas at Austin, a Master of Music degree in Guitar Performance and Literature from the Eastman School of Music, and undergraduate degrees from Florida Southern College where he graduated with honors.  
Albert Marquès
My grandfather, who was born outside Granada in a little town called Pinos Puentes, passed the guitar down to his two sons who in turn passed it down to me. My father played professionally in the fifties doing studio work with Fantasy records and live performances.
At the age of seven, I received my first guitar. I played on and off until I was about twelve when I decided to play seriously. At the age of twelve, I began practicing four hours a day. My first guitar teacher was my Dad who showed me how to play various styles of music including flamenco, blues and a little rock. After about a year, I studied for two years with former guitarist for Johny lee Hooker, John Garcia.
From age 12 to 18 I played in many rock bands performing at parties, weddings and high schools. At age 18, I became a very serious musician and soon after started a modern jazz band for about three years. Also at 18, I came to Gavilan and studied music theory, music history, classical guitar and music ensemble. At 18, I also started guitar lessons with legendary Spanish guitarist Mariano Cordoba. Mariano is a master flamenco guitarist internationally known and mainly responsible for bringing flamenco to the bay area. During this time from 18 to 21, I played a lot of rock and flamenco. I also had a chance to do some studio work. I recorded some commercials and did some session work for local bands. I also concertized quite a bit performing at the Flamenco Society, Classical guitar society, Music teacher association of California and many private events. After studying with Mariano, I briefly studied with well-known guitarist Guillermo Rios before moving to Spain in 1988.
At age 21 I moved abroad to study in Spain with the great masters of today. While in Spain, I practiced on average 8 to 12 hours a day. I got the opportunity to study with the guitarist Chicuelo who is considered to be one of the top young flamenco guitarists in Spain. Chicuelo wowed me with his technique. When I first started taking lessons with him I would try to impress him with classical music. Every song I played, he played. The next week I would challenge him to improvise over changes thinking flamenco guitar players didn't know how to improvise. I was wrong again. Finally I admitted defeat and learned as much as I could from him. Still to this day when I see him, we jam and he gives me great advice. The one thing I never understood until later is why he wouldn't let the fingers fly on his recordings. I thought to myself that if this guy had all these chops in the world, why not show them and his response was simple, He wanted to make music and not play notes. One day he said something that has always stuck with me: "Hay gente que habla mucho pero no dice nada". Later, I found that to be so true especially with flamencos outside of Spain. There are guitarists that simply overplay. The music is so busy that it is boring. "They talk a lot and say nothing."
During my time in Spain I went to Madrid to study with the late Rafael Nogales. Rafael was the instructor of Mariano Cordoba and was considered to be one of the last great masters of the traditional school of flamenco.While in Spain, I performed at some small events and one show which has been one of my fondest memories. It was a concert with my instructor Mariano Cordoba in Guadalajara, Spain. An event I will cherish for the rest of my life.
Upon returning from Spain, I continued with yet another master flamenco guitarist, Juan Serrano. Juan taught at CSU Fresno. While At CSU Fresno, Juan and I would jam for hours. In 1991 I competed for the first time in the Fresno guitar Society competition and won first prize. Months later I entered the Central Valley Charlie Daniel guitar competition. I took second place.
Following these competitions I was invited to perform throughout the United States. I performed at the Northern California Flamenco Society, the Pena Cultural Center in Berkeley, as a featured guitarist in the Fresno guitar panorama series and did some live radio performances. In addition to performing solo, I had a Flamenco Jazz fusion band, and I also accompanied some dance classes of local teachers.
Carola Zertuche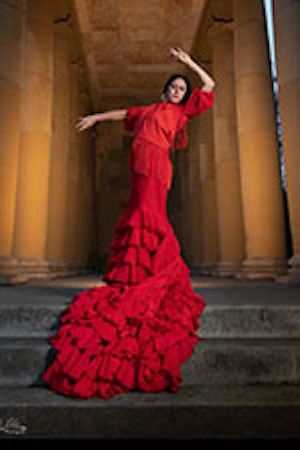 Born in Torreon, Mexico, Carola Zertuche currently serves as the artistic director of Theatre Flamenco, which celebrated its 56th year in 2022. During her tenure as artistic director of Theatre Flamenco, she has worked to forge artistic collaborations with international and local artists in productions that pay homage to traditional styles of flamenco while also embracing and showcasing new, modern, and even avant-garde approaches to the art form. She has toured throughout Mexico, the United States, and the Middle East with highly revered flamenco companies including Maria Benitez Teatro Flamenco, and has danced in New York's Joyce Theater, the Jacob's Pillow Dance Festival in western Massachusetts, the Lensic in Santa Fe, the Tablao Flamenco in Albuquerque, and the Fox Theatre in Atlanta. She has collaborated on projects with Andres Marin, Carmen Ledesma,Pastora Galvan, Adela Campallo, Alfonso Losa, Nino de Los Reyes, among others. She was guest Artists with  Domingo Ortega Flamenco Company in Los Angeles, with the Andrés Marín Company in the "First Flamenco Festival San Francisco," and with the Juan Siddi at the Royal Daphna Hall in Doha, Qatar. Zertuche's work was showcased in the San Francisco Ethnic Dance Festival from 2002 to 2009, the Santa Barbara Ethnic Dance Festival in 2001, and at the Flamenco Festivals in Monterrey, Mexico and Mexico City. In 2017 Miss Zertuche Make her San Francisco Opera debut, as Choreographer for La Traviata at San Francisco Opera.
Damien Álvarez
Damien began dancing Flamenco at the tender age of 7. Power and precision mixed with a little home grown attitude has given rise to a different, fresh, and funky style which is still muy flamenco. Currently Damien teaches in San Francisco on Saturday's, performs in and around the Bay Area and produces a live monthly flamenco show in Sausalito. Damien's goal as a performer and teacher is to show any and everyone that we are all meant to dance, "tal y como somos" (exactly as we are)!
Updated: January 11, 2023