¡Guitarraganza!
International Guitar Festival
March 9 & 10, 2023
The festival is a celebration of guitar studies and performances featuring guest artist concerts, lectures and master classes that involve the Stanislaus State Guitar Studio and the Central Valley Guitar Community. The festival premieres a work written for our students by a special guest.
By participating in this event, you agree to adhere to the Stan State Campus Event Protocols.
Featured Guest Artists
Ami Inoi, Osaka, Japan
---
Festival Competition
Cash Prizes: 1st: $500, 2nd: $300, 3rd: $200
Register before (March 3) at 11:59 p.m.

Entrance fee $25
Includes entry to all masterclasses and festival concerts.
Release of Liability Web Form required for all participants (submit the web form here).

Submission Deadlines - Send submissions to Dr. David Chapman using the links below.
---
Festival Schedule
All festival events will take place in Snider Recital Hall. Anything open to the public will also be live-streamed on the Stanislaus State Department of Music YouTube Channel (direct links included below).
Thursday, March 9
2:00 p.m. Competition Semi-final Round (closed)
4:00 p.m. Flamenco Masterclass/Workshop - Free & open to the public!
7:30 p.m. Flamenco Concert - Get tickets here
Friday, March 10
1:00 p.m. A Conversation with the Artists - Free & open to the public!
2:00 p.m. Ami Inoi Masterclass/Workshop - Free & open to the public!
7:30 p.m. Competition Finals/Guest Artist Concert - Get tickets here

Featuring the competition finalists, guest artists, and all festival participants
Reserve tickets and contribute here
Advance ticket reservation is strongly recommended. Limited seats available at the door.
---
Guest Artist Profiles
Ami Inoi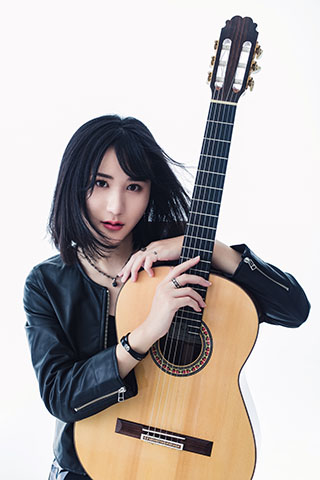 A native of Osaka, Japan, Ami Inoi, is in great demand for concert appearances, seminars and masterclasses throughout Japan and Asia.  Into the Harmony, hailed her as "the next generation of classical Guitarists" in 2021. She has also been featured in Matthew Law's "Promendade – Akibare," and often appears in programs such as "Recital of Masterpieces," "Recital Nova," and "THE TRAD."
Ms. Inoi is very active in social media platforms in parallel to her busy Concert career.  Her YouTube channel counts on over ninety thousand (90,000) subscribers and is supported by several sponsors as she presents performances and pedagogical materials for her followers.
Her debut CD "Black Star" from FONTEC (Japan), was warmly received in 2015.  Since then, she recorded "Moonlight" in 2017.  This success led to her major release third album, "MEDUSA," which was recorded in 2019 under the Japanese label King Records.  Since then, her concert career propelled her to several appearances on Japanese media, while actively concertizing throughout the country and Asia.
Ami has been recognized at an early age in Japanese youth competitions.  Amongst her early achievements are the 1st prize at the 35th Guitar Music Grand prix (2010, Osaka) at the age of sixteen, 3rd prize at the 2014 Taiwan International Guitar Competition in Taipei.  Her most recent and prestigious success came in 2022, when Inoi was selected as the first Japanese artist to reach the finalist stage at the Guitar Foundation of America International Competition in Indianapolis, the most sought-after classical guitar competition in the world.
Ami Inoi began her guitar studies at the age of four under the tutelage of her father Nobuyuki Inoi.  In 2012, Inoi was admitted to the prestigious Osaka college of Music, where she carried out studies under the tutelage of Keigo Fujii and Shin-ichi Fukuda, two of Japan's most sought-after artists and pedagogues.  She graduated with honors in 2016.
Updated: February 27, 2023