¡Guitarraganza!
International Guitar Festival
October 19-21, 2023
This year's event arrives early, moving to a fall 2023 event. The festival is a celebration of guitar studies and performances featuring guest artist concerts, lectures and master classes that involve the Stanislaus State Guitar Studio and the Central Valley Guitar Community. The festival premieres a work written for our students by a special guest.
---
Festival Competition
Cash Prizes: 1st: $500, 2nd: $300, 3rd: $200
Complete Competition Entry Form before 10/13/23 at 11:59 p.m.

Entrance fee $25
Includes entry to all masterclasses and festival concerts.
Complete Release of Liability Web Form (required for all participants).

Submission Deadlines - Send submissions to Dr. David Chapman using the links below.
---
Festival Schedule
All festival events will take place in Snider Recital Hall. Anything open to the public will also be live-streamed on the Stanislaus State Department of Music YouTube Channel (direct links included below).
Thursday, October 19
4:00 - 5:30pm Flamenco Masterclass
7:30 pm Flamenco Concert
Friday, October 20
2:00 - 4:00pm Carlos Santi Masterclass/Workshop
7:30 pm

Carlos Santi and Isaac Bustos Concert
Saturday, October 21
3:30 - 5:30 Isaac Bustos Master Class/Workshop

7:30 pm Gala Concert
Reserve tickets and contribute.
Advance ticket reservation is strongly recommended. Limited seats are available at the door.
---
Guest Artist Profiles
Carlos Eugenio Santi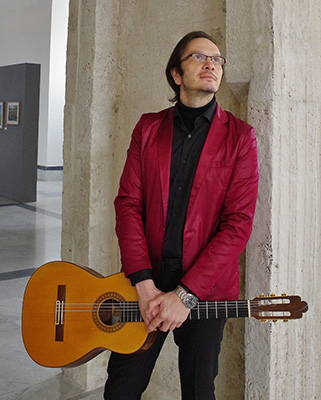 Carlos Eugenio Santi graduated from the National University of Rosario, Argentina, in 2001 with top honors. He furthered his education under the guidance of the exceptional violinist Rino D'Angelo. He honed his skills with world-renowned masters such as Eduardo Isaac, Alvaro Pierri, Leo Brouwer, and Abel Carlevaro, among others.
He has received awards in international and national competitions, including the Joaquín Rodrigo Competition, Homage to María Luisa Anido, and the Fabini Festival, among others. He was granted scholarships in Spain (Santiago De Compostela) and Brazil (Campos De Jordao Festival).
He has participated as a teacher, performer, and judge in various concerts and festivals around the world, including Switzerland (International Telecommunication Union, "Aguas Vivas" Cycle), France (Cevennes Festival, Gex, Mâcon Conservatory, and Alès), Spain (Casa Luthier in Barcelona), USA (Modesto Junior College in California), Slovenia (St. Jost Church), Italy (International D'Aosta Festival SFOM Conservatory), Mexico (International Classical Guitar Festival, Otoño BUAP), Colombia (International Festival of Pasto and Ibagué Ibero-American Seminar), Brazil (UFRGS International Festival in Porto Alegre), Chile (Technological University of Santiago), and Argentina (World Guitars Festival, etc.).
He has shared the stage and lessons with exceptional musicians such as Eduardo Fernandez, Víctor Villadangos, Carlos Pérez, and Edoardo Catemario. He has performed as a solo guitarist accompanied by the Tolima Symphony Orchestra (Colombia), the City of Rosario Symphony Orchestra, the Hurlimgham Youth Philharmonic Orchestra (Buenos Aires), the Formosa String Orchestra, the San Juan Camerata, the Córdoba Symphony Orchestra, and the New Córdoba Camerata under the direction of renowned conductors such as Juan Carlos Zorzi, Gustavo Plis Steremberg, Adrián Ávila Arzuza, and Jhon Alexander Riaño, among others.
He holds a Master's degree in 20th-century Latin American music, receiving merit evaluations from judges in Austria and Argentina. He has recorded two musical albums and published four books on musical interpretation.
He has served as a full-time professor in the guitar and chamber music department at the National University of La Rioja, I.F.D.C. (San Luis), "Astor Piazzolla" Conservatory (Buenos Aires), and others. To this day, he continues to teach in the guitar department at the Provincial University of Córdoba.
Given his remarkable teaching career, he is often invited to give masterclasses in many cities in Argentina and abroad. Currently, he resides in Italy, performing concerts and masterclasses throughout Europe.
Albert Marquez
My grandfather, who was born outside Granada in a little town called Pinos Puentes, passed the guitar down to his two sons who in turn passed it down to me. My father played professionally in the fifties doing studio work with Fantasy records and live performances.
At the age of seven, I received my first guitar. I played on and off until I was about twelve when I decided to play seriously. At the age of twelve, I began practicing four hours a day. My first guitar teacher was my Dad who showed me how to play various styles of music including flamenco, blues and a little rock. After about a year, I studied for two years with former guitarist for Johny lee Hooker, John Garcia.
From age 12 to 18 I played in many rock bands performing at parties, weddings and high schools. At age 18, I became a very serious musician and soon after started a modern jazz band for about three years. Also at 18, I came to Gavilan and studied music theory, music history, classical guitar and music ensemble. At 18, I also started guitar lessons with legendary Spanish guitarist Mariano Cordoba. Mariano is a master flamenco guitarist internationally known and mainly responsible for bringing flamenco to the bay area. After studying with Mariano, I briefly studied with well-known guitarist Guillermo Rios before moving to Spain in 1988.
At age 21 I moved abroad to study in Spain with the great masters of today. While in Spain, I practiced on average 8 to 12 hours a day. I got the opportunity to study with the guitarist Chicuelo who is considered to be one of the top young flamenco guitarists in Spain. During my time in Spain I went to Madrid to study with the late Rafael Nogales. Rafael was the instructor of Mariano Cordoba and was considered to be one of the last great masters of the traditional school of flamenco.While in Spain, I performed at some small events and one show which has been one of my fondest memories. It was a concert with my instructor Mariano Cordoba in Guadalajara, Spain. An event I will cherish for the rest of my life.
Isaac Bustos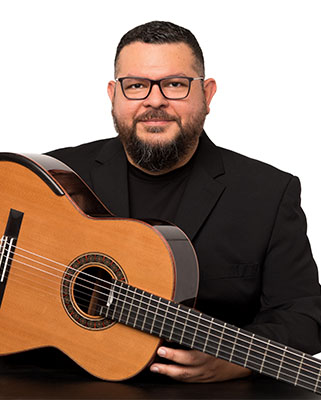 "Soulful and virtually flawless," hails the Portland Oregonian and the Boston Globe writes, "In warm, round tones, the notes of Bach cascaded from the guitar, every note correct and played without hesitation." Classical guitarist, pedagogue and educator Dr. Isaac Bustos, enjoys an extensive performing career that has taken him to Canada, Central America, Europe, China, and all over the US. Bustos has made several Radio and Television appearances and is in demand as clinician and master class teacher invited to perform in some of the most prestigious festivals around the globe including the Guitar Foundation of America Annual Convention, Panama Guitar Festival, Festival Internacional de Guitarra Monterrey and Festival del Noreste in Mexico. Isaac has appeared as soloist with the Orchestra of New Spain, The Baytown Symphony Orchestra, The Nicaraguan National Symphony Orchestra and the Buffalo Philharmonic Orchestra under the baton of Maestro JoAnn Falletta.
Dr. Bustos has acquired an impressive number of top prizes in over 12 major international competitions, 7 of which are first prizes. Additionally, Isaac has premiered new guitar works by composers Nico Muhly, Blas Atehortúa, Samuel Zyman, Frank Wallace, Mark Cruz and Joe Williams II. In the Spring of 2019, he premiered a new concerto for guitar and orchestra, commissioned and dedicated to him, by American composer Peter Lieuwen under the baton of maestro Franz Anton Krager and the University of Houston Symphony Orchestra. In 2016, Isaac also released the world-premiere of Peter Lieuwen's Sonata for Guitar on MSR Classics, and a collection of Latin American works titled Canciones a mi Madre for Vgo Recordings.
Chamber music collaborations have included performances with the Grammy award-winning ensembles Los Angeles Guitar Quartet and Conspirare Choir, the Turtle Creek Chorale and legendary Mexican cellist Carlos Prieto. Bustos is also a founding member of the award-winning Texas Guitar Quartet and has released two critically acclaimed discs with the group. Highlights of the 2019-20 season include performances with the East Texas Symphony, Corpus Christi Symphony, and Rapide Symphony Orchestra.
Isaac holds a Bachelor of Music degree in guitar performance from the University of New Hampshire, where he was the only guitarist to ever hold a full scholarship, a Master of Music degree and Doctor of Musical Arts degree from the University of Texas at Austin, where he worked under the guidance of renowned American guitarist Adam Holzman.
As an educator, his commitment to teaching is reflected in the success of his students whose prize-winning performances have included victories in the Eastfield Guitar Festival and competition, Brownsville Guitar Ensemble Competition, "Classical Minds" Guitar Competition, Houston Young Artist, East Carolina University Competition, Rosario Competition, Appalachian State Competition, Boston Guitar Fest International Competition and Guitar Foundation of America International Youth Competition. Dr. Bustos has been on faculty at Texas A&M University and was artistic director of the prestigious Texas A&M Guitar Symposium and competition. Isaac now currently serves on the faculty at the University of Texas – San Antonio Department of Music where he is head of guitar studies.
*Dr. Bustos is an Augustine Strings Sponsored Artist and plays on a 2013 Martin Blackwell Double-top spruce guitar*
Updated: November 13, 2023