Introduction to the Business Administration Major and Advising.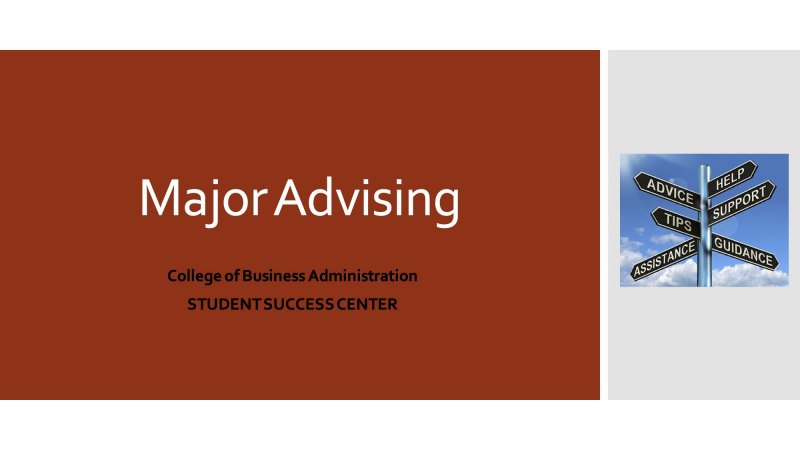 ---
Academic Advising in the College of Business Administration is a dual activity between the Student Success Center Academic Advisors and Faculty. Advising is only available for currently enrolled or returning Stanislaus State undergraduate Business Administration students.
---
ACADEMIC ADVISING Roles, Responsibilities, and Resources:
In the College of Business Administration, academic advising is a collaborative relationship between a student and an academic advisor in the Student Success Center. The intent of this collaboration is to assist the student in developing meaningful educational goals that are consistent with career aspirations, personal interests, values and abilities.
Students
A key tenet of academic advising is that the student is responsible for their own decisions. The student's role is to explore academic, career, and personal goals. This requires the student to:
Advisors
The College of Business Administration's Student Success Center Academic Advisors provides academic assistance and individualized attention to promote each student's success at Stanislaus State. They can share knowledge, experience, and insight that is beneficial to the student. They can also help explore academic interests, identify resources for additional information and support, as well as develop plans of study to meet student's educational goals. The advisor's role is to help the student evaluate and realize educational and career options. This requires the advisor to:
Approve the student's academic program of study
Provide accurate and consistent information
Clarify program requirements, policies, and procedures
Assist the student in identifying appropriate institutional resources
Facilitate relationships between the student and other individuals on campus who may provide assistance
Uphold the academic standards of the institution
---
Prospective Students
Students who are interested in attending Stanislaus State and declaring Business Administration as a major should first contact the Office of Admissions and Outreach Services to inquire about admissions requirements to the university.  There are no admission or impaction requirements for Business Administration majors at Stanislaus State.  
Current students are interesting in Declaring Business Administration or changing their Concentration with the major need to complete a Declaration or Change of Degree Objective Form and email it to the Department Chair of the Concentration, along with scheduling and academic advising appointment with the Student Success Center to review major requirements and create a plan for degree completion.

Lower Division Prerequisites PDF 
---
New Students
New students will receive advising as part of New Student Orientation (NSO). Details will be emailed to your university email.