This page presents an introduction to the GoReact tool, as well as how to integrate GoReact with Canvas.
What is GoReact?
GoReact is a tool that implements with Canvas that focuses on video assignments that your students can submit via the LMS. 
GoReact is designed to help give students feedback on video assignments in an online environment. With the shift to virtual learning GoReact makes it easy to record and interact with your students with an emphasis in language training, teacher prep, performing arts, and nursing prep. 
GoReact is made for faculty-student interaction. You can give feedback to students via text, video, or audio response. Additionally, this tool does not require extra setup and can be used with any existing camera including a smartphone. 
It is an ideal tool for video observation and assessment, collecting evidence for accreditation, or preparing your students for certification.
Overview and Introduction Webinar - August 2022
GoReact gave an introductory presentation as part of the Virtual Fall Institute schedule of workshops.
What Kind of Assignments Can I Give Using GoReact?
There are three primary assignment types you can administer via GoReact:
Standard
The Standard assignment type is the most commonly used assignment type in GoReact. Without any additional settings, this assignment type allows participants to record or upload a standalone video and submit it for feedback. With additional settings, this assignment type can be configured to allow live review, multiple cameras, or presenter slides.
Stimulus
Stimulus assignments allow participants to record a video response to a prompt video (or other media) that you select. The recorded response will then be synchronized to the stimulus media. This type is commonly used in interpreting and other language activities, for mock interviews, and other prompt-oriented responses.
Comment Only
Comment Only assignments allow participants to evaluate a video without recording their own video response. This assignment type is useful when students need to review a presentation/speech or anytime you want students to simply watch a video and provide feedback.
How to Integrate GoReact with Canvas
Step 1: Add GoReact External App
Go to Settings within your Canvas course. 
Click the Apps tab at the top of the Settings.
In the 'Filter by Name' box type in: GoReact. The app should appear
Next click on the GoReact square and select the red '+Add App' button. 
When prompted, supply the following information:

Consumer key: <your Stan State email address>
Shared secret: goreact (all lowercase)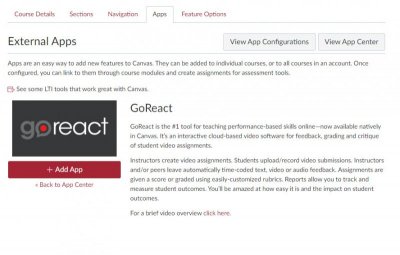 Step 2: Create a GoReact Assignment
Creating a GoReact assignment is simple and is the same as using any other External tool within Canvas. 
In the 'Submission Type' box when creating an assignment, make sure the drop down menu is on 'External Tool' 
Then click on the 'Find' button, find and select the GoReact app.
Check the 'Load This Tool In A New Tab' option and proceed with adjusting the rest of your assignment parameters!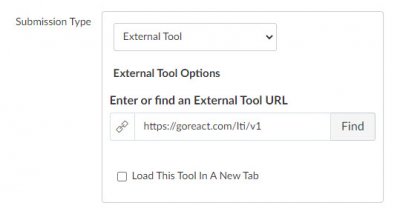 Instructor Resources
These resources have been created by GoReact. For additional help, contact oat@csustan.edu.
Updated: November 02, 2022