In the Beginning.... "Prometheus Bound"
---
The Ugly Duckling
Stanislaus State Department of Theatre 
Performance For Children Class THEA 4020. 
Having fun creating a play for Children.  Public Shows January 25 - 27
Silent Sky
Under Milk Wood
Tartuffe
Metamorphosis
Theatre Club
Presented a Staged Reading of: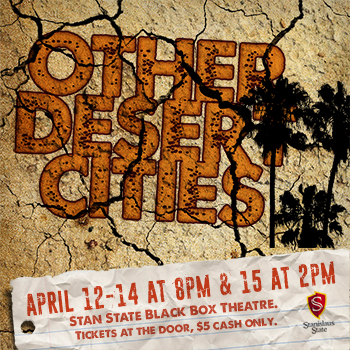 If you love to support college theater, please consider making a small donation our newly-formed Stanislaus State Theatre Club! 30 donors at $10 each will get them to their goal! 
---
Theatre Make up class
Instructor, Caroline Merceir, Ph.D.
---
Recent Productions
Boeing Boeing
by Marc Camoletti
Directed by John Mayer
  
Roosters
by Francis Milcha Sanches
Directed by Cynthia DeCure
YERMA
by Federico Garcia Lorca
Directed by Cynthia DeCure
Sincerity Forever
by Mac Wellman
Directed by Jere O'Donnell
Balm in Gilead 
by Lanford Wilson
Directed by John Mayer
​
---
---
Theatre Life
Under Milk Wood Set
Silent Sky Set