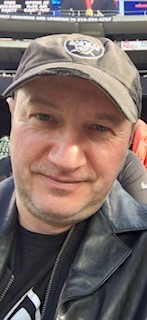 NICK ZAGONE·Directing Stan State Theatre
Student Production "Short Plays"
An Oregon Book Award Nominee, Nick Zagone grew up in Portland, OR. His short film "The Gas Station" was on the 2017 short list for best short film at the Cannes Film Festival. And his adaptation of "Treasure Island" was commissioned and produced at Merced College in California. He is resident playwright at Prospect Theatre Project in Modesto, CA.

His full-length plays include The Missing Pieces (Portland Playhouse, Portland Center Stage JAW Festival and Inkwell Theatre Festival) Mary Esther (East 3rd Productions New York, Michael Chekov Festival) David and Goliath in America: A William Kunstler Story (Mark A. Klein Playwriting Award, Artistic Director's Achievement Award by the San Fernando Valley Theatre League Alliance, Los Angeles Ovation Award Nomination), Driving Under the Influence (AlphaNYC Theater Co. NYC, Fulton Opera House Award, JAW Festival Reading Selection, Mark Cohen Playwriting Award Nomination, Twilight Theatre Company), Blood on the Books or The Powell's Play (Oregon Book Award Nominee) Howard's Hand (New York MultiStages Festival, Inkwell Theatre Festival @ Wooly Mammoth) Ohio (Northwest Playwright's Series Finalist), ETA: Phoenix (a Seattle Times Footlight Award), Our LA Man from Vegas (Prospect Theatre Playwriting Competition Winner), Lee Marvin Be Thy Name (Prospect Theatre Commission) American Dodo (Northwest Playwright's Series Finalist) and the short Brainstorm (winner of the Lamia Ink! International One-Page Play Competition in New York).

His ten-minute plays The Pink Fancy, Amorica, The Mint Juleps, The Coors Lights, I Can't Think Of It Right Now..., Smoke Scenes and others have been seen in all 50 states as well as England, Scotland, Ireland, Canada, Australia, Tasmania, Germany, Poland, Chile, India, the Virgin Islands, Greece, Singapore, Portugal, over 100 Colleges & Universities and translated into 6 foreign languages including Persian. The ten-minute play The DMV One has been performed over 100 times throughout the US.

Nick's work has been developed and produced at East 3rd Productions in NYC, Printer's Devil, Sierra Repertory Theatre, No-Shame Theatre LA, Iron Ring Theatre, Shaking the Tree Theatre, Pavement Productions, Prospect Theatre, Portland Theatre Works and three times has been invited to Portland Center Stage's JAW Festival for new work.

He has a Bachelor of Theatre from Willamette University and a Master of Fine Arts in Playwriting from University of Nevada-Las Vegas.

Nick's been recognized by the American College Theatre Festival, Association of Theatre in Higher Education, and the Seattle Schools Interagency Arts.

He has worked with Cal-State Stanislaus, Stage 3, Pasadena City College & Mark Taper Forum in California, Seattle Repertory Theatre & A Contemporary Theatre in Seattle, Whitman College, Willamette University, University of Portland, Portland Center Stage's PlayGroup and Playwrights West.

Nick is also published by Dramatic Publishing and Black Box Press including three volumes of "Ten 10-Minute Plays".