The Fall 2021 Grad Forum is Virtual!
California Forum for Diversity in Graduate Education
October 22-23, 2021
Event Registration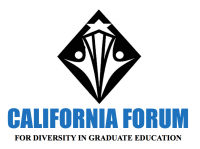 Go to: tinyurl.com/diversityforum21
Registration Code: bear2021
Priority Deadline: October 8 (or until the Forum reaches full capacity)
** When registering, mark all programs that apply (SSS, McNair, LSAMP, etc)
when asked, "Are you participating in any of these programs?".
This is the only way your programs can receive confirmation of your attendance. **
More information will also be uploaded via the following social media platforms!
Follow to stay up to date:



Event Description
 
For two days, live virtual forum workshops will provide information about selecting the right graduate program; the graduate application process; financial aid opportunities; preparing for the Graduate Record Examination (GRE), and employment prospects. 
Participants will receive exclusive access to a calendar of recruitment events and open houses from over 200 leading institutions nationwide throughout the fall, starting as early as September 20th.
Students are urged to take advantage of this unique opportunity to explore graduate studies either at the master's or doctoral level.
---
Who should attend:
Sophomores, Juniors, Seniors, and Master's Candidates
Events are intended for all disciplines EXCEPT:
MBA programs
Medicine
Dentistry
Optometry
Chiropractic
Pharmacy
Veterinary Science
Law
* All of these programs
have their own
recruiting networks *
Workshops topics include:
Demystifying the GRE
How to Finance Your Graduate Studies
How to Select, Apply to, and Prepare for Graduate School
How to Write a Winning Statement of Purpose
Identifying Challenges and Finding Community for AB540 and Undocumented Students
Keys to Success and Survival in Grad School
Role of Undergraduate Research in Graduate Admissions
Successful Strategies for Acquiring Strong Letters of Recommendation
Subject specific workshops in:
Behavioral Sciences
Business and Management
Education
Engineering and Computer Sciences
Fine Arts & Humanities
Health and Human Services
Life Sciences
Physical Sciences and Math
Social Science

And more...
Learn more about the Grad Forum
---
Questions?
Please email Jesus Verdugo at jverdugo@csustan.edu
Updated: January 18, 2022