Guidance for Parents of
High School Students
If your child is in high school, it's never too early to start preparing for the future. Here are a few things to keep in mind to get the process started or keep it moving.
Parent Orientation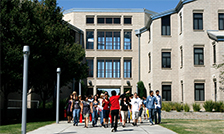 We offer an orientation just for parents and guests. While your student is at New Student Orientation, parents have their own orientation with topics tailored to meet your specific needs and concerns.
Early Assessment Program
The program was established to provide opportunities for students to measure their readiness for college-level English and mathematics in their junior year of high school, and to facilitate opportunities for them to improve their skills during their senior year.
STAN Magazine
STAN Magazine is the official University publication for Stanislaus State alumni and the community. The magazine is published twice annually and includes University news, student and faculty stories, as well as profiles on alumni and programs.