Guidance for Parents of
High School Students
If your child is in high school, it's never too early to start preparing for the future. Here are a few things to keep in mind to get the process started or keep it moving.
Parent Orientation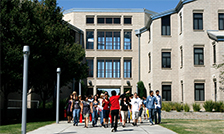 We offer an orientation just for parents and guests. While your student is at New Student Orientation, parents have their own orientation with topics tailored to meet your specific needs and concerns.
Early Assessment Program
The program was established to provide opportunities for students to measure their readiness for college-level English and mathematics in their junior year of high school, and to facilitate opportunities for them to improve their skills during their senior year.
University Magazine
In this edition, STAN Magazine examines how the University is working to make certain Stan State is a place where are all welcome, where all belong. In addition, there are stories on the early successes of Graduation Initiative 2025, and a look at how the Stockton Center is using community partnerships to help spur growth. You'll find a feature on men's basketball coach Larry Reynolds and his fight with Parkinson's Disease, as well as a look at a hands-on archaeology course than has students getting their hands dirty on campus. You also will find stories on the accreditation process and a feature on Stan State graduate student Maggie White, who is leading the California State Students Association.