The responsibilities of the Faculty Director for General Education include:
Work with GE Subcommittee to review GE policy and curriculum, including consideration of GE assessment; serves as ex-offcio member of GE subcommittee;
Coordinate the writing of the GE Academic Program Review with the GE subcommitee; completed GE Annual Reports;
Coordinate with the Office of Academic Programs and the GE Subcommittee to certify and recertify GE courses;
Participate in the design and implement of learning communities related to GE;
Work with GE subcommittee and other governance committees and program leaders on issues related to legislation or executive orders impacting the GE program;
Facilitate the design, collection, and implementation of GE Area Assessment in coordination with hte Curriculum and Student Success specialists; GE subcommittee, and Faculty Fellow for Assessment;
Coordinate with staff support in the Office of the AVP of Academic Affairs;
Serve on committees and participate in activities supporting Graduation Initiative 2025, as appropriate;
Provide technical support discussions around legislation that impacts GE;
Other duties, as requested by the AVP for Academic Affairs.
​Dr. JungHa An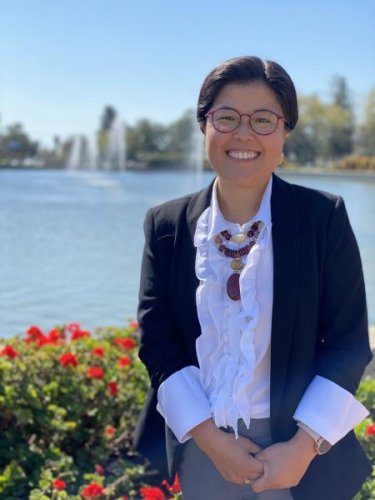 Dr. JungHa An is a Professor of Mathematics and also serves as a Faculty Fellow for the Academic Advising Center. Dr. An was born and raised in South Korea and she is a first-generation college graduate who is passionate about teaching mathematics with applications to real-world situations and mentoring/advising students, especially first-generation and under-served minorities. She earned her both BA and MS in mathematics from Chonbuk National University in South Korea. She completed her Ph.D. in mathematics from the University of Florida and finished her industrial post-doctoral training from the University of Minnesota in conjunction with Siemens Corporate Research.
She enjoys learning and developing her knowledge continuously to be a better teacher, an effective leader at Stanislaus State University, and to be helpful to the community. She recently earned the Public Leadership Certificates from Harvard Kennedy School at the Harvard University, Quality Matters Teaching Online Certification, Introduction to Teaching Online Certification Using Quality Learning and Teaching Training, Effective Online Teaching Practices Certification from the Association of College and University Educators, and Inclusive Teaching for Equitable Learning Certification.
Contact Information
Phone: (209) 664-6523
Email: jan@csustan.edu