The Health Education & Promotion Office is staffed with a Health Education Coordinator, a Health Educator, a part-time Graphic Design/Social Media Student Assistant and various student volunteers serving in the Peer Health Educator program and PEER Project.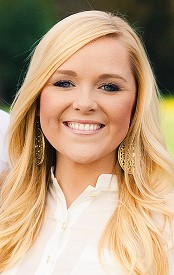 Megan Rowe started her role as a Health Educator in January 2012 and filled a position that had been vacant for three years prior. Since then, she's worked to completely reestablish the Health Education & Promotion program at Stanislaus State. She currently serves as the Health Education Coordinator and oversees the Health Education & Promotion (HEP) program.
Megan co-advises PEER Project, a MSW Internship placement that focuses on mental health awareness, stigma reduction and suicide prevention. Additionally, she coordinates campus-wide health communication campaigns, works collaboratively with campus community stakeholders to create wellness initiatives and facilitates educational workshops – all in an effort to improve the overall health and well-being of the campus community.
Megan Received her Bachelor's Degree in Health Science and her Master of Public Health Degree, both from Fresno State and is also a Certified Health Education Specialist. Megan feels fortunate to have found a profession that drives her both personally and professionally and looks forward to continuing to build the Health Education & Promotion Program at Stanislaus State.
---
Taylor Whitehead serves as the Health Educator for the Health Education and Promotion (HEP) Office. She advises the Peer Health Education Program, facilitates wellness workshops, and collaborates on various health and wellness initiatives. She received her Bachelor's Degree in Communication Studies (Christopher Newport University), Master's Degree in Education (Northern State University), and Doctorate in Educational Leadership (Stanislaus State). She is also a Certified Prevention Specialist.
---
Elizabeth Davies serves as the Graphic Design Student Assistant. She started  this role in January 2020 and enjoys the opportunity to learn new skills through working on various projects. In the summer of 2020, she received her certificate for Social Media for Business. She is currently pursuing a degree in art at Stanislaus State with plans of graduating in Spring of 2022. Some of her hobbies include reading, taking dance classes, and teaching aerial silks classes.