Grad Slam Research Competition
The Office of Graduate Studies and Research is sponsoring a student research competition "The Grad Slam." Graduate students will present their research in a 3-minute presentation and a committee of judges will declare 2 winners to move on to the state competition.
Questions? Contact:  kwilliams14@csustan.edu; hye@csustan.edu 
2023-2024 competition details are forthcoming.
The Grad Slam Champion (1st place) - $500
Runner-up (2nd place) - $400
The People's choice (one vote per in-person and live-stream audience members) - $300
All currently enrolled master and doctoral students can participate in this event. If you have a research project that you would like to talk about with a larger audience, this event is for you. You do not need to have a finished research project. You can present your research project to address the following 3 points:
Why is it interesting to you?
Describe the research you are planning to do. 
Why it matters.
Name of the student, major, and faculty advisor, and title of the research
Email or acknowledgment letter from a faculty advisor
One Powerpoint slide that helps the audience visualize your research process 
A one-page script that describes your research (about 400 words)
Fall 2022 Grad Slam Competition Videos 
Stan State Finalists: CSU Grad Slam 2022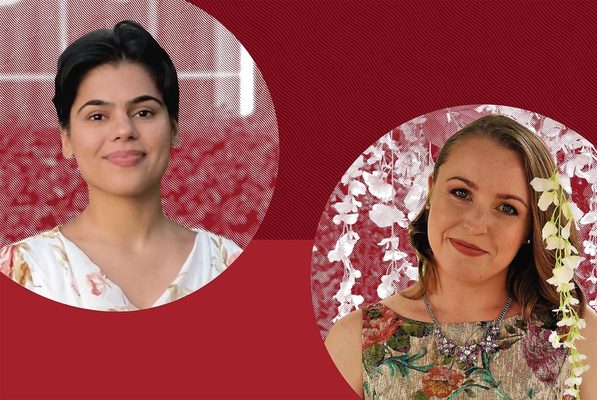 Raina Chelise (right), an Ed. D. student in the Educational Leadership Program, and Tawinderjit Kaur (left) from the Master of Social Work Program are the Stan State finalists in the California State University Grad Slam, a fast-paced event in which graduate students present their research, scholarship and creativity in just three minutes or less-with just one image!
Graduate students from across the California State University system will compete in the Second annual CSU Grad Slam on May 6, 2022 at CSU Bakersfield.