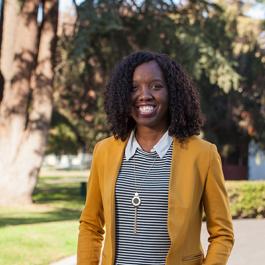 WOW Lead Admissions Counselor for San Joaquin Delta College
Joy Vickers
(209) 667-3959 | jvickers1@csustan.edu
San Joaquin Delta College Interest Form
Joy Vickers has over 15 years of experience working in higher education. She has worked to assist transfer students through the education process in various capacities, including evaluations, admissions and outreach, academic advising, career counseling, and teaching a transfer success seminar course.
Joy completed her Master's of Arts in Education with a concentration in Counseling & Student Personnel, and Bachelor's of Arts in Liberal Studies with a minor in Deaf Education at San Jose State University. She has also completed a Certificate of Achievement in American Sign Language from Vista Community College (now called Berkeley City College).
Joy did not have the traditional transfer experience. She started at a four-year institution directly after high school and tried living in the dorms for one semester but discovered she was not quite ready to be away from home. So she enrolled in the Peralta Community College District in the Bay Area and "bounced" between three community colleges to complete her general education and certificate before returning to San Jose State University. Joy understands what it is like to be a non-traditional college student who has attended multiple institutions and how that can add time to completing a degree and confusion to learning new campus processes and policies. She hopes to serve as inspiration that it is not always "how you start, but that you finish."
WOW Admissions Counselor for Modesto Junior College
Andres Gomez
(209) 667-3922 | agomez92@csustan.edu
Modesto Junior College Interest Form
Andres Gomez earned his Bachelor's degree in Broadcast Electronic Communication Arts with a minor in Latino/a Studies at San Francisco State University. Prior to becoming a WOW Admission Counselor for Modesto Junior College, he was an Admission Counselor at San Francisco State University for four years while also working one year at the bursar's office (Cashier Department). Andres was also a part of a similar program known as Metro Academy at San Francisco State, where they assisted students from urban schools in providing academic resources to help students in their transition to a four-year university. He understands how beneficial these programs can be and ultimately is blessed to be able to provide his assistance to students at MJC.
His passion for assisting students on their transfer journey comes from being a first-generation college graduate who persevered all odds to obtain a bachelor's degree. He brings a lot of expertise when it comes to CSU Admissions and is excited to be a part of the Warriors on the Way (WOW).
WOW Admissions Counselor for Merced Community College
Updated: September 05, 2023