Our Campus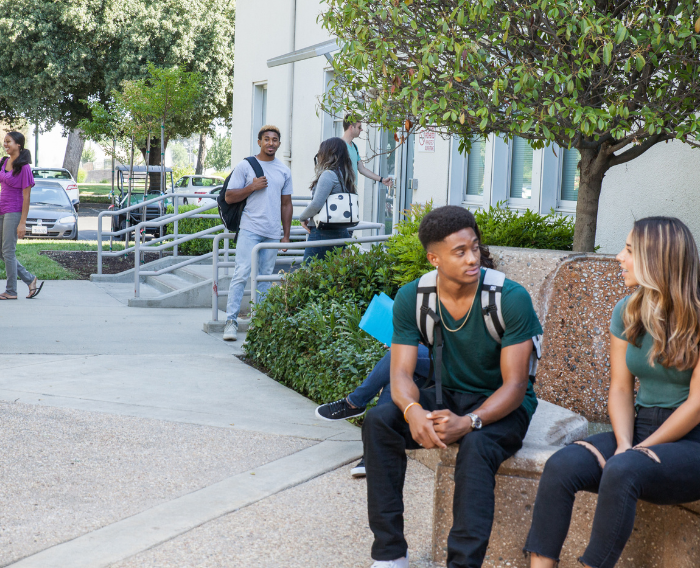 Located in University Park, a 102-acre site in Stockton's historic Magnolia District, Stanislaus State Stockton Campus is San Joaquin County's only public higher education institution beyond community college. All academic programs and services are located in Acacia Court. This nearly 250,000 square foot facility houses the Stockton Campus's Office of Enrollment Services, faculty and staff offices, classrooms, computer and teaching labs, distance-learning classrooms, student lounges, study areas, a Library Access Center and an array of student services. Another building, Stockton's historic Magnolia Mansion, is located just across the street from Acacia Court.
Our Programs
Stockton Campus offers upper-division courses that earn full academic credit, leading to selected baccalaureate and master's degrees and credentials. WASC accreditation and national accolades continue to enhance the credibility of the Stockton Campus and build hope and excitement for future expansion. Many students attending classes in Stockton can complete their degrees without commuting to the Stanislaus State main campus in Turlock. Further, most classes are offered in the late afternoon or evening, making it convenient for working adults to attend.
Our Students
From the mid-1970s to the present, more than 10,000 students have passed through Stockton Campus. A typical Stockton Campus student is a 32-year-old adult, employed full-time, who is returning to college to complete an undergraduate degree or pursue a graduate degree, certificate, or credential. Many Stockton Campus students have completed their lower division courses at a community college and transferred to the Stockton Campus to complete their degree. Stockton Campus students report they chose Stockton Campus for its programs, location, affordability, and attentive staff and faculty.
Our History
Today's Stanislaus State Stockton Campus is the result of over forty years of dedicated service to both the City of Stockton and San Joaquin County. Beginning in 1974, California State University, Stanislaus established a local presence in the State of California Building, downtown Stockton, offering just 19 classes the first year. By 1981, having outgrown its downtown location, the Center relocated to Locke Center at San Joaquin Delta College. Within ten years, over sixty courses per semester leading to seven baccalaureate degrees and eleven undergraduate concentrations necessitated the construction of portable classrooms to meet the needs of a growing student population. In 1996, then-Stanislaus State President Marvalene Hughes and the CSU Chancellor's Office shared their intent with the CSU Board of Trustees to collaborate with other interested parties to establish the Stanislaus State Stockton Campus on the grounds of the former State Hospital site, today's University Park. By 1998, all academic programs were relocated from San Joaquin Delta College to the new location and classes began with the Fall semester.
Visitors to the Stockton Campus will note the historic Magnolia Mansion, a 16-room, colonial-style home built in the late 1800s. Once a vibrant and elegant part of Stockton's history, it stood in severe disrepair when CSU assumed control of it in the late 1990s. As a steward of the Mansion, Stanislaus State is committed to retaining its educational and historic values. Once the ongoing renovation is complete, the grand historical landmark and spacious grounds will become a venue for public art, exhibits, chamber music, ceremonies, seminars and performances.
Strategic Plan
The proceeding Stockton Campus Strategic Plan was prepared in conjunction with the California State University, Stanislaus, Strategic plan, with the focal point to better serve students, faculty, staff, and constituents within the greater San Joaquin County. Stockton Campus Strategic Plan Purpose. California State University, Stanislaus - Stockton Campus Strategic Plan is part of the University's 2025 Strategic Plan, and supports the long-established need for public higher education across the region. As one of two campus locations of California State University, Stanislaus, the Stockton Campus provides access to affordable high-quality certificates, and state-side and accelerated degree opportunities.
Stockton Campus Strategic Plan Five-Year: 2018-2023.pdf
Building the Future of the Stockton Campus Together
Apr 9, 2022 - Exciting things are happening at the Stockton Campus! Hear the latest campus facilities updates, learn about the Community Equity Research Center and how we are partnering with Stockton and the San Joaquin County community.