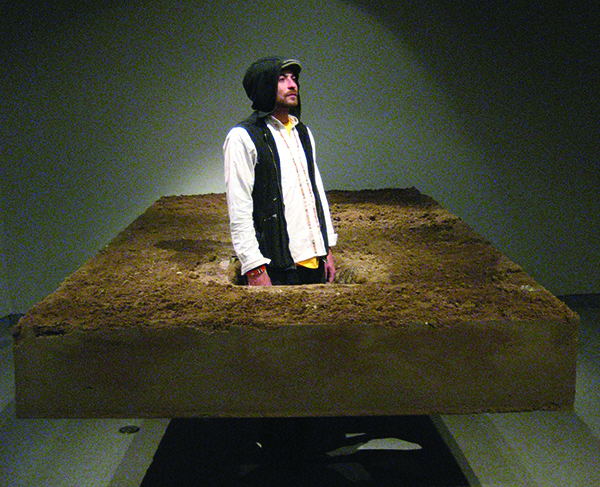 IZTALI "Reality is a Dream"
Second Live Performance:
Join us for the artist performance, reception and discussion. Part of the social justice conference.
Tuesday, November 19 @ 4-5:45pm
Free parking in Lot 2 for reception.
Caleb Duarte is best known for using humble materials to make bold statements. Through the use of various labor equipment and raw earth, Duarte questions the laws and institutions set in place that claim to provide sanctuary for Brown bodies—when in fact, these laws and institutional structures have been perpetrators of violence, displacement and genocide.
Born in El Paso, Texas and raised in a small farming town in the Central Valley, Duarte began making art at a young age and has since produced public works and community performances in all corners of the world—India, Cuba, Honduras and Mexico, to name a few.
Duarte and fellow artist Mia Eva Rollow are co-founders of EDELO—an art space in Chiapas, Mexico (now currently nomadic) where creatives are invited to stay and collaborate. The name is a Spanish acronym which translates to "where the United Nations used to be."
"Where do we place our values? In institutions? How can we provide the support and protection for ourselves that these institutions and sanctuary spaces fall short of delivering?" are questions Duarte hopes to explore.
Duarte's unorthodox approach of collaboration and creation supports the idea that seemingly mundane objects, activities and spaces we encounter on a daily basis possess the power to challenge the concepts of success and progress on a global scale. He explained his methods like this: "It is a part of an investigation into how art, in all its disciplines and contradictions, can take the supposed role of such institutional bodies to create understanding, empathy, and to serve as a tool for imagining alternatives to a harmful and violent system that we do not have to accept."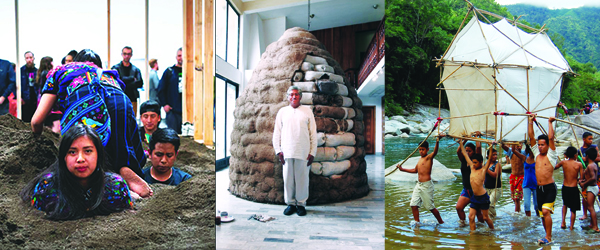 Artist Biography
Caleb Duarte is best known for creating temporary installations using construction type frameworks such as beds of dirt, cement, and objects suggesting basic shelter. His installations within institutional settings become sights for performance as interpretations of his community collaborations. Duarte has created public works and community performances at the World Social Forum in Mumbai India, Santiago de Cuba, Cuba, El Pital, Honduras, and throughout Mexico and the United States. He has collaborated with autonomous indigenous Zapatista communities, communities in movement, and working children and refugees.
Duarte is co-founder, along with artist MIa Eve Rollow, of EDELO, a Spanish acronym for (Where the United Nations Used To BE). EDELO was a house of art in movement and an international artist residency of diverse practices in San Cristobal De Las Casas, Chiapas, México. The project challenged the traditional artist residency and art spaces in that it placed residents alongside rural autonomous communities that have been using performance, theater, poetry, and a rich visual culture to demand drastic social, political, and economic change. The space invited collaborators to live and create within a period of time. Residents were from PHDs to jugglers, contemporary artist, activist, educators, rural farmers, and autonomous rebal community members.
Through EDELO, he was lead organizer of the ZAPANTERA NEGRA project, in collaboration with Rigo 23, Mia Eve Rollow, and artist and once Minister of Culture for the Black Panther Party Emory Douglas. Zapantera Negra united Zapatistas (EZLN) with Black Panther Party esthetics to investigate the use of the body and visual culture in both distinct political and artistic movements by facilitating encounters, workshops, mural events, and residencies in Zapatista territories.
Duarte is professor of sculpture at Fresno City College and continues to create sculptural performances, installations and paintings.