Featured Speakers
Click on the names below to jump to their bios.
---
Caleb Duarte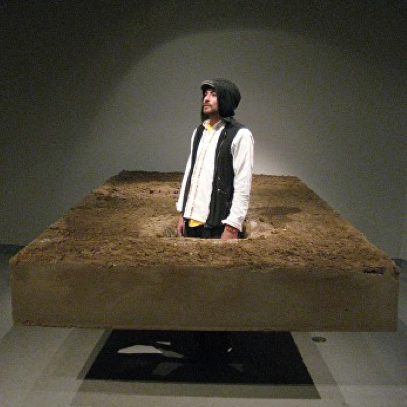 Caleb Duarte is perhaps best known for creating temporary installations using construction type frameworks such as beds of dirt, cement, and objects suggesting basic shelter. His installations within institutional settings become sights for performance as interpretations of his community collaborations. Duarte has created public works and community performances at the World Social Forum in Mumbai India, Santiago de Cuba, Cuba, El Pital, Honduras, and throughout Mexico and the United States. He has collaborated with autonomous indigenous Zapatista collectives, communities in movement, and working children and refugees. Duarte is co-founder, along with artist Mia Eve Rollow, of EDELO, a Spanish acronym for (Where the United Nations Used To BE).  EDELO was a house of art-in-movement and an artist residency of diverse practices in Chiapas Mexico. The project challenged the traditional artist residency and art spaces by placing residents alongside rural autonomous communities that have been using performance, theater, poetry, and a rich visual culture to demand fundamental social, political and economic change. The space invited collaborators to live and create within a period of time. Residents ranged from PhD academics to jugglers, contemporary artists, activists, educators, rural farmers and autonomous community members. Through EDELO, Caleb is lead curator of ZAPANTERA NEGRA, in collaboration with Rigo 23, Emory Douglas and Mia Eve Rollow.  Zapantera Negra united Zapatistas (EZLN) with Black Panther Party esthetics to investigate the use of the body and visual culture in their respective political and artistic movements. Caleb is professor of sculpture at Fresno City College. He continues to engage with Central American unaccompanied minors seeking asylum, working with them in community performance, sculpture, film, and painting. IZTALI "Reality is a Dream" is an original installation and sculptural performance created specifically for this conference.
---
Seth M.  Holmes, PhD, MD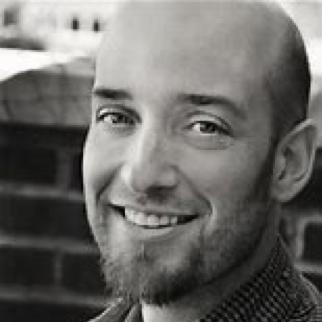 Seth M.  Holmes, PhD, MD, is Martin Sisters Endowed Chair Associate Professor of Medical Anthropology and Public Health at the University of California Berkeley.  A cultural and medical anthropologist and physician, he has worked on social hierarchies, health inequities, and the ways in which such asymmetries are naturalized, normalized, and resisted in the context of transnational im/migration, agro-food systems, and health care.  Seth has received national and international awards from the fields of anthropology, sociology, and geography, including the Margaret Mead Award.  In addition to scholarly publications, Seth has written for popular media  – including The Huffington Post and Salon.com – and spoken on multiple NPR, PRI, Pacifica Radio & Radio Bilingüe radio programs.  Seth's research focuses on Medical anthropology, transnational im/migration and refugeeism, critical food studies, racialization and racism, gender and queer theory, naturalization and normalization of social and health inequalities. His landmark Fresh Fruit, Broken Bodies project investigates social hierarchies, health, health care and the naturalization and normalization of difference and inequality in the context of US-Mexico im/migration and transnational agro-food systems. This project led to the publication of the book, Fresh Fruit, Broken Bodies: Migrant Farmworkers in the United States (California Series in Public Anthropology, University of California Press, 2013), which received the New Millennium Book Award from the Society for Medical Anthropology (2013), the Society for the Anthropology of Work Book Award (2013), the Association for Humanist Sociology Book Award (2014), the James M. Blaut Award from the Cultural and Political Ecology Specialty Group of the Association of American Geographers (2015), and the Robert B. Textor and Family Prize for Excellence in Anticipatory Anthropology from the American Anthropological Association (2016).  The Spanish language edition, Fruta Fresca, Cuerpos Marchitos: Trabajadores Agrícolas Migrantes en Estados Unidos (Editorial Abya Yala, 2016), received the Premio Iberoamericano Mención Honorable from the Latin American Studies Association (2018).  
---
Dr. Antonio Tovar-Aguilar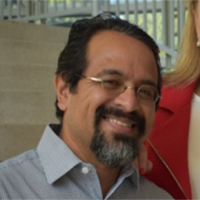 Dr. Antonio Tovar-Aguilar is Executive Director of the Farmworker Association of Florida (FWAF), a grassroots organization where he works as a researcher, organizer, and educator. Dr. Tovar earned his PhD from the University of Florida (2014) and serves as Research Fellow for both the Prevention Research Center (U of South Florida) and the Southeast Coastal Center for Agricultural Health and Safety (U of Florida) and has served as Interdisciplinary Research Leader for the Robert Wood Johnson Foundation.  As a medical anthropologist, Dr. Tovar has published community-based participatory research studies on a wide array of topics, including strategies of health and safety among citrus harvesters; physiologic impact of pesticides and heat on farmworkers; the effects of climate change on workers and farmers of Florida and Puerto Rico; women farmworker access to daycare; and the mental health of Haitian and Hispanic farm workers. As a pesticide and poison investigator for the Florida Department of Health, Dr. Tovar reviewed occupational cases of acute pesticide exposure and performs outreach and education for affected communities.  Other research projects have focused on heat-related illness symptoms among Florida farmworkers and Pesticide Risk Perception and Biomarkers of Exposure in Florida Female Farmworkers.  He is also associated with the Climate Justice Alliance.  Dr. Tovar has served in numerous positions of responsibility with non-profit organizations focused on farmworker justice, including Secretary/Treasurer of the Food Chain Workers Alliance (FCWA), Coordinator at the US Food Sovereignty Alliance (USFSA), Board member of the Community-Campus Partnership for Health (CCPH), and Board member of the Coalition of Agricultural Workers International (CAWI). Dr. Tovar has also coauthored multiple Policy Statements for the American Public Health Association (APHA), where he serves on the Occupational Health and Safety section's Policy Committee.  As a journalist, he covered Mexico, the Caribbean, and Central America. He covered the beginning of the Periodo Especial in Cuba, the Zapatista movement in Chiapas, and the Peace Agreements in Guatemala and El Salvador.  Dr. Tovar brings a unique perspective on the impacts of environmental health and disease among farmworker communities, drawing on his extensive experience in community-based programs and social marketing methods to prevent disease and injury, primarily among Hispanic and Creole farmworker communities in Florida.
---
Melina  Abdullah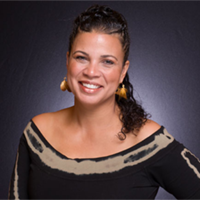 Melina  Abdullah is a recognized expert on race, gender, class and social movements. She was among the original group of organizers who convened to form Black Lives Matter and continues to serve as a Los Angeles chapter lead and contributes to the national leadership. She is also Professor and former Chair of Pan-African Studies at Cal State LA. She was appointed to the LA County Human Relations Commission in 2014, where she initiated and chaired county-wide hearings on community experiences with policing and was instrumental in replacing Columbus Day with Indigenous Peoples Day.  She is widely published on subjects ranging from political coalition to womanist mothering. As a womanist scholar-activist, Professor Abdullah understands her role in the academy as intrinsically linked to broader struggles for the liberation of oppressed people. She is a leader in the fight for Ethnic Studies in the K-12 and university systems and was a part of the historic victory that made Ethnic Studies a requirement in the Los Angeles Unified School District. She is co-host and co-producer of the weekly radio program Beautiful Struggle which airs on KPFK, part of the Pacifica radio network, and hosts and produces the weekly internet radio show Move the Crowd, which airs on Radio Justice (radiojustice.org).  Dr. Abdullah serves on numerous boards for, among others, the Black Community, Clergy and Labor Alliance (BCCLA), California Faculty Association-Los Angeles, Los Angeles African American Women's Public Policy Institute, Los Angeles Community Action Network (LA-CAN), National Association for Ethnic Studies, and Strategic Concepts in Organizing and Policy Education (SCOPE).  She is also is the recipient of many awards, most notably the 2018 Community Service Award from National Council for Black Studies, 2017 Unsung Heroes Award from the Oscar Grant Foundation, 2017 Extraordinary Service Award from the African Heritage Studies Association, 2017 Justice Work Award from Beyond the Bars, 2017 Freedom Fighter Award from the NAACP, 2017 Activist Award presented by the National Association for Ethnic Studies, 2016 Racial Justice Award presented by the YWCA, 2016 Fannie Lou Hamer Award for outstanding community service presented by the Coalition of Mental Health Professionals, 2016 Fannie Lou Hamer Award presented by the National Conference of Black Political Scientists, 2016 Sacred Sistahs Award, 2016 California Teachers Association Human Rights Award, 2016 BCCLA Ella Baker Award, 2015 Freedom Now Award, and the 2015 Communitas Award. She was recognized by LA Weekly as one of the 10 most influential Los Angeles leaders, has appeared on MSNBC, CNN, TV One, ABC, PBS, KTLA, KCET, BET, Free Speech TV, and Al-Jazeera, and is featured in the films Waking the Sleeping Giant, 13th, When Justice Isn't Just, and Justice or Else. She has spoken widely on The Audacity of Blackness: Rights, Repression, and Resistance in the Blacks Lives Matter Era, The Rise of New White Supremacy and What it Means for Black People, and Free Speech and the Targeting of Black Protest.
---
Melina Juárez Pérez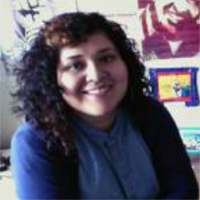 Melina Juárez Pérez was born and raised in a small rural, farmworking community in California's San Joaquin Valley. Her parents are Mexican immigrants from Guanajuato, Mexico who inspired and pushed her to pursue her education. Growing up in an immigrant household and community, working side by side with her parents in the fields, and having to be their guide through a system that she barely understood, made her realize the important implications of ill-informed policy for immigrant communities and communities of color. Melina's research analyzes the effects of public policy on immigrant health, focusing on immigrants of Latin American origin and specifically on the health of women and youth. Recognizing that immigrant status places you in a complex and subordinate position in our society, Melina believes that traditional or mainstream theories of political science are often not enough to explain the realities of the immigrant experience. She therefore utilizes theories that speak to and incorporate the lived realities of marginalized peoples, including theories of embodiment, historical trauma, Critical Race Theory, and Marxism. Her work aims to develop a critical understanding of the structures of power and privilege that inform policy and ultimately affect immigrant health. As a doctoral fellow at the University of new Mexico's Robert Wood Johnson Center for Health Policy, Melina participated in an international, interdisciplinary research group studying labor gray zones. In that capacity she focused on analyzing the confluence of labor and immigration laws and regulations and how the convergence of these policy spheres produces sociopolitical gray zones that ultimately affect the health and well-being of Latinxs and immigrants. A graduate of Stanislaus State, Melina earned her MA in Transatlantic Politics from the University of North Carolina and her PhD in Political Science from the University of New Mexico and now teaches on the Political Science faculty at Western Washington University, with a joint appointment in the Women, Gender & Sexuality Studies Program. She recently published a political analysis article in The Washington Post (Treating Immigrants Like Criminals has a Long History in the United States) and has published articles on LGBTQ+ marginalization in Urban Affairs Review and the Journal of Race, Ethnicity & Politics. Her scholarship focuses on the intersections of class, gender, race, & sexuality & their role in shaping the lived experiences, health, & happiness of Latinx & queer people of color. Her current research centers on crimmigration—or the confluence of immigration & criminal justice systems—investigating its theoretical and institutional boundaries and political, emotional, and biological manifestations using Community Based Participatory Research (CBPR) and critical pedagogies in the social sciences. As lead author, her recent article on 20 Years After IIRIRA: The Effects of Immigrant Detention on Latinx Communities Across the Nation investigates the dynamics of detention, deportation, and the criminalization of immigrants, and is published in the Journal of Health Politics, Policy, and Law.
---
Marisol Aguilar

Marisol Aguilar is a lead staff attorney with the Modesto office of the California Rural Legal Assistance (CRLA) working with low-income individuals on social justice efforts and guiding the implementation of community equity initiatives. As staff attorney and Director of their Community Equity Initiative team, she works on environmental justice and infrastructure issues along- side community members who reside in unincorporated marginalized areas, working in close partnership with community organizations, community leaders, and researchers to identify the complex areas of need specific to local communities.  Throughout California hundreds of thousands of people live in underserved areas that have been identified as Disadvantaged, Unincorporated Communities (DUCs).  DUCs range from urban pockets that are excluded from cities, to more remote, densely settled rural communities. Residents in these communities often live without the most basic features of a safe and healthy environment—potable drinking water, sewer systems, safe housing, public transportation, access to healthy food, sidewalks, streetlights and parks— due to decades of neglect and exclusion from formal decision making by city, county and state governments.
The Community Equity Initiative (CEI) is a multi-strategy effort designed to address and eliminate social, political and environmental factors that negatively impact DUCs. It was established to focus CRLA resources towards changing patterns of historic inequality in rural regions of California. In partnership with PolicyLink and the California Rural Legal Assistance Foundation, CRLA staff work alongside community leaders to raise awareness of DUCs, increase investment in community infrastructure, advocate for equitable development, promote environmental justice, guarantee fair representation and build leadership capacity, so that residents can engage meaningfully in decision-making that impacts their neighborhoods and their families.  Marisol earned her law degree from the Ohio State University Moritz College of Law.
---
Lemir Teron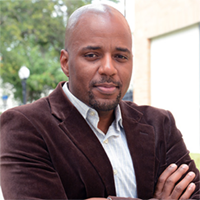 Lemir Teron is an Assistant Professor in the Department of Environmental Studies at State University of New York College of Environmental Science and Forestry. His recent research focuses on Environmental Science, Public Policy and Urban Politics, including a recently published study on Establishing a Toxics Mobility Inventory for Climate Change and Pollution. He also contributed to a recently published study assessing the environmental & economic sustainability and potentially disproportionate social impacts of energy systems designed to transition communities toward low-carbon energy sources, utilizing a "social life cycle assessment" methodology. "The social life cycle assessment framework allows for variations in justice and equity to be determined not only at the generation stage, but through multiple points in the life cycle of the same energy system, from raw material extraction, through manufacturing, transportation, distribution, electricity generation, and waste management. This framework can address potential energy justice issues along the life cycle of new energy systems and assist in their design and planning for optimizing their social sustainability without overlooking vulnerable populations."  Prior research projects focused on legacy pollutants dispersed by extreme weather events, with an emphasis on community-scale resiliency when faced with potentially disproportionate impacts to at-risk populations living in underserved communities.  He has also focused on the "hidden environmental toll of terror hysteria" in situations where "catastrophic environmental collapse [involving] drought, the breakdown of the agricultural sectors, and famine, and have run concurrently with war, mass emigrations, and the breakdown of the state as a provider of basic security protections." Additional research projects have focused on environmental sustainability as a critical component of urban planning, with attention to evaluating the language of municipal sustainability plans by assessing their attention to justice, economic, and environmental concerns, especially in regard to disproportionate impacts on marginalized communities in comparison to well-represented communities. His recent work has focused on Energy Democracy and the City: Evaluating the Practice and Potential of Municipal Sustainability Planning, arguing for "democratized urban energy planning" and wholly democratic energy policies that rely on "the convergence of an energy democracy paradigm with principles and practices of energy justice and just sustainabilities that [provide] communities and households entrée to the energy planning arena, as participants in policy making and with access to renewable innovations." The goal is to promote equitable and sustainable public participatory processes that empower all community constituents. "Critical to this framework is an equity discourse built around social and economic justice, along with the distribution of environmental benefits to marginalized communities and their remoteness from disproportionate burden sharing."
---
Tanya Golash-Boza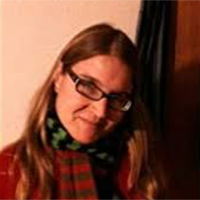 Tanya Golash-Boza is a sociologist of race, ethnicity and immigration whose work explores racial and ethnic identities in the United States and Latin America as well as the racial disparities and human rights implications of U.S. immigration policy.  She is a prolific  author, having published 35 articles and book chapters , dozens of OpEds and essays in popular venues, and five significant books on race and immigration: Deported: Policing Immigrants, Disposable Labor, and Global Capitalism (2015) explains the connection between mass deportation and global capitalism; Due Process Denied (2012) describes how and why non-citizens in the United States have been detained and deported for minor crimes, without due regard for constitutional limits on disproportionate punishment; Immigration Nation (2012) provides a critical analysis of the impact that U.S. immigration policy has on human rights; Yo Soy Negro: Blackness in Peru (2011) addresses what it means to be black in Peru; and Race and Racisms: A Critical Approach, now published in a second edition (2018), addresses the history of the idea of race, the changing nature of racism, various ideologies and institutions that perpetuate racism of racial justice, and the core theme of racial justice. Her numerous articles focus on deportations, racial identity, U.S. Latinos/as and Latin America, and include essays and chapters in edited volumes and online venues such as Al Jazeera, The Nation, and Counterpunch. Her innovative scholarship was awarded the Distinguished Early Career Award from the Racial and Ethnic Minorities Studies Section of the American Sociological Association in 2010. In 2013, she was awarded the UC Merced Academic Senate Award for Distinguished Scholarly Public Service. Tanya's most recent work focuses on the consequences of mass deportation. With funding from a Fulbright-Hays Faculty Research Abroad Award, she completed 150 interviews with deportees in Brazil, Guatemala, Jamaica and the Dominican Republic in 2009-10. This research forms the basis of Deported, which earned the American Sociological Association Latino/a Section Distinguished Contribution to Research Book Award.
---
Christopher Cambises
Christopher Cambises is Field Operations Manager for the U.S. Committee for Refugees and Immigrants, where he focuses on Refugee Resettlement and Forced Migration.  Prior to this, he served as Area Director at Refugee Services of Texas.  His work focuses on cutting through the myriad challenges to sustaining the modern refugee resettlement system as one of the durable solutions to forced migration. He tracks the entire arc of challenges facing refugees, from forced migration in active conflict zones to their resettlement in a third country and all that arises in between, highlighting how the humanitarian system's existing response mechanisms already struggle to address traditional cases of forced displacement and must adapt quickly to address modern challenges such as climate change.
---
Andrew Conteh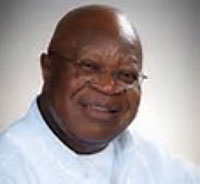 Andrew Conteh served as Sierra Leone's Ambassador to the USSR from 1976-81, delegate to the United Nations General Assembly in 1981-82, and Deputy High Commissioner to the United Kingdom, and as Senior Assistant Secretary in Sierra Leone's Ministry of Foreign Affairs.  Dr. Conteh recently completed 30 years as a distinguished Professor of Political Science specializing in International Relations and Law at Minnesota State University—Moorhead; he now teaches in the Political Science Department at Stanislaus State.  Dr. Conteh is the author of numerous articles addressed to issues on international human rights law.
---
Kimlin Johnson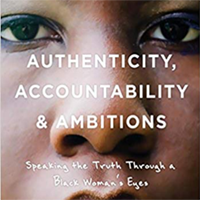 Kimlin Johnson is a civil rights activist and acclaimed author of Authenticity, Accountability & Ambitions: Speaking the Truth Through a Black Woman's Eyes (2018), in which she endeavors to enlighten readers on current examples of racism and ridicule that Black Americans are dealing with, years after the Civil Rights movement.  She was recently named one of 50 Phenomenal Black Women in the Field of STEM by the Los Angeles Council of Black Professional Engineers.  She served 23 years as a Project Engineer for the Los Angeles County Sanitation District in Environmental Engineering.  In 2017, she started her own non-profit, the B-RELYT Organization (http://www.b-relyt.org), to help underserved youths move into STEM fields.
---
Daniel Shepard
Daniel Shepard is Senior Information Officer for the United Nations Office of Global Communications, where he has managed communications for numerous major international conferences, including Rio+20, Financing for Development, the Paris Climate Conference, and the Sustainable Development Summit. His current priorities include working on communications to promote the UN's Sustainable Development Goals and the Paris Agreement on climate change.  His communication portfolio includes international relations, international development and NGO's, and he's served as Focal Point for Climate Change and Sustainable Development.  He continues to oversee communications on a wide range of issues that relate to development that promotes economic growth, improves lives and protects the environment. From Bali through to the Cancun Climate Conference, Mr. Shepard has worked to promote the UN's efforts to address climate change, and has coordinated a UN interagency group that works on climate-related communications issues. Past projects have included promoting the UN's efforts in regard to biodiversity, desertification, the protection of the world's oceans and forests, and ensuring the success of the 2012 UN Conference on Sustainable Development.  In addition to his work on sustainability issues, he has also addressed a variety of topics ranging from the adoption of the Convention for the Rights of persons with Disabilities to the problem of overfishing.  He has served as editor of CHOICES, the magazine serving the United Nations Development Program, and has also worked on advocacy issues related to small arms and rebuilding efforts following the 2004 tsunami in Bali.
---
Rebecca Alcantar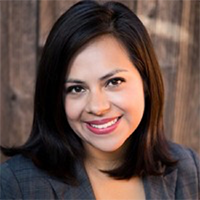 Rebecca Alcantar is a Senior Health Equity Specialist at Covered California. She previously served as Deputy Director for the Latino Coalition for a Healthy California, working to advance health equity in public policy and advocacy.  Her primary focus has been on nonprofit operations, financial management, and capacity building; government and legislative affairs; program management; and community engagement, working to advance health equity as a tireless advocate for health justice. She received her MPA from the Columbia University School of International and Public Affairs Growing up she accompanied her parents advocating for better work environments with the United Farm Workers Union. It was through these meetings that she began to feel her passion for creating healthy communities. Her recent work with the Latino Coalition has focused on promoting state and federal legislation with a focus on oral health and healthcare. Key successes included passage of the California Nutrition Incentives Act, which increased the benefits to low-income and working-class families by providing better access to healthier food through the CalFresh program, and partnering with Roots of Change to encourage local farmers and farmers markets to provide fresh fruits and vegetables to CalFresh recipients. "With my farm working background and my family, food has always been central. Food is always seen as a way to heal or nurture and also a way to show love."
---
Sophia Garcia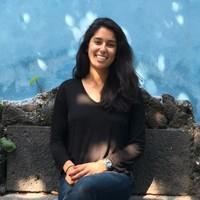 Sophia Garcia is Geographic Information Systems (GIS) Analyst for the Dolores Huerta Foundation, a nonprofit organization dedicated to the pursuit of social justice in disadvantaged communities. She is part of a new team working to develop the utilization of big data and maps to enhance the work of the foundation. Sophia knows that data is knowledge and believes that nonprofits can reach a greater audience with specific data and maps for their organizations. The basis for her professional experience with GIS began at Wellesley College, where she earned a BA in Environmental Studies. Since then, she's enhanced her GIS experience in the industries of agriculture, transportation planning, public works and academia, including work for the Kern Council of Governments, Kern County Department of Agriculture and Measurement Standards and Kern County Department of Public Works.
---
Blake Wilson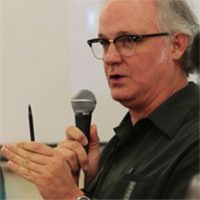 With a law degree from the McGeorge School of Law, Blake Wilson apprenticed 8 years in San Francisco with legendary criminal lawyer Tony Serra before returning home to San Diego, where he represented the indigent as a court-appointed attorney.  Blake earned a Ph.D. in Philosophy from the Social, Political, Ethical, & Legal Philosophy program at SUNY Binghamton and taught Ethics & Law at the U.S. Coast Guard Academy. He teaches Criminal Legal Studies at CSU Stanislaus and advises students seeking careers in law.  As a lawyer, Blake has considerable experience with institutions of criminal law, methodologies of punishment, and constitutional criminal procedure.  As a philosopher/lawyer, he gravitates to questions re: political authority, law's normative force, and the possibility of a social order without law.  His law and social/political theory work focus on the role of rights in response to assertions of state authority and whether legal and political processes provide adequate opportunities for just allocations of those rights between the often-conflicting interests of individuals and communities.  Blake's current focus is on mass incarceration, collateral consequences of criminal convictions, differential punishment, and state-based disparities in the prosecution of police shootings of unarmed victims who belong to underrepresented ethnic/racial minority groups
---
Janaki Jagannath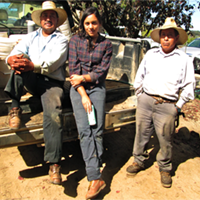 Janaki Jagannath is a committed advocate for farmworker justice, working tirelessly to promote strategic progress for farmworker rights in labor, health and environmental justice.  After earning her B.S. in International Agricultural Development from UC Davis, where she contributed to the development of an innovative Sustainable Agriculture and Food Systems degree, Janaki moved on to UC Santa Cruz's Center for Agroecology and Sustainable Food Systems, where she received a certificate in ecological horticulture. She began working for the California Rural Legal Assistance as an advocate for community access to healthy drinking water and farmworker protection from pesticide exposure and harassment in the fields. Recognizing an urgent need for farmworker advocacy organizations and environmental justice nonprofits to band together strategically to address the myriad injustices facing migrant farmworkers in the Central Valley, she took a position as the first coordinator to lead the Community Alliance for Agroecology, where she quickly became recognized as a powerful advocate for farmworker rights, environmental justice and political organizing in the Central Valley. Under her leadership, the Alliance brought together six environmental justice nonprofits. The work of the Alliance focused on policy advocacy, local agroecology organizing, and organizing activities to promote policy advocacy (like the Farmer Equity Act—AB 1348).  Janaki's interest in soil health quickly grew beyond composting and manure management and led the Alliance to strongly promote the practice of orchard recycling. Moving beyond advocacy for policy reform and regulation in behalf of farmworker equity, recent efforts of the Alliance have focused on building political power within farmworker communities, "working on how to build political power amongst farmworker communities, to ensure our local and state elections have representation for communities of color who have been paying taxes but not receiving any of the benefits. Janaki is now a third-year law student at UC Davis.  As an Environmental law Fellow with the California Lawyer's Association, she recently led an effort to produce a draft Environmental Justice Toolkit for compost facilities in California with special emphasis on best practices for addressing hazards arising from composting in low-income communities of color. In a recent Bioneers presentation, Janaki noted that "protecting the health and diversity of soil microbial communities is the first step to protecting the health and diversity of the human communities… Soil is the basis of our food system and we need to be protecting it—especially in the areas like the San Joaquin Valley. To do that right, we must also include the voices of rural people of color and others who have been historically left out of the decision-making process around farming and land ownership."
---
Hannah Evans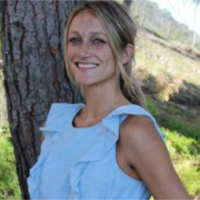 Hannah Evans works with students, faculty and activists to promote positive social and environmental change. As a Population, Health and Environment Specialist, Hannah works with college-level students and professors to integrate population studies back into the mainstream, with a particular focus on human rights and social justice. She develops comprehensive, solution-oriented presentations focused on connections between global population growth, access to comprehensive reproductive health care, and environmental sustainability. Through an examination of some of the root causes of population growth, her work seeks to highlight the interconnections between poverty, marginalization, women's rights, and environmental pressures made worse by climate change. Before joining Population Connection's development team, Hannah worked as an adjunct professor of Women's Studies and taught classes on gender, science, and feminist theory. She has nonprofit experience working as a program developer for sustainable agriculture and public health programs in Honduras and Panama, and has worked as a researcher on food security issues throughout southern California. Hannah holds a BA in environmental policy and political science and a Master's in political ecology from San Diego State University, where her research focused on sustainability labeling and ethical consumption.
---
Alex Schafran
Alex Schafran is Lecturer in Urban Geography at the University of Leeds.  His research focuses on the contemporary restructuring and retrofitting of urban regions, with a particular emphasis on the changing dynamics of race, class and segregation across space and place. He spent a decade in social work, immigrant rights support, tenant organizing, housing policy and community development work between his undergraduate degree and PhD. During this time, he trained as an urban planner, and developed a methodology for fusing critical, historically-rooted and place-based geography with a planner's eye for policy, politics and the future. He holds a BA in History from Stanford University, an MA in Urban Planning from Hunter College (CUNY), and a PhD in City & Regional Planning from UC Berkeley. His recently published book, The Road to Resegregation: Northern California and the Failure of Politics, argues for the view that financial crisis, economic precarity and housing unaffordability have conspired to produce a broad and structural process of resegregation characterized by regional geographies of precarity and coerced mobility, expelling the poor and racially marginalized from city centers into peripheral cities while maintaining their insecure access to resources. The resulting suburbanization of poverty produces a political fragmentation between middle class environmentalist and communities of color. The goal of his analysis is to reveal the conditions of resegregation and intimate the trajectory of a new politics of planning development that can serve to weave scattered fragments into a more equitable and functional whole.
---