John DeCure
John DeCure is an Administrative Law Judge with the Office of Administrative Hearings (Sacramento) and a member of the California State Bar's Committee on Professional Responsibility and Conduct. A long-time prosecutor for the State Bar of California and past defense attorney for Dependency Court, John also served as a senior deputy attorney general with the Office of the Attorney General in Los Angeles. He is the author of two novels, REEF DANCE (2001) and BLUEBIRD RISING (2003), published by St. Martin's Press, and HE SAID, SHE SAID (2016), published by Skyhorse Publishing.
---
Keynote Speaker
Cathi Tactaquin
Cathi Tactaquin is Executive Director and  co-founder of the National Network for Immigrant & Refugee Rights. The daughter of an immigrant farmworker from the Philippines, Cathi was involved for many years in grassroots organizing and advocacy in the Filipino community on issues of discrimination and foreign policy. She is a frequent speaker on topics ranging from global migration and human rights, to race and gender perspectives, and immigration reform.  In 1994, Cathi helped to found Migrants Rights International (MRI), a global alliance of migrant associations and other non-governmental organizations. She sits on the Steering Committee of MRI, represents NNIRR in the Global Coalition on Migration, and is a founding member of the Women and Global Migration Working Group. In 2013, Cathi was selected as the "Grand Rapporteur" for the United Nation's Interactive Dialogue on Migration and Development and later spoke on behalf of global civil society at the United Nation's High Level Dialogue on International Migration and Development in New York, and at a 2015 OHCR panel session in Geneva on Human Rights at International Borders.
---
Keynote Speaker
Mona Malik
Mona Rasho Malik is an Assyrian activist who emigrated from Iraq to Chicago in 1969, at the age of nine, when the Baath Party gained full control of Iraq's government. As the granddaughter of genocide survivors (the 1915 genocide of Armenians, Assyrians and Greeks by the Turks and Kurds), Mona has devoted most of her adult life to the Assyrian cause. Mona has volunteered with non-profit organizations for the past 26 years helping Assyrians in Iraq. Her nonprofit work with Assyrian Aid Society of America led to multiple trips to Northern Iraq, the most recent being in August 2016. In the past three years Mona has also traveled to New York to participate at the United Nations Forum for Indigenous People and to Washington DC to advocate for Assyrians in their homeland. Mona's goal is to bring awareness to the plight of Assyrians and their struggle to persevere and thrive in their ancestral homeland, Assyria.
---
Keynote Speaker
Andrew Conteh
Andrew Conteh was Sierra Leone's Ambassador to the USSR from 1976-81, delegate to the United Nations General Assembly in 1981-82, and Deputy High Commissioner to the United Kingdom, and as Senior Assistant Secretary in Sierra Leone's Ministry of Foreign Affairs.  Dr. Conteh recently completed 30 years as a distinguished Professor of Political Science specializing in International Relations and Law at Minnesota State University —Moorhead; he now teaches in the Political Science Department at Cal State Stanislaus.  Dr. Conteh is the author of numerous articles addressed to issues on international human rights law.
---
Keynote Speaker
Mi'Jan Celie Tho-Biaz
Mi'Jan Celie Tho-Biaz, Ed.D., is a documentarian, oral historian, multicultural educator and public scholar. Mi'Jan Celie's cultural work practice has been featured by the Rockefeller Foundation and THE Magazine. Mi'Jan Celie has extensive practice in the fields of arts education and creative leadership, as well as 15 years of experience in multicultural curriculum design and instruction. Mi'Jan Celie is currently Documentarian-In-Residence with the American Indian Arts Institute's Essential Studies Department, as well as Santa Fe Community Foundation lead designer for the Women of Color Leadership Initiative and founding convener for the 2017 Black and Indigenous Social Movement Documentarian Summit, hosted at Omega Institute. Mi'Jan Celie has been a Visiting Scholar at Columbia University's Interdisciplinary Center for Innovative Theory and Empirics; Spring 2017 Documentarian-In-Residence with the Institute of American Indian Art's Essential Studies Department; and the Steinem Initiative lead designer and facilitator for the 2016 public policy digital storytelling and documentation pilot project with women organizers who labor for reproductive justice, at Smith College. Mi'Jan Celie's deepest passion and commitment resides in stories: writing, gathering, amplifying and uncovering healing narratives of personal transformation and community social change.
---
Keynote Speaker
Alejandra Rincón
Alejandra Rincón is Assistant Vice-Chancellor for Diversity and Outreach at the University of California, San Francisco) and author of an influential book on UNDOCUMENTED IMMIGRANTS AND HIGHER EDUCATION: ¡SÍ SE PUEDE!.  Having earned her doctorate in Education Administration, Alejandra is an acclaimed and avid advocate for immigrant rights in the educational system. She was active in the passage and implementation of Texas legislation that allows undocumented high school students to attend Texas colleges at in-state tuition rates.  Recipient of the 2006 Human Relations Award (conferred by the National Association of College Admissions Counseling (NACAC) to acknowledge her advocacy efforts in support of making postsecondary education opportunities available to historically underrepresented students), Alejandra continues to work with individuals and organizations to make higher education available for immigrant students and to support changes in federal legislation that would provide documentation to allow these youth to work and live in the United States.
From The Harvard Educational Review (Winter 2009): "Based on firsthand experience as an educator and advocate, Alejandra Rincón chronicles decades of work to increase college access for undocumented immigrants, linking the present movement to past civil rights struggles. In this thorough account, she proposes reframing the debate on the rights of undocumented immigrants from a lens focused on economics and assimilation to one that emphasizes the struggle for human dignity and equality. In doing so, she advances a framework that may help bridge the deep ideological divides permeating the immigration debate and advance educational policies that reduce inequality in our nation.
---
Keynote Speaker
Dayvon Love
Dayvon Love is a prominent Baltimore-based political activist/organizer. He is co-founder and Director of Public Policy for Leaders of a Beautiful Struggle, a grassroots social justice think-tank that advances the public policy interests of Black people in Baltimore. Founded in 2010, Leaders of a Beautiful Struggle (LBS) works "to radically change the discourse around local and regional politics by injecting community voices into political conversations through policy research, advocacy, and community organizing from a grassroots perspective." LBS worked with other organizations to successfully pressure the state of Maryland to disband its plans to build a juvenile jail downtown. LBS has also led successful legislative efforts to increase civilian oversight of law enforcement in Maryland. LBS was also a key force in fighting the bail bond industry to institute bail reform in Maryland. Love is co-author of THE BLACK BOOK: REFLECTIONS FROM THE BALTIMORE GRASSROOTS, a collection of essays describing important issues facing grassroots activists and organizers in Baltimore. The book is designed to be a crucial resource and call to action for those who are genuinely interested in advancing racial justice in our society and calls out the liberal white academic community and what the authors refer to as the "Nonprofit Industrial Complex" for advancing institutional racism.  Dayvon is featured in "Baltimore Rising," an HBO documentary about post-uprising Baltimore. The film is scheduled for release in Nov. 2018 and documents both his youth education work around public policy and his legislative advocacy in behalf of police reform.
---
Keynote Speaker
Nitasha Tamar Sharma
Nitasha Tamar Sharma is Associate Professor of African American Studies, Asian American Studies and Performance Studies at Northwestern University.  Dr. Sharma was also recognized as the Charles Deering McCormick Professor of Teaching Excellence (2013-2016). Dr. Sharma's academic activities are based on an interdisciplinary, comparative and ethnographic approach to the study of difference, inequality and racism. The central goal of her teaching, research and writing is to develop models for multiracial alliance building by zeroing in on cultural phenomena that unearth and challenge the factors that structure contentious race relations. Dr. Sharma is writing an ethnography, HAWAI'I IS MY HAVEN: RACE AND INDIGENEITY IN THE BLACK PACIFIC, based on interviews with 60 people of African descent in the islands. Hawai'i's Black residents illustrate what the Pacific offers people of African descent as a place of "reprieve," and reveal how the racial lens that African Americans bring to the Hawaiian Islands illustrates inequalities. Her first book, HIP HOP DESIS: SOUTH ASIAN AMERICANS, BLACKNESS AND A GLOBAL RACE CONSCIOUSNESS (Duke University Press, 2010), analyzes how second generation members of an upwardly mobile and middle-class immigrant group use hip hop to develop racial—not just ethnic—identities. The racial consciousness expressed by these hip hop artists as "people of color" facilitates the development of multiracial coalitions that cross boundaries while explicitly acknowledging "difference."
---
Guest Artist
Joey Krebs, aka the Phantom Street Artist
Joey Krebs, aka the Phantom Street Artist, is a long-standing force in the LA Street Artist scene and conspiring/founding member of Art Saves Lives, the Collective.  A long-term commentator and journalist for many editors, media outlets and publications, Joey is an internationally recognized artist and album cover artist (for Rage Against The Machine). He founded Art Saves Lives and an independent advocacy media channel, PYR8FREETV, to document the voices of marginal related content and issues in the world and offer cultural critiques through cause-based campaigns of social inquiry. His past cultural media reviews and photo essays have appeared in diverse media outlets, including El Tecolote, Compton Herald, Pro MMA Now, Takedown Radio, Porterville Recorder, Bakersfield Californian, San Marino Tribune, Cultural Weekly, Defy Magazine, Brooklyn and Boyle, Hoy Magazine, Orange County Register, LA Herald Examiner and Santa Monica Outlook. The Phantom Street Artist combines tongue-in-cheek performance humor with site-specific theatre and installation art, along with spoken word material referencing various tropes of the great tradition of critical satire. The Phantom is one who questions our culture in question, casting himself in self-realized scripts through many different personas (e.g., the Gorilla Street Artist). The Phantom Street Artist is this generation's mocked American Anti Hero who acts through vignettes skits, prank calls, and signs from local pizza joint with the effect of looking at my way cultural street art historization. The Gorilla Street Artist meets mash up sounds of the Phantom's Dubbed Parody of Midnight Star seeking enlightened late night conversation with your local vato museum guard.
Art Saves Lives exists to provoke, imply and state ideas of socio-political and cultural change. Their goal is to create an aesthetic strategy whose purpose is to reach a mass audience in the interest of challenging our conditioned society. Members of the collective practice their art form in the arena of public Media. Their intent as media-based artist/activists is to propose commentary, strategies and models in an effort to critique and change our society through various expressive mediums. Art Saves Lives operates with strategic intent, using concepts that are demanding, sophisticated and well conceived for any project they undertake. In selecting projects to introduce into their image system, media events and site-specific locations are carefully chosen as a palette for social commentary and expression. The core ambition of Art Saves Lives is to create works in public and events in the media that are substantial, meaningful and defined in broadly cultural terms. "Our goal is not just to provide a service, but also to critique, find and redefine the cultural and political horizon of our time. We consider ourselves Media Image Brokers."
---
Guest Artist
Milcha Sanchez-Scott
Milcha Sanchez-Scott is the daughter of a Colombian father and an Indonesian mother, and was born on the island of Bali. She was educated in England until her early teens, when her family emigrated to California. A graduate of the University of San Diego (with a degree in Literature, Philosophy, and Theatre), MIlcha lives in Los Angeles. Her first play, LATINA, premiered by L.A. Theatre Works in 1980, won seven Drama-Logue awards. DOG LADY and THE CUBAN SWIMMER, a pair of one-acts written in 1982, were produced in 1984 by INTAR in New York, and selected for TCG's "Plays in Process" series. DOG LADY was subsequently published in Best Plays of 1986. Other works include CITY OF ANGELS, a trio of one-acts; EVENING STAR, produced by New York's Theatre for a New Audience; and the highly acclaimed ROOSTERS, produced in New York by INTAR and the New York Shakespeare Festival. Milcha has received a "Vesta Award" (given each year to a West Coast woman artist), the "Le Compte du Nuoy Foundation Award," which goes to "a young writer with a unique voice." and a "First Level Award" for American playwrights (for 1987) from the Rockefeller Foundation. An informative interview with Milcha appeared in Latin American Theatre Review (Spring 1990) under the title "Language as a Cure: An Interview With Milcha Sanchez-Scott" (pp. 63-74).
---
Guest Artist
Ariana Brown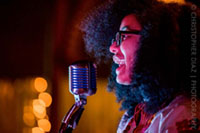 Ariana Brown is a Black Mexican American poet from San Antonio, Texas, with a B.A. in African Diaspora Studies and Mexican American Studies from the University of Texas. She is the recipient of two Academy of American Poets Prizes and a 2014 collegiate national poetry slam champion. An alumna of Brave New Voices, Ariana's work has been featured on PBS and in Huffington Post, Blavity, For Harriet, and Remezcla.  Ariana has performed across the U.S. at venues such as the San Antonio Guadalupe Theater, Tucson Poetry Festival, University of Illinois-Urbana Champaign, and the San Francisco Opera Theatre. Her work is published in Nepantla, Muzzle, African Voices, Borderlands: Texas Poetry Review, and ¡Manteca!: An Anthology of Afro-Latin@ Poets from Arte Público Press. She is currently working toward an MFA in Poetry at the University of Pittsburg.