Welcome to SLD!
Student Leadership and Development (SLD) coordinates New Student Orientation (NSO) and Tranistion Programs, Leadership Development initiatives; and serves as the home base for Student Organizations and Fraternity/Sorority Life.
Important Updates:
Register your new organization for the Spring `23 semester. You can complete the registration form on WarriorLife between November 1 through December 31. Training for President, Treasurer, Student Event Coordinator and Advisor positions will be assigned once the registration form is submitted. All training and registration requirements for recognition must be completed through your Tracks and Checklists on WarriorLife by January 31, 2023.
This link provides the latest information about the University's response to the spread of 2019 Novel Coronavirus (COVID-19) along with campus protocols, guidance and resources for the campus community.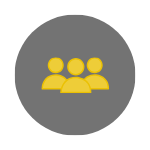 Learn more about Fraternity & Sorority Life
View all the SLD activities
Learn more about
Student Organizations
Learn more about the Leadership Programs
View Frequently Asked Questions Page
Learn more about New Student Orientation
---
Published: February 23, 2022.   Student Leadership & Development is a unit of the Division of Student Affairs.