Welcome to S.L.D.!
Student Leadership and Development (SLD) is committed to cultivating community and fostering engagement through co-cirricular learning. Our core purpose is to orient students to the university; serve as a home base for Student Organizations and Fraternity/Sorority Life; provide leadership development opportunities; and promote student engagement and student growth. We know that encouraging student involvement, helping students build lifelong relationships, and developing leadership skills - are the keys to student success!
Important Updates:
With Student Leadership and Development (SLD) approval, Recognized Student Organizations (RSOs) may host Activities and Events (in addition to meetings), request most campus building spaces, and invite off-campus/alumni attendees beginning Wednesday, December 1, 2021. 
This link provides the latest information about the University's response to the spread of 2019 Novel Coronavirus (COVID-19) along with campus protocols, guidance and resources for the campus community.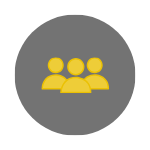 Learn more about Fraternity & Sorority Life
View all the SLD activities
Learn more about
Student Organizations
Learn more about the Leadership Programs
View Frequently Asked Questions Page
Learn more about New Student Orientation
---
Published: February 23, 2022.   Student Leadership & Development is a unit of the Division of Student Affairs.