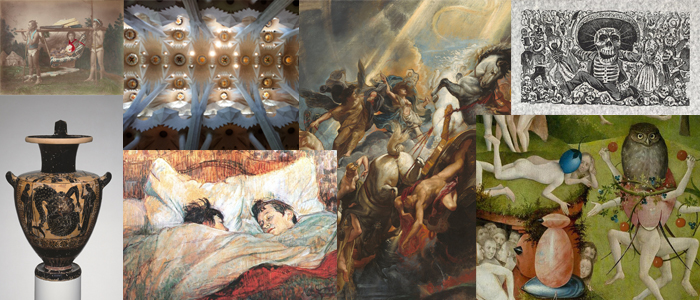 The Art History B.A. program provides students with a multicultural and global awareness of art and culture, as well as the useful daily skill of visual literacy–not just of artwork, but also of advertising, architectural structures, and popular culture. Course offerings cover a wide range of subjects within global contexts, encouraging students to become responsible citizens through an understanding of the aesthetic, cultural, and ethical issues present in our complex contemporary world. The B.A. in Art History offers a platform for students to examine, to identify, and to appreciate the visual arts and cultural production from prehistory to the present in multiple regions and contexts.
Students gain exposure to a broad, global spectrum of interconnected approaches to the critical study of the history of art, architecture, visual culture, and museums. The faculty members are dedicated scholars who bring a diverse range of experience and expertise to the classroom. Students benefit from close interaction and mentoring. Art History majors not only engage rigorous art historical scholarship and theoretical texts, producing their own creative research in the process but also participate in courses and practicums that can help prepare them for gallery and museum careers, as well as many other disciplines, such as law school. The skills earned from studying Art History include critical thinking, aesthetics, interpersonal skills, non-verbal communication, analytical depth, visual literacy, and memory and pattern recognition, as well as a better understanding of human cultures and the creative expressions of humanity's experiences, from prehistory to the contemporary. Students must meet the general admission requirements of the university. 
Program Learning Outcomes
Students will:
Recall a broad, critical knowledge of cultures, movements, periods, styles, artwork, buildings, processes, and individuals in the history of art globally and multi-culturally;
Compare and contrast, analyze and evaluate artwork, buildings, and visual and material culture, using the vocabulary, method, knowledge of artistic processes, and scholarly language of the discipline of Art History;
Analyze and apply research methods and approaches when interpreting artwork in essays and strengthen writing skills relevant to the field of Art History;
Investigate professional involvement that is directly or indirectly related to the field of Art History and to formulate parallel applications in other endeavors in life;
Investigate various careers in the field of Art History and related disciplines, implementing specific skills, protocols, and creativity to prepare students for graduate school and/or a profession in Art History and related disciplines;
Understand the ethical considerations of artistic practices, art historical scholarship, and object collecting and display within global contexts.
---
Program Elements
---
Contacts
 
Dr. Staci Gem Scheiwiller, Program Director.
Patricia Eshagh, Lecturer
Tricia Cooper, Lecturer
Meg Broderick, Staff
(209) 667-3431
mbroderick@csustan.edu