About Our Programs
MASTERS IN COUNSELING
Turlock and/or Stockton | 1-1.5 years | 32-35 units 
The Master of Arts in Counseling is intended for those who wish to provide counseling in a variety of settings such as the substance abuse field, working with foster children, counseling/advising in higher education settings, working with the homeless, or numerous other counseling-related positions that require a Master's degree. 
MASTERS IN COUNSELING WITH PUPIL PERSONNEL SERVICES (PPS) CREDENTIAL
Turlock | 2-3 years | 58 units 
The Master of Arts in Counseling and Pupil Personnel Services (PPS) Credential is intended for students who aspire to offer counseling services in K-12 schools and/or higher education. The PPS Credential is required for counselors in the K-12 setting. Upon completion of the program, students qualify for both a PPS credential and a Master of Arts in Counseling. The MA with PPS credential program has been revised to meet the current state standards and has been approved by the California Commission on Teacher Credentialing (CCTC).  
MASTERS IN COUNSELING: PROFESSIONAL CLINICAL COUNSELOR (PCC)
Stockton | 2-3 years | 60 units 
The Master of Arts in Counseling with Professional Clinical Counselor (PCC) option is intended for those who wish to obtain a Board of Behavioral Sciences license and practice as an independent counselor in the community. Upon completion of the M.A. in Counseling: Professional Clinical Counselor program, graduates are qualified to pursue PCC licensure. The MA with PCC Concentration has been approved by the Board of Behavioral Sciences (BBS) and meets the statutory requirements for a Licensed Professional Clinical Counselor (LPCC) Licensure.  All classes are held at the Stockton campus.
California requires that all school counselors in K-12 schools hold the Pupil Personnel Services credential. Most of our graduates choose to be counselors in K-12 schools, as well as community settings. Others work in academic advising and student services in colleges and universities.
The MA with PCC concentration may be required of individuals who wish to pursue careers as mental health clinicians or licensed professionals working in community settings.
As per the appropriate MA and/or credential/concentration our graduates have occupations as delineated in the following:
Communications Specialist in hospital
Administrator of pain clinic
College EOP Counselor
Director of Student Union at University level
Academic Advisor at University level
Counselor at mental health (working with teens after school program)
Counselor at a group home
Career Counselor at University
Coordinator of Teen Pregnancy program
Career Center Counselor
Career Technician at Community College
School Counselor at alternative school
Counselor at Community College
Vocational Counselor
Director of Multicultural Services Admission Requirements
In order to be fully admitted into a Counselor Education Program, the following requirements must be met:
Admission to the University with a minimum GPA of 3.0 (in last 60 units of coursework).
University Graduate Admission Application
Pass the First Interview with a minimum score of 3.0
Admission is determined by GPA, interview, letters of recommendation and written statement.
Prior to the First Interview, you must complete and submit to the following materials the Advanced Studies Office at DBH 348 (check program website or call Advanced Studies Office for current deadlines):
Application for First Interview Form and $25 Fee Receipt. 
CBEST verification showing overall passage and a score of 41 or higher on the writing section, or proof of passage of CSET 101, 102 (now 214), 103 and 142.  If CBEST or CSET haven't been taken then a Basic Skills Requirement (BSR) form must be submitted to the Credential Services office at credentials@csustan.edu.  The form is available on the Credential Services website here.
CBEST/CSET are not required for MA Only or MA with PCC.
CBEST/CSET Information
A copy of a valid Certificate of Clearance, California Teaching Credential or Substitute Permit issued by the Commission of Teacher Credentialing (CTC).
Certificate of Clearance Information
Two Online Recommendation Forms, from professionals, are required.  The forms may be submitted by faculty members with whom you have studied, employers for whom you have worked, or others who are in a position to evaluate your potential for graduate level study.
A typed statement (maximum of 2 pages) indicating your suitability for the Counselor Education Program, your future work as a counselor, and your experience working with youth/adults as related to counseling.
All program application requirements must be submitted by the application deadline. Incomplete applications will not be considered.
Students participate in 2 interviews:
The First Interview is required for admission to the program.  Applicants are scored on their GPA, interview, letters of recommendation and written statement.  All applicants must receive a minimum score of 3.0 on their interview to be considered for admission.
Prior to program completion, and after completion of at least 20 units of coursework and one semester of EDCL 5850 - Counseling Seminar, students participate in the Second Interview, which is a competency feedback session.
The PPS credential requires 800 hours of field experience in public schools and other settings. The PCC concentration requires 280 direct contact hours of field experience in a clinical setting.  The MA Only requires 200 hours of field experience.
The Nina Ribak-Rosenthal Memorial Scholarship is awarded to Counselor Education Program candidates only. It was established in memory of Dr. Ribak-Rosenthal, who taught School Counseling courses and coordinated the program for more than 20 years. 
The Stanislaus Community Foundation provides scholarship opportunities for students in order to help them achieve their educational and career goals. Scholarships are available to graduating high school seniors and current college students.
The Stanislaus Futures Health Scholarship is a strategic, need-based scholarship designed to support CSU Stanislaus students in the pursuit of a bachelor's degree in health careers.
The Maddy Institute for Fall 2022 is PAID Internship Opportunity! This is a great opportunity for ALL students to gain real-world knowledge and enhance their college experience working in a legislative office.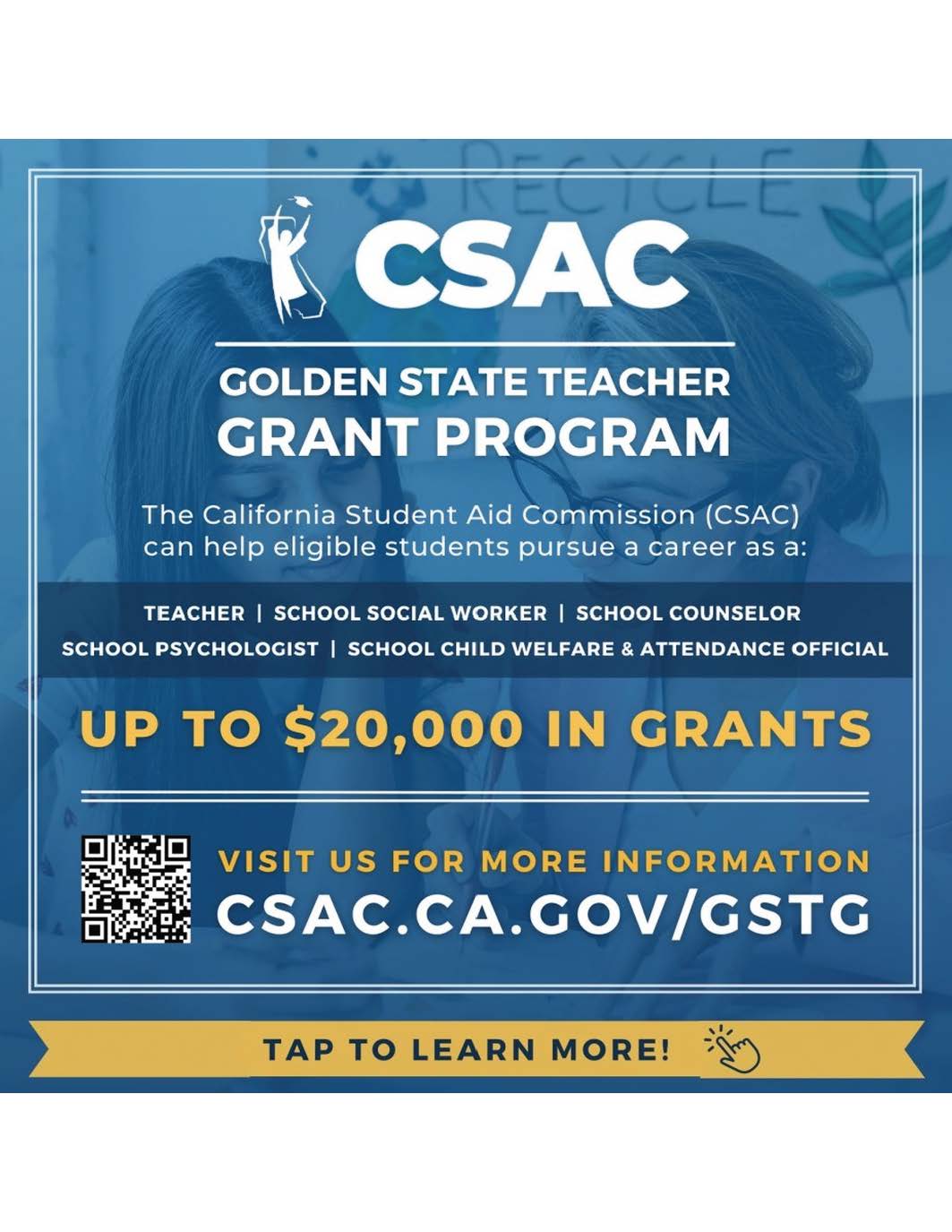 Updated: November 10, 2022