The Honor Society of Phi Kappa Phi
The Honor Society of Phi Kappa Phi's primary objective is the recognition of superior scholarship in all academic disciplines. The society is convinced that recognizing and honoring those persons of good character who have excelled in scholarship, in whatever field, will stimulate others to strive for excellence. Moreover, the society serves the interests of those students capable of excellence by insisting that in order to acquire a chapter of Phi Kappa Phi, an institution provide the means and atmosphere conducive to academic excellence. Stanislaus State has proudly supported Chapter 282 of the Society since receiving its charter in 1999.
Please see the Chapter Brochure for more information.
---
Spooktacular Booooook Drive
What? Each year the Honor Society of Phi Kappa Phi hosts a book drive so the Chapter can distribute books to children trick or treating at the annual Halloween Gala in the Stanislaus State Village (see more information below). 
When and Where? October 3 to October 27, 2016 at locations indicated below.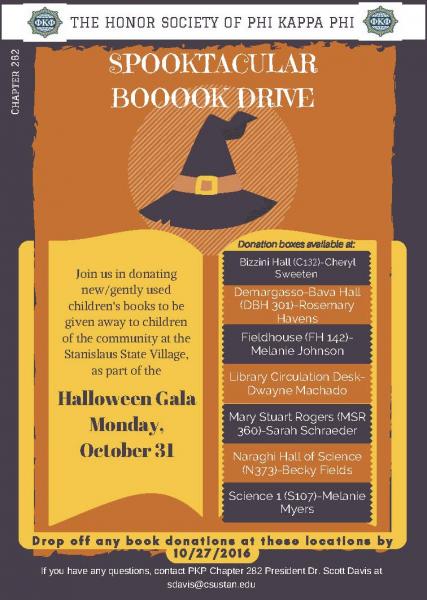 ---
24th Annual Halloween Gala
What? The Honor Society of Phi Kappa Phi will host a book trick or treat table for all children to trick or treat for a book of their choice. 
When and where? Monday, October 31, 2016 starting at 6 p.m. in the Stan State Village.