Resources
Questions or additional sources to share? Please contact wolmstead@csustan.edu.
"Each year, over one million Californians are exposed to unsafe drinking water from the taps in their homes, schools, churches, parks, and community centers. Although unsafe tap water can be found in nearly every county of the state, areas like the San Joaquin Valley are disproportionately impacted. Groundwater, which is found in the spaces between the soil and rocks beneath the earth's surface, is the primary drinking water source for over 95% of communities in the San Joaquin Valley. Many communities are 100% reliant on groundwater. Groundwater faces many threats. Contamination of groundwater from industrial and agricultural sources causes poor drinking water quality that harms the health of people who consume it. Decreases in groundwater levels can cause wells to go dry."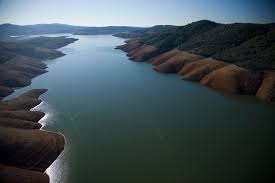 Use the tool to discover where your water comes from based on your address, about the water quaility and water supply in your area, and how to get involved with local issues OR use the web mapping tool to learn about California's water data layers including drought scenarios. 
Research indicates that teaching students about climate science without first providing them with climate solutions sets up a mental model of paralysis that results in a block against action even if solutions are provided later. The challenge is to direct the frustration and worry about climate change into increased knowledge and productive actions.
Are you or your students worried about the impacts of climate change and not sure what to do to help create significant change? Organized by the Higher Education Associations Sustainability Consortium (HEASC) and the Disciplinary Associations Network for Sustainability (DANS), Beyond Doom and Gloom: Climate Solutions is an initiative to empower students, educators and the public to advocate for climate solutions that seeks to direct the frustration and worry about climate change into increased knowledge and productive actions.
"UC-CSU NXTerra is a Knowledge Action Network (KAN) and digital platform for climate educators, developed by faculty across the University of California and California State University systems. NXTerra produces, curates, and delivers climate change, critical sustainability, and climate justice education resources for educators of every discipline—from the arts and humanities to the human and social sciences and the natural sciences—with a vision of sharing resources to accelerate climate education and action in California and beyond."
"Those of us in higher education who are concerned about the future of the planet realize that although cutting carbon emissions from campus operations is important, it is not enough to turn the tide of the ecological crisis, nor is it where we can best utilize our influence as educators to make an impact on future generations. Integrating sustainability into the curriculum is becoming THE challenge for sustainability influencers at colleges and universities as green buildings and recycling programs become matter of course and the classroom becomes the true battleground for change. Here are some ways that sustainability can be integrated into the curriculum to help build ecological awareness for students, staff, and faculty" (aashe.org). 
SISL is a select group of academic associations and disciplinary societies working together to increase students' learning in undergraduate courses, and better prepare students for the 21st-century "Big Questions" that relate to real-world challenges such as energy, air and water quality, and climate change.
The Journal of Sustainability Education (JSE) serves as a forum for academics and practitioners to share, critique, and promote research, practices, and initiatives that foster the integration of economic, ecological, and social-cultural dimensions of sustainability within formal and non-formal educational contexts.
This guidebook is built upon a framework of student learning outcomes developed by the ACPA Sustainability Task Force and published in the Monograph, Toward a Sustainable Future: The Role of Student Affairs in Creating Healthy Environments, Social Justice, and Strong Economies. Therefore, the assessment tools in this guidebook focus on one piece of the sustainability puzzle — student learning — and should be used to complement the assessment of operation and program effectiveness.
Teaching and Learning for a Sustainable Future is UNESCO's response to the challenge of helping teachers worldwide not only to understand sustainable development concepts and issues, but also to learn how to cope with interdisciplinary, values-laden subjects in established curricula. The program can be used as it is, or adapted to local, national or regional needs. 
The Disciplinary Associations Network for Sustainability (DANS) is an informal network of academic associations with a commitment to education for a sustainable future. The Association for the Advancement of Sustainability in Higher Education (AASHE) and the US Partnership on Education for Sustainable Development coordinate this network.
LSF is a non-profit Canadian organization that was created to integrate sustainability education into Canada's education system. LSF's goal is to work together with educators, students, parents, government, community members and business leaders to integrate the concepts and principles of sustainable development into education policy, school curricula, teacher education, and lifelong learning across Canada. The site includes a free, online database of over 700 peer-reviewed, curriculum-matched resources to help teachers integrate ESD into their curriculum, professional development resources, and lesson plans. 
Provided by Ashwani Vasishth, Director of the Master's program in Sustainability Studies at Ramapo College of New Jersey, and an Associate Professor in Environmental Studies. Vasishth, currently focused on generating an ecosystem approach to ecological planning, has worked in the area of regional planning in the fields of aviation planning, air quality planning and environmental planning, with a concentration in urban ecology and a broad range of interests in green infrastructure, impervious surface management, heat island mitigation, urban forestry, and landscape management in an integrative approach to regional planning. He currently teaches courses across a range of fields, from within a sustainability framework.