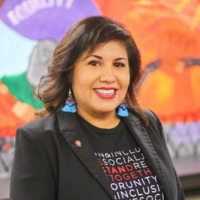 Director, Warrior Cross Cultural Center
Carolina Alfaro has over twenty years of unparalleled service and experience working with diverse communities both off and on campus. Currently serving as the founding Director for the Warrior Cross Cultural Center (previously the Diversity Center) at Stanislaus State, she takes pride in cultivating an atmosphere that promotes inclusivity and understanding of diverse populations. She oversees the center's programming related to diversity, inclusion, social justice and equity. Carolina also oversees Undocumented Student Services as well as the Male Success Initiative.
Leading the center with a holistic approach, she is invested in providing students with opportunities that foster leadership, cultural awareness, social justice & equity awareness and community engagement. She is an advocate for marginalized communities and continues to be a resource to help many feel "safe" or "empowered".  Part of her first-year efforts will be to re-name the center by including students to participate in the renaming process.  "I feel so honored to serve as the founding Director for the Warrior Cross Cultural Center and look forward to building transformational opportunities for our students - I'm calling this heart-work".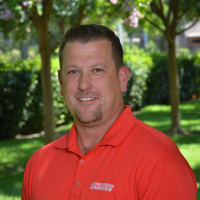 Director of Athletics
In 2022, Aaron was appointed to be the Director of Athletics. Aaron has previously served as Associate Athletics Director since January of 2017 and became the Senior Associate Athletics Director in fall of 2019. Allaire oversees all facility operations, maintenance and upgrades for Warrior Stadium, Fitzpatrick Arena, Warrior Baseball Field, Warrior Softball Field and the tennis courts. He also manages game day operations, including ticketing and event staff for all Warrior athletics home events. Additionally, he maintains the department's equipment inventory and serves as a liaison to the University's Physical Plant, Chartwells dining services, Risk Management, Campus Recreation, University Police Department and Event Services departments. He also oversees all scheduling of athletic facilities for practice, competitions, camps and 3rd party events. During his time as an administrator Warrior facilities have seen some major upgrades. Fitzpatrick arena has seen the installation of a new floor, new seating and a video board. In addition the arena lobby has gotten a complete makeover with new flooring, trophy displays, an interactive touch screen and branding. In addition, major upgrades to the volleyball locker room, the addition of a golf short range, a new hammer cage, new pole vault and high jump pits at Warrior Stadium, and increased branding at all venues have all taken place.
Allaire currently serves as a sport supervisor for women's tennis, softball, women's soccer and women's basketball. He has supervised golf, baseball and men's and women's track and field in the past. Prior to joining the administrative staff, Allaire has been on campus since 1997 when he was a member of the baseball team. Since 2001-02, Allaire has served as an assistant baseball coach while holding a part-time role as a game day operations and equipment manager for all home events. Additionally, Allaire also worked as an assistant in the Sports Information Office and taught courses in the kinesiology department. He played baseball for the Warriors from 1997-99 and is a graduate of Cal State Stanislaus. Allaire has a bachelor's degree in history from Stan State, a California Secondary Teaching Credential from Chapman University and a M.A. in management with a specialization in leadership from National University. He and his wife Megan have three children: Case, Kellen and Brady.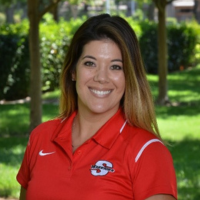 Assistant Athletics Director for Student Success, Senior Woman Administrator
Alissa Aragon has brought her long history of working with students at California State University, Stanislaus across the Warrior Lake Bridge to Intercollegiate Athletics as she was named the Athletics Academic Advisor on Sept. 1, 2015. She was promoted to Assistant Athletics Director for Student Success and named the department's Senior Woman Administrator in Fall of 2019.
Aragon supervises the compliance coordinator and academic advisors and serves as team supervisor for: Volleyball, Men's Golf, Men's and Women's Cross Country, as well as Men's and Women's Track and Field.
 
As the Athletics Academic Advisor, Aragon provided academic, personal, learning or career-related advising on an individual or small group basis to student-athletes. She supervised the Warrior Athletics academic program and determined and monitors student-athlete NCAA and CCAA academic eligibility in collaboration with coaches and campus staff.
 
Aragon has been a staff member at Stanislaus State since 2005 and has held a number of positions in the Office of Student Leadership since she arrived on campus. Since May of 2011, she served as the New Student Orientation Coordinator and Student Organization Advisor. Prior to that, she was the Student Organization and Activities Coordinator (2007-2011) and Administrative Assistant (2006-2007). She first arrived in Turlock as an assistant with Associated Students, Inc. (2005-2006).
 
While working with the students at Stanislaus State, Aragon received numerous awards including "Rookie of the Year" award for outstanding performance in 2009, "Safety Award" for innovation and creativity in 2010, and the "Student Empowerment Award" in 2014.
 
Aragon is a 2005 graduate of the University of the Pacific in Art History and Film Studies. In addition, she holds a Master of Arts degree in Counselor Education from California State University, Stanislaus where she graduated with honors in 2016.
Aragon and her husband, Ryan, have two children, Jacob and Lucas, and they live in Modesto.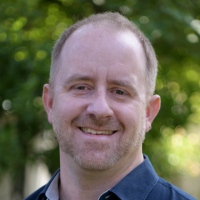 Director, Learning Commons
Dr. James Barnes' Stanislaus State story begins with a family connection. His Dad, from a farm family in Ballico, was one of the first two physics graduates at Stan State. He thrived due to the support of caring staff and encouraging faculty. This propelled him to earn a PhD and to enjoy a renowned career as a research seismologist. He continues to share stories of Stan State's early days with pride! Dr. Barnes hopes to continue the legacy of care his dad experienced at Stan State by helping the next generation of Central Valley students achieve their academic goals and find their pathways to success. Dr. Barnes leads the Learning Commons which provides campus wide learning support and engagement services, including centers for Supplemental Instruction, Tutoring, Writing, and Testing. He looks forward to continuing to build the commons as a resource that is part of every scholar's story of success.
He has spent 15 years serving students of diverse backgrounds in the Central Valley and appreciates the many strengths they bring to higher education. Prior to his role at Stanislaus State, Dr. Barnes led professional staff teams in areas of advising, orientation, learning support, transfer programs, disability services, and student success course development at University of California, Merced. He also held professional leadership roles at California State University, Chico, University of Northern Iowa, and University of Dubuque.
Dr. Barnes earned his Ed.D. in Educational Leadership from University of California, Davis. His research focuses on academic resilience in first-generation students of color, resilience-building systems, resilience narratives, help-giving and help-receiving dynamics in higher education, strengths-based curriculum and program models, and asset-based organizational leadership. He is a member of the Resilience Research Group, an inter-disciplinary collaboration of Central Valley academics interested in understanding the role of resilience in student success.
He enjoys running, gardening, family activities with his wife and son, and witnessing students' talents in campus performances and athletics. He looks forward to hearing your Stan State story and how the Learning Commons can help you thrive throughout your academic journey!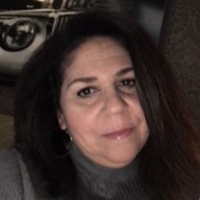 Director, Counseling and Psychological Services
Cynthia Borges-O'Dell is a Licensed Marriage and Family Therapist and Stanislaus State alum, graduating with a bachelor's in psychology and child development. She has a Master of Arts in Counseling, with an emphasis in Marriage and Family Therapy, from the University of San Francisco. Cynthia holds over 30+ years of experience working in the profession and maintains a private practice in Modesto and Turlock.
Cynthia was born and raised in Stanislaus County and has had the pleasure of raising her family in the Central Valley. She is a first-generation college student with strong ties to the Stanislaus County community. She looks forward to giving back to the Stan State community as it has given her much in life, setting the foundation for the achievements she has been fortunate to achieve. Furthermore, she aims to support students' educational endeavors while maintaining their overall wellness.
Cynthia is motivated to help others achieve their emotional health and well-being, heal from life's challenges, and help people find their strengths. She has a passion for creating programs and encourages the professional development of others through the profession that has given her so much in life. Cynthia is honored to be part of Stanislaus State's Counseling and Psychological Services and Student Affairs team while serving the wonderful campus's students.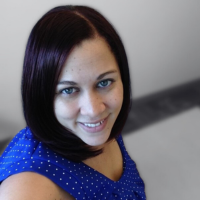 Director, Student Support Services
Juanita Cruthird is the Director of TRiO Student Support Services (SSS) at Stanislaus State. Ms. Cruthird was a first-generation, low-income undergraduate student. Like many Stan State students, she entered college underprepared to succeed. Her family valued education but could not help her navigate college or financially support her education. Ms. Cruthird struggled with her academics, self-confidence, and sense of belonging. She considered giving up on college, but eventually found her path. She has a Master of Public Administration as well as a Bachelor of Arts in Liberal Arts with a major in Economics.
Ms. Cruthird's college experience became the catalyst for her career in student affairs. She has been part of the Stan State community for over 15 years in various program management and advising roles. Previously, she served as the Director of the Central Valley Math and Science Alliance in support of STEM majors. She was also responsible for leading the STEM Success grant proposal workgroup, which secured $5.9 million to continue programming for underrepresented students majoring in math and science. Ms. Cruthird understands each student brings unique circumstances, situations, backgrounds, and personalities. She knows each student's past and present influence their college experience. She believes in meeting students where they are, supporting their dreams, and empowering them to own their path to degree.
For Ms. Cruthird, providing leadership for TRiO SSS is an opportunity to see students' growth when they are afforded the information, foundation, and knowledge needed to define and accomplish their goals. For many TRiO SSS students, college is an opportunity for them and their family but comes with excitement and uncertainty. The program offers a knowledgeable support network, that is easy to access, along with diverse programming to help first-generation and low-income students stay on track with educational and professional goals. Student Support Services is one of eight federal TRiO programs authorized under the U.S. Higher Education Act of 1965 and is designed to address inequity in higher education attainment by first-generation, low-income, disabled, and underrepresented students.
Director, Student Health Center
Amy Diaz has been appointed Interim Director of the Student Health Center at Stanislaus State. She comes to the University having most recently served as the Manager of Emergency Services for Dignity Health.
A native of the Central Valley she earned her Nursing degree from Merced College and her Bachelors in Nursing from Grand Canyon University.   Like many of our students, she persevered as a first-generation college student and understands the challenges first-generation students may encounter.
She is dedicated to helping students overcome any barriers they may encounter in relation to their health. Diaz is excited to have the opportunity to play a proactive and intentional role in our student's health and wellbeing. "As the Interim Director of the Student Health Center, I have the potential to influence our student's overall wellness. I have an opportunity to engage our students and assist them in becoming proactive stewards of their own health and wellbeing."
Her experience in the emergency department has sparked a passion for proactive, preventative care, leading her to the Student Health Center at Stanislaus State.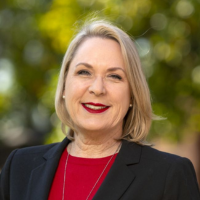 Associate Vice President for Student Engagement and Well-being/Dean of Students
Dr. Heather Dunn Carlton joined the Student Affairs team in April of 2021. She brings to Stan State three decades of experience supporting students in various roles, including orientation, health and wellness, student activities, diversity and inclusion, and student conduct. Prior to coming to Stan State, she worked for University of the Pacific, CSU Sacramento, Stanford, and UC Berkeley.
Dr. Dunn Carlton grew up in Visalia, California, and calls the valley home. She received her Bachelor's degree from Occidental College in Los Angeles, her Master's degree from Boston College, and her Doctorate from University of Pacific. She has a passion for substance abuse education and prevention, and her research has focused on teaching students to identify standard drink measures. Dr. Dunn Carlton has served both regionally and nationally as an expert on collegiate alcohol and other drug prevention and student conduct.
Dunn Carlton's portfolio includes Basic Needs, StanCares, Student Conduct, Housing and Residential Life, Recreation, and the Warrior Cross-Cultural Center. She also serves on the ASI and Student Center boards. During the Fall 2021 semester, she will also oversee Health Services, Psychological Counseling Services, and Health Education and Promotion. Dunn Carlton has shared her excitement about coming to Stan State, stating, "I could not be more thrilled to be a part of the Warrior Family. The valley is my home, and there is nothing more important than serving the community that gave me so much growing up."
Dunn Carlton is the mother of two college student-athletes and a self-described college sports super-fan. She looks forward to cheering for the Stan State Warriors, whether on the field or in the classroom!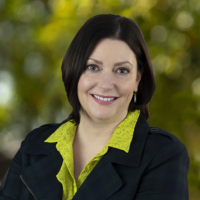 Vice President for Student Affairs
Dr. Erickson is committed to the access-driven mission of the California State University System. As a first-generation college student, she completed a BA in Psychology, a BA in Human Services, and an MA in Education, Counseling Option, from Cal State San Bernardino. Dr. Erickson earned her Doctorate in Higher Education Management from the University of Pennsylvania. Her dissertation topic was "Racial and ethnic pluralities at the California State University: Strategies for student success." She is a strategic leader dedicated to access and student success, and throughout her 25-year career in higher education, she has facilitated bridge-building between academic and student affairs to create seamless curricular and co-curricular living and learning environments that foster student success.
Stan State is poised to greatly improve student success and to positively impact the Central Valley and the State of California with regard to both access and completion. The people and programs in Student Affairs provide the cornerstone of community and create the sense of place essential to a holistic approach to student retention and success. I share President Junn's and Stan State's commitment to the diversity of the student body and I am eager to graciously include student voices as we contribute to meeting the objectives of the ambitious strategic plan and the Graduation Initiative 2025.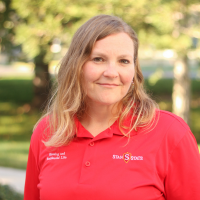 Director, Housing & Residential Life
Renee Giannini, Interim Director for Housing and Residential Life is a proud California State University, Stanislaus alumna and has earned both her B.S. in Business Administration with a concentration in accounting degree, and her Master of Business Administration (MBA).
She has served in various roles in Housing and Residential Life over the past 13 years, with her most recent role as Associate Director of Housing Operations.  Previous to this appointment, she served as Chapter President for the CSU Employees Union, representing almost 400 staff members on campus.  Giannini commented on her roles in CSUEU "It was a privilege to represent and advocate for our staff on campus and work with campus leadership to turn challenges into opportunities that benefit the staff and university as a whole". 
Prior to her service at Stanislaus State, she lived in the Bay Area for 11 years and specialized in revenue recognition for publicly traded software companies.
A proponent of leading through empowering others, she looks forward to the challenges and opportunities that this new position represents.  Though she had varied professional experiences, she notes, "I never feel far away from my time as a student here.  I have the benefit of faculty and staff who invested their time in me.  Now, I'm fortunate to have an opportunity to invest my time and care in our students and staff in Housing".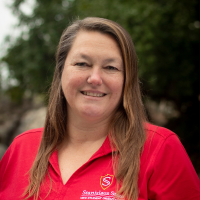 Director, Student Leadership & Development
Stephanie Hubbard was appointed as the Director for Student Leadership and Development in 2021.  She started at Stanislaus State in August of 2017 as the Special Assistant to the Vice President of Student Affairs working to open the Diversity Center in November of 2017.  A native of California, she has worked in four different regions of the country throughout her career and, prior to coming to Stanislaus State, worked at San Jose State University and UC Davis in University Housing. 
"I love working with the amazing students at Stanislaus State!  It is important that we work collaboratively with our campus partners to ensure that our students get the most out of their collegiate experience."  Hubbard said.  "As the Interim Director of Student Leadership and Development, I strive to support and empower students through our Orientation program, connect them with student organizations that feed their passions, and provide a variety of opportunities to help them grow as leaders."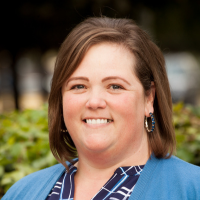 Assistant Vice President for Operations, Planning and Assessment
Ms. Jennifer Humphrey joined Student Affairs in December 2019. She is an alumna and twenty-four year employee of Stanislaus State.    Over her career she has served in roles as the Assistant Director and Director of Housing and Residential Life, University Judicial Officer and Executive Assistant for the Vice President for Student Affairs at Stanislaus State.   She has worked with financial planning, strategic planning, assessment, student support services, facilities management, recruitment and retention strategies, contracts and procurement, human resource management and operations.
Raised in the Central Valley, with a Bachelor's Degree in Political Science and a Masters of Public Administration from Stan State, she is committed to serving our region through her work with the University and community. Hobbies include spending time with her dogs Pumpkin and Millie, day trips with family, beach camping, reading and all things Disney.
Ms. Humphrey has said, "I am excited to be part of Stanislaus State, an environment of belonging and support for all. From my interaction with faculty to my experiences as an elected student leader, I have always valued and appreciated the guidance and encouragement I received as a student.   This culture of care has continued throughout my career. From these experiences I learned to value lifelong learning, teamwork, and perseverance. Working to benefit our students, each other and our region is an honor."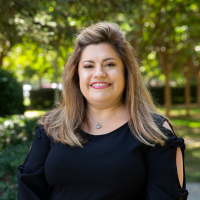 Associate Dean of Students
Dr. Clarissa Lonn has served as the Student Conduct Administrator for the past 2 years having previously served as the Director for Student Leadership and Development. Within the field of Student Affairs she has also held key student affairs positions at Worcester Polytechnic Institute in Massachusetts and University of California San Diego.
Dr. Lonn education taught her to question assumptions, policy implications and impact, be an inventor of new ideas, leader, and advocate for students.  She coordinated the Faculty Mentor Program (a highly successful student retention program serving first-generation college students) for 10 years.  Since 2016 she continues to serve as a member on the Faculty Board of Directors.  Inspired by her students, colleagues and work with first-generation college students, her personal and research interests include: Student success perceptions from 2-year and 4-year first and second-generation college graduates and first-generation college student success, mentoring, and achievement.
During her educational career, she witnessed first-hand the growth in many students' ideologies, philosophies, intellect, career and personal development, and academic skills. She is passionate about advancing opportunities for first-generation college students to engage in an exceptional educational experience that offers a pathway full of opportunities and leadership.
She earned her Doctorate of Education in Educational Leadership to advance her academic research, leadership, and expansion of contributions to advance student success and impact in higher education. She is passionate about mentoring, teaching, and advising students in order to provide experiential learning opportunities that contribute to their growth and development in their academic and co-curricular education.
In addition, she is a very active volunteer on Stanislaus State's Alumni Council and with a women's philanthropic fraternal organization, Phi Sigma Sigma Fraternity. She has been a volunteer with Phi Sigma Sigma for 20 years and currently serves as the Chapter Key Advisor for the undergraduate chapter at Stanislaus State.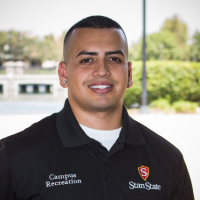 Director, Campus Recreation
Victor Lucatero, a graduate of California State University, Stanislaus, has been appointed  as Director of Campus Recreation. Victor had not originally planned on pursuing a career in recreation, however, after working as a student assistant for the Student Recreation Complex, his life changed.
Victor had developed a profound love and admiration for the "recreation life" and chose to work his way up in the department. After learning about the department through the many roles he served over the years, Victor's new goal is to better students' lives through recreation.
Victor is constantly researching the new proven trends in recreation to improve student health and wellness. Victor is a well-known for his humor and his playful quote: "I didn't choose the Rec Life, the Rec Life chose me."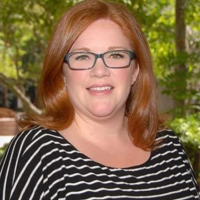 Dean of Students, Stockton
Amy serves as the Dean of Students for the Stockton Campus. She brings a wealth of experience, spanning 23 years in higher education. With an extensive portfolio at regional campuses, San Joaquin Delta Community College and San Joaquin Valley College, Amy has served in various roles, including Director of Admissions, Registrar Services and International Programs, Dean of Enrollment Service and Student Development, and Dean of Students. Her strong vision for student support and success and collaborative approach is invaluable to the Division of Student Affairs and the University. Amy is with the Division of Student Affairs since 2023.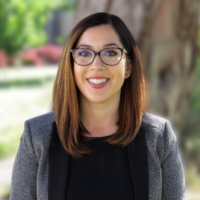 Director, Academic Success Center
As the Director of the Academic Success Center, Gabriela Nuño has a diverse portfolio, providing leadership and oversight to Academic Advising, the Educational Opportunity Program (EOP), Promise Scholars, Project Rebound and Freshman Success Program. These programs provide services to promote the access, academic achievement, and graduation of undergraduate students. The ASC is also the centralized location for undeclared, pre-nursing, general education and academic probation advising.
"I am honored to serve alongside dedicated advisors and peer mentors that are a resource to help students navigate university life, a guide through key academic milestones, and a place of encouragement," Nuño said. "I am excited to support the important role that advising plays in a student's academic, intellectual and personal development."
Nuño has dedicated her career to supporting students in their higher education journeys serving in various leadership capacities across departments and divisions spanning student outreach, admissions and records, transfer and articulation and grant development and implementation. Prior to her current position, Nuño served as the Associate Director of Enrollment Services, Director of STEM Articulation & Transfer grant, Assistant Director of Admissions & Outreach, Early Assessment Program Coordinator and Admissions Counselor.
Nuño has a proven record in working with faculty, staff, and community members to develop collaborative solutions that are student-centered and focused on continuous improvement. Nuño earned her bachelor's in Sociology from Stan State as well as a master's of public administration. Demonstrating her love of learning, Nuño is a current doctoral student in the educational leadership program.
Interim Clinic Manager, Student Health Center
Denise was born and raised in the Central Valley. She has been a nurse for 20 years. In 2020, she began serving as a Staff Nurse II in the Student Health Center. Today, Denise serves as the Student Health Center's Interim Clinical Manager. She previously worked with Stanislaus County's Health Services Agency for 12 years and held various other nursing positions prior. She holds an associates degree in nursing from Modesto Junior College, a bachelor's degree in nursing from the University of Phoenix, and certification in public health nursing since 2019.
Denise's says "My hobbies include concerts,  dancing, and trips to Disneyland, but I find no greater joy in life than spending time with my family.  Working with college students is a unique and rewarding experience.  I am dedicated to making the Student Health Center the go to place for all the students' health care needs by creating a warm and welcoming environment for our diverse population. "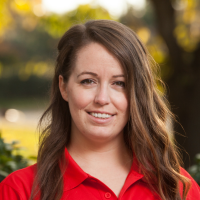 Associate Director for Residential Life, Housing & Residential Life
My name is Heather S. Pearson Villeda and I have worked at Stanislaus State since Summer 2018 as the Associate Director for Residential Life at Housing & Residential Life. In this role, I support and lead the Residential Life team in facilitating a residential living and learning experience that supports student academic and community engagement, well-being, and lifelong development. I'm excited to be at Stanislaus State as the institution is home to a dynamic and motivated student population. With my team, I am developing a learning-enriched residential experience that supports the changing needs of students at Stan and creates meaningful opportunities for fun and growth.
Prior to my time at Stan, I have worked at University of the Pacific, Humboldt State University, Gogebic Community College, Oregon State University, University of Minnesota, Twin-Cities, and University of Idaho in residential life, student conduct, first-year transition and new student orientation programs, alcohol education, and fraternity and sorority life. I'm currently a student as well, working on a PhD in Higher Education Leadership through Colorado State University.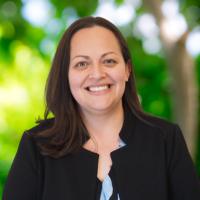 Interim Director, Career & Professional Development Center
A central valley native, Evelyn graduated from Turlock High School and began her career in student affairs with the San Jose State University's Career Center. There she developed an interest and passion for working with students and helping increase their confidence in their academic and professional endeavors. She held a variety of roles throughout her time there and ultimately decided to pursue her Master's degree to be able to work with students 1-1 in their career development. She received her MA in Education and began to work more closely with first generation and undeclared student populations. She had the opportunity to serve as the University Ombudsperson at San Jose State University for two years before returning to career services at Stanislaus.
"I am thankful for the opportunity to serve students, alumni and employers of Stanislaus and surrounding counties. I love the Central Valley and know that the students here are what continue to make this a community of growth and prosperity. Students I have worked with often love this area too, so I'm excited for the opportunity to help them build their careers here. I also appreciate the opportunity to help them expand their knowledge of opportunities throughout the nation."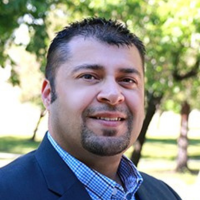 Executive Director, Associated Students, Incorporated & University Student Center
As a first generation professional, Cesar Rumayor has been at Stanislaus State serving in different roles within Associated Student, Inc. (ASI) and the University Student Center (SC) for over 15 years. A graduate of Stanislaus State, and a lifelong resident of the central valley, currently residing in Modesto. Cesar currently serves as the Executive Director for both ASI and the Student Center.
ASI continues to develop many active leaders, serving as the voice of the students through involvement in the campus community. Every year the Board grows stronger and more engaged as a result of the outstanding representation by the ASI Board of Directors. The Board has many action plans for the near future and continues to represent the student body, advocating on behalf of the campus community.
The Student Center works extremely hard to inform students and maintain overall excitement for the new University Student Center. We are passionate about the University Student Center building and continue to stay committed in providing programming and services for our students.
ASI and SC have works closely and collaborated as a team to continue with programming and providing services. Both organizations continue their commitment to provide fun and exciting programs and activities for the students. This plan will support our goals of increasing campus pride and enhancing the student life on campus.
"You can't understand most of the important things from a distance. You have to get close."
Get Involved! Go Warriors!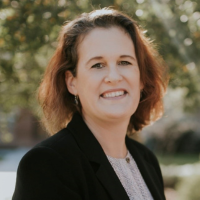 Interim Associate Vice President for Student Equity and Success
Julie Sedlemeyer, currently serves as the Interim Associate Vice President for Student Equity and Success. Previously, she served as the Executive Director of the Career and Professional Development Center ; she is a seasoned career development professional with over 20 years of experience in higher education. Prior to coming to Stanislaus State, Julie was the Associate Director of the Career Center at San Jose State University from 1999 to 2017. She provided leadership to the student services team and the WorkAbility IV program, a pre-employment collaborative program for students with disabilities supported by the California Department of Rehabilitation.
Julie is a Kansas native and proud first -generation Kansas State alumna. She accepted a summer internship after graduation that landed her in California. Prior to her career in higher education, Julie served as the Director of Vocational Services at Silicon Valley Independent Living Center.
In her prior role, as the Executive Director she led an outstanding professional team and the campus-wide CareerReadyU initiative. Julie is dedicated to making a difference in the lives of students and helping them bridge the gap between education and career.
"As a first-generation college graduate myself, I'm passionate about being able to serve first-gen students from the Central Valley. It's wonderful that I have the opportunity to help students design their tomorrows."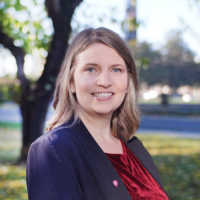 Director, Basic Needs
Jennifer Sturtevant was appointed as the Interim Care Manager in September of 2019, having served in roles at Stanislaus State since 2016. She currently serves as the Director of Basic Needs and Warriors Take Care. A Turlock native she earned her bachelor's degree at Stanislaus State, and a Master of Arts degree in Child Development from Sacramento State.
In her role she leads Basic Needs initiatives at the University, providing guidance and support to students experiencing distress. This position will coordinate care and social support with appropriate referrals, and follow up services within a broad network of campus and community resources.
"It's really about working together to give back to the community as a whole", Sturtevant said."I am proud to be a part of a campus community where campus leaders, faculty, staff and students value removing barriers to student success. Helping students succeed will ultimately help our community and region. I am grateful to have the opportunity to help alleviate food and housing insecurity challenges for students so that they can focus on obtaining their educational goals. One of the exciting parts of this position is that I get the privilege work with campus constituents, as well as, community partners to help students achieve their goals."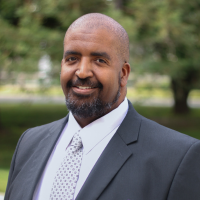 Director, Disability Resource Services
Marvin Williams is the Director of Disability Resource Services. His department is responsible for making sure students have equal access to the curriculum and student life. He has a Bachelor of Science degree in Mechanical Engineering from Santa Clara University and a Master of Science in Biomedical Engineering with an emphasis in rehabilitation from The Iowa State University.  He has his Assistive Technology Practitioner and Rehabilitation Engineering Technologist certifications from RESNA, the Rehabilitation Engineering and Assistive Technology Society of North America.
Before coming to Stanislaus State, Marvin was the Assistive Technology Coordinator at Fresno State. Before that, he was an Assistive Technology Coordinator for the Delaware Assistive Technology Initiative with the University of Delaware's Center for Disabilities Studies. During his time at the University of Delaware, Marvin was co-instructor for an undergraduate course on Technology in Early Childhood Education and a graduate course on Universal Design for Learning.  He has served as an Expert Reviewer for the Delmarva Foundation, responsible for reviewing Letters of Medical Necessity for appropriate equipment recommendation and efficacy.
Marvin is the staff advisor for the Black Student Union and a member of the Black Faculty and Staff Association and The President's Council for Diversity and Inclusion. He is also the Vice-President of the Advisory Board for Disability Resource Agency for Independent Living (DRAIL), one of the California Centers for Independent Living.
Marvin has over 20-years' experience working in the disabilities community with 18 of those in higher education.
Updated: November 01, 2023