MARCH 2020 Volume 1 Issue I
APRIL 2020 Volume 1 Issue II
MAY 2020 Volume 1 Issue III
---
FALL 2020 DATES TO REMEMBER

Nuts & Bolts RSO Training
August 19th, 2020 (Virtual)
9:00 a.m.- 4:00 p.m. 
Each President, Treasurer, and Student Event Coordinator (SEC) should plan to attend training at this event. Although, only ONE member is required to attend. The President of each organization will need to have completed the re-registration form on WarriorHub before attending.

Recognized Student Organization (RSO) Re-Registration Clinic
August 11th, 2020
Recognized student organizations will have the opportunity to put their name into a random drawing for a spot to have their booth/table to be placed in the quad. A student organization member must be present in order to participate for the Booth Lottery.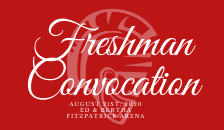 Freshman Convocation
August 21st, 2020
(Virtual)
Freshman Convocation is our official ceremony, followed by a fun-filled fair, where we celebrate you joining the Stan State family. All new freshmen are expected to attend. All Freshman participants will receive a free class t-shirt and be entered into our grand prize giveaway.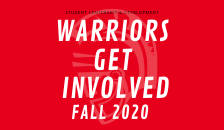 Warriors Get Involved
       Sept. 9th, 2020 (Virtual)       10:00 a.m.- 1:00 p.m.
This is a great opportunity for all recognized student organizations and departments to showcase their involvement opportunities in their own area.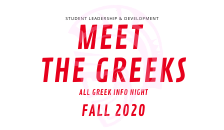 All Greek Info Night      Sept. 9th, 2020 (Virtual)       Time TBD
This is a first time opportunity that we hope to make annual! Come meet all of our social greek-lettered organizations who are a part of the Stanislaus State Fraternity/Sorority community! They are super excited to share with you how their organization and being involved has changed their lives, hoping to share their stories with you.
If you have any questions, please feel free to contact the Office of Student Leadership and Development at (209) 667-3778 or sldclubs@csustan.edu