Penumbra 2023: Horror Edition
Penumbra would like to present its horror collection: A Menagerie of Monsters and the Macabre. The entire collection can be found on penumbraonline.com.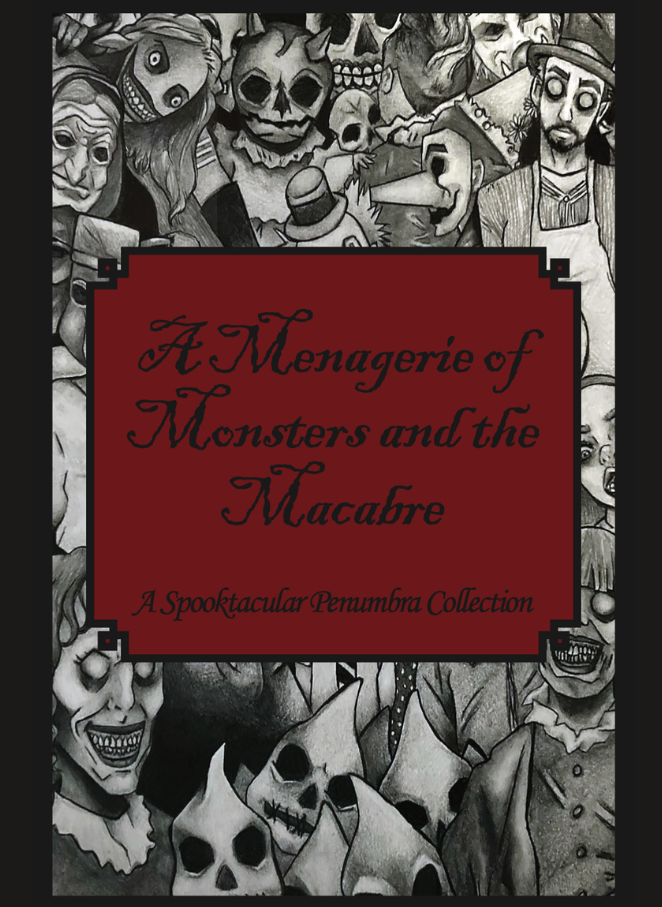 The horror edition of Penumbra released on Dia De Los Muertos, November 2nd, 2023. Penumbra would like to thank everyone who attended the launch event, including Joseph Rios, the Poet Laureate of Fresno, who was kind enough to share his own poetry with us before the official launch of this collection. A special thanks goes out to Amanda Trask as well for coming up with a delightfully spooky cover to go with this edition.
Read the collection on Penumbra Online

New Penumbra Website
Visit our new Penumbra Online website to view all of our past Penumbra Online editions.
Commitment to Anti-racism
The faculty and staff of Penumbra stand in unity with our Black communities, who have long been the victims of systemic racism, violence, and murder. We will not allow those assassinated by police brutality and white supremacy to be forgotten. We remember George Floyd, Auhmed Arbery, Breonna Taylor, Eric Garner, Tamir Rice, Philando Castile, Sandra Bland, Emmett Till, Dr. Martin Luther King, Jr, and so many others and call for fundamental changes in our local, state, and national governments to espouse equality for all people. We are outraged by the police brutality our Black communities face and we support the efforts of protestors to reveal and rebuke the legacies of white supremacy from our core national ideologies.
Racist systems have long been present in the publishing industry and we are committed to breaking racist publishing processes and standards. We are dedicated to promoting, highlighting, and celebrating the work of Black, Latinx, Native American, Asian American, LGBT+ writers and artists and all groups marginalized by systems of hate and oppression. We make this commitment today, tomorrow, and always to diversify our publications and uproot oppressive practices and ideologies that attempt to silence marginalized groups. Penumbra rejects those attempts at silencing and offers a space to amplify the voices of the oppressed.
Questions? Contact Faculty Advisor Dr. John Wittman at jwittman@csustan.edu.
The Stanislaus State Literary and Art Journal
penumbra (pi-num 'bre): n. 1. A partial shadow, as in an eclipse, between regions of complete shadow and complete illumination. 2. The partly darkened fringe around a sunspot. 3. An outlying, surrounding region; periphery; fringe
Updated: November 15, 2023